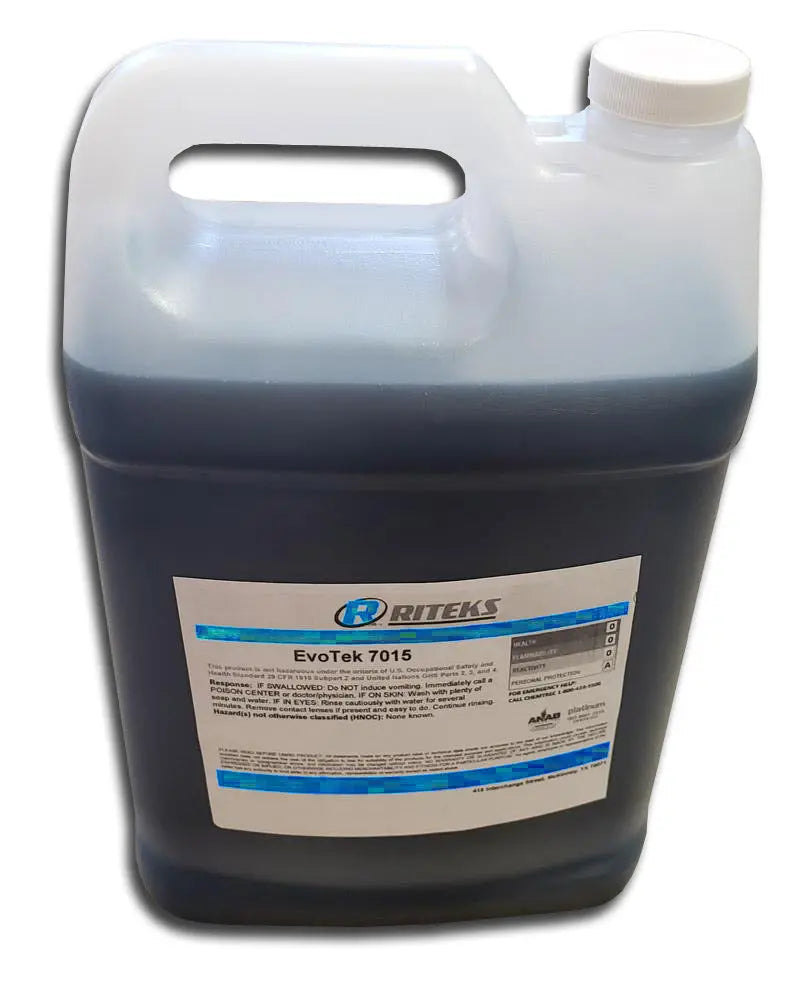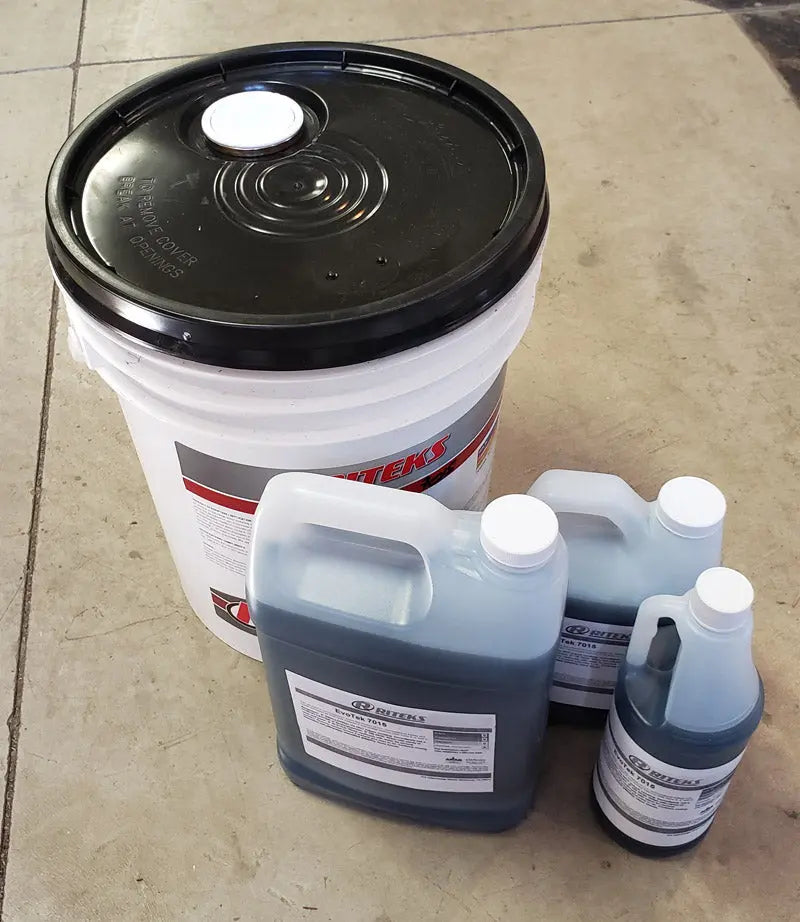 Concrete GFRC Super Plasticizer Water Reducer, EvoTek 7015
Fast Ship:
Usually takes 1-2 business days to ship out.
Ships from Oregon
(Click for average Ground delivery map
)
 Concrete GFRC Super Plasticizer Water Reducer, EvoTek 7015
EvoTek 7015 is a Super Plasticizer (also commonly referred to as 'Water Reducer') is a High Range water reducer and should be added to ALL CONCRETE PROJECTS, from countertops, GFRC, firepits, steps, etc. since it makes the concrete flow better, reduce air holes and voids, and makes the concrete stronger by needing less water!!
Riteks EvoTek™ 7015 is an economical

high-range

water-reducing

(HRWR) admixture based on

polycarboxylate

technology. EvoTek 7015 is especially suitable for ready mix, pre-cast, SCC and mix designs containing fly ash or pozzolonic material. EvoTek 7015 is ready-to-use and provides excellent early compressive strength, faster setting strengths and fluidity in plastic and hardened concrete.

EvoTek 7015 is a superior formula, able to have the

 consistency of water, so it blends quickly and evenly.  
Please note-

the color of the EvoTek 7015 is a a yellow honey color

- or may be in a blue- dye added- product pictures here on our site may show the blue product still, but you may receive clear/yellow or the blue.  Product does NOT change or affect the color of the concrete at all, even when using White cement. 
Can reduce water needed by up to 30%.
Increases initial compressive strength of concrete by as much as 18%, and flexural strength by 8%.
No anti foam (defoamers) needed with the EvoTek 7015.
Note: EvoTek 7015 does not contain calcium chloride or any chloride-based
components and is non-corrosive to reinforced, galvanized floor/roof
systems or prestressing steel. Do not use with admixtures containing betanaphthalene sulfonate (meaning, don't mix it with other types of water reducing/plasticizer admixes, duh!).
Specifications Concrete GFRC Super Plasticizer Water Reducer, EvoTek 7015:
Mixing: EvoTek 7015 can be added with the initial batch water.  But, if you wait and add to the mix after it is mixing, it will

 generally result in optimum water reduction

For example, start mixing with the bare minimum water needed to just get the concrete mix barely workable, then add the EvoTek 7015 and continue mixing.  Small amounts of water can then be added if needed until you get the right consistency you want.

COVERAGE- CONCRETE:  Dosage Rate: 3 to 18 fl. oz. per 100 lbs of cementitious material.

Dosage amount is variable, based on your need for adding more or less 'fluidity' to the concrete mix.  For most concrete countertop type concrete mixes, around 1 fluid ounces per 20 lbs. of Portland cement is common (dosed on CEMENT content weight, not overall concrete mix with sand/rock weight!).  Please refer to our Concrete Mix Recipes.
When adding to an 80 lb. bag of concrete mix from our recipe page, suitable for countertops, (assuming there are 20 lbs. of Portland cement), you would add 1 fluid ounce (1/8 cup, or 2 Tablespoons of EvoTek 7015) to the concrete mix. 

*Refer to the manufacturer of your concrete bag mix for exact cement weight per bag.

COVERAGE- GFRC: When using with GFRC, see our GFRC Recipe section for dosage/mix information.

Dosed at 3oz (liquid) per 100lbs cement (@ .75 ounces per 25lbs cement) would be around 170 batches per 1-gal (850 batches per 5-gal)

Since most GFRC batches with 25lbs cement, 25lbs sand will yield 6 sq. ft. @ 3/4" thick, you'll get @ 1,000 sq. ft. at 3/4" per gallon of Evo-Tek. (5,000 sq. ft. per 5-gallon Evo-Tek)


Of course, 3oz per 100lbs cement is the minimum dosage, and you may find you want to use slightly higher amounts of the Evo-Tek Plasticizer

Available in 32oz, 64 oz, 1 gallon, 5 gallon, and 55** Gallons sizes.

**55 Gallon drums are available by contacting us.
Documentation Concrete GFRC Super Plasticizer Water Reducer, EvoTek 7015:
Great product !
I wish I knew about this years ago.
A definite must have when mixing your own concrete .
This stuff works!!
I am very pleased with this product so far! I made two separate test runs with 80lb bags. I mixed up the first batch far too dry, and found the plasticizer didn't work as I thought it should (just didn't alter the consistency much at all). For the second batch, with about 3.75 quarts of water per 80lb bag, two table spoons turned it to soup, so it definitely needs a certain amount of water in order to do its job. I am going to experiment more, but I am liking this product at the moment.
Good stuff.
I had Rapid Set Flow control packets available locally but the reviews, although good, showed some inconsistencies in how to use the product with normal concrete (not a Rapid Set product). I came across this stuff online, ordered it in the 1/2 gallon size, then put my project off for a few days until it showed up. This stuff is much cheaper and does an excellent job. Easy to use and works better than I expected. Knowing how well it works, next time I will make my mix just a tad more dry before adding it so it isn't quite so soupy. This is really good stuff and can't recommend it enough.
My go to for gfrc supply!
Quick ship and excellently packed product. Highly recommend these folks, a class act!
Expressions-ltd has great pricing and ships quick. My experience as a customer for years!