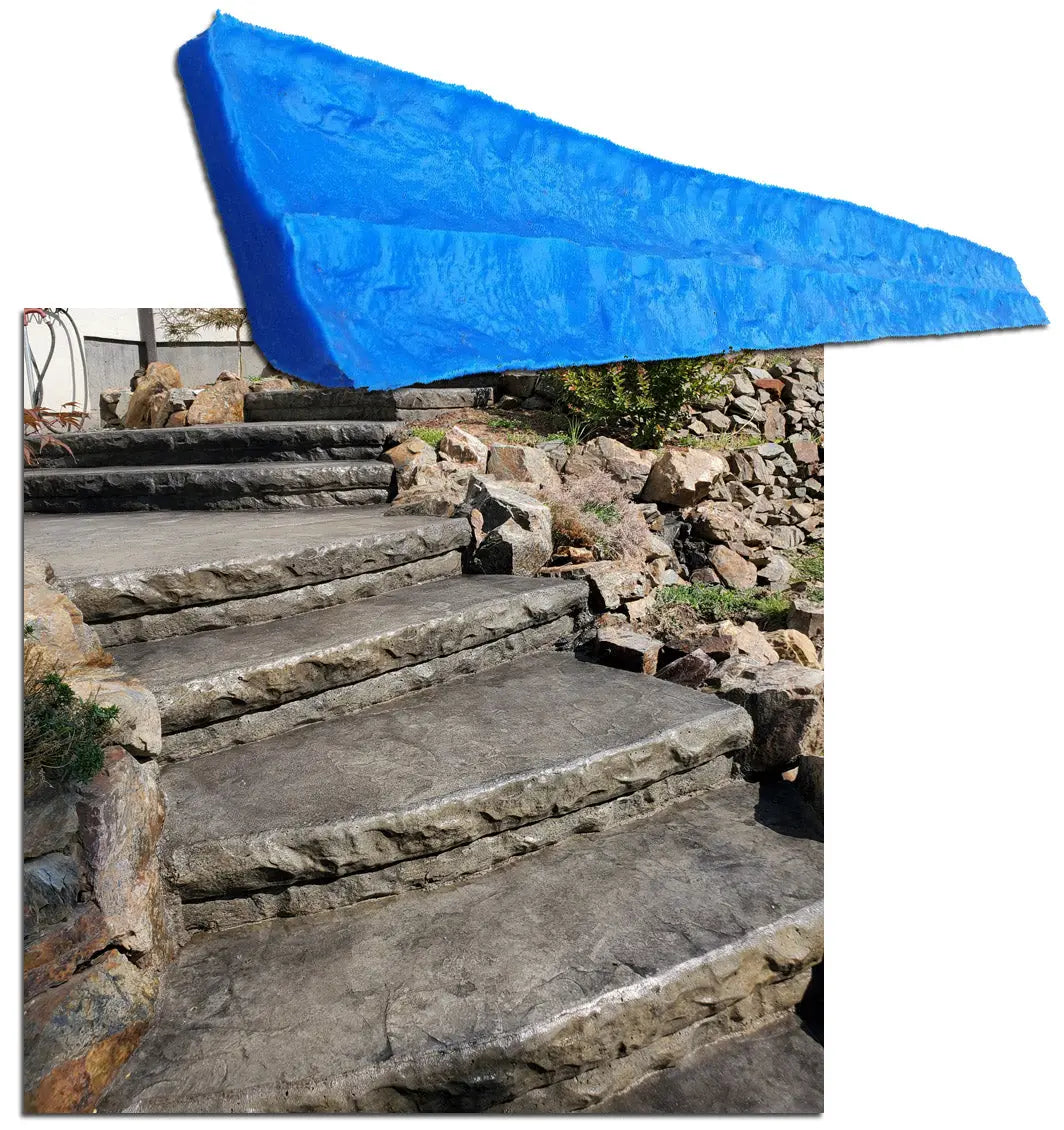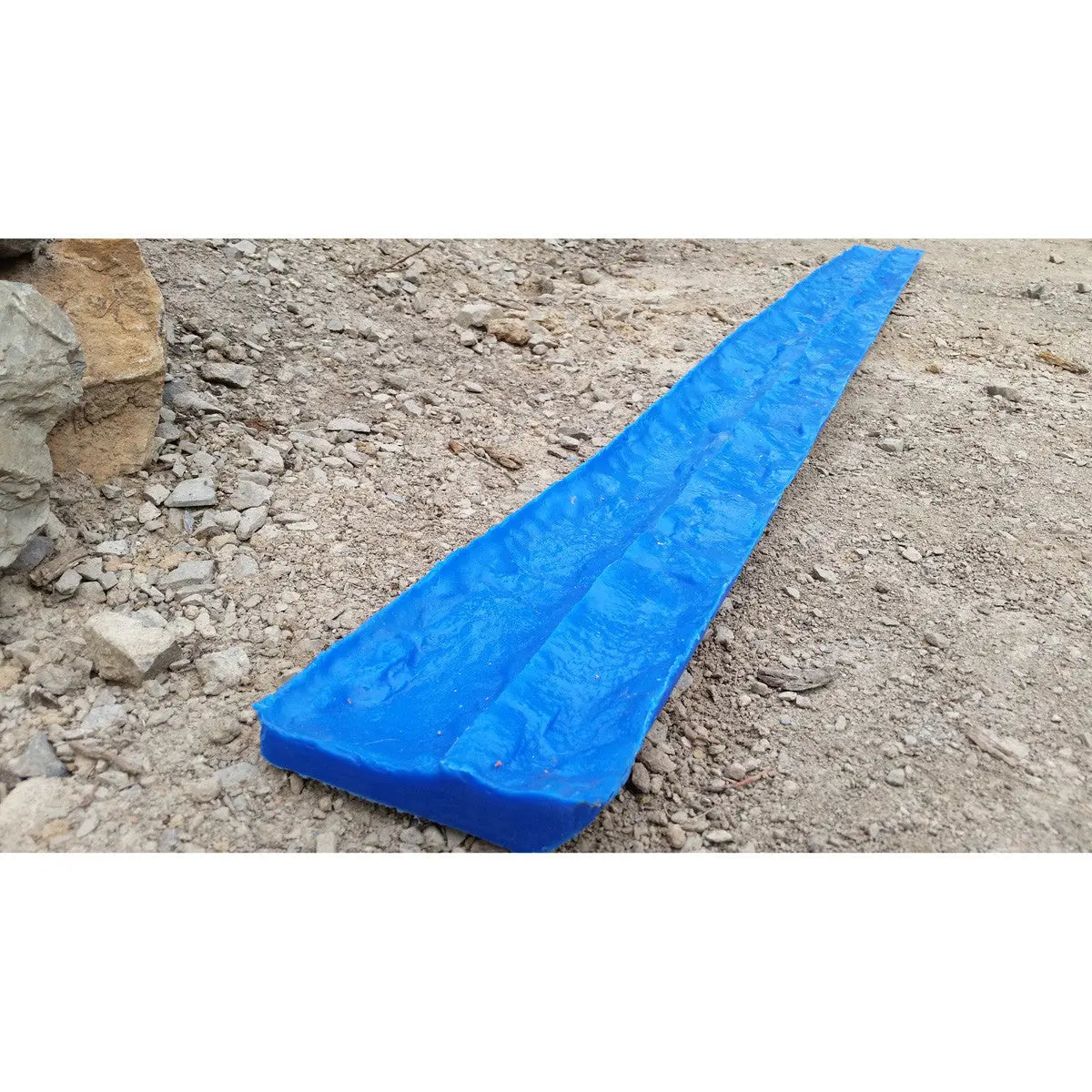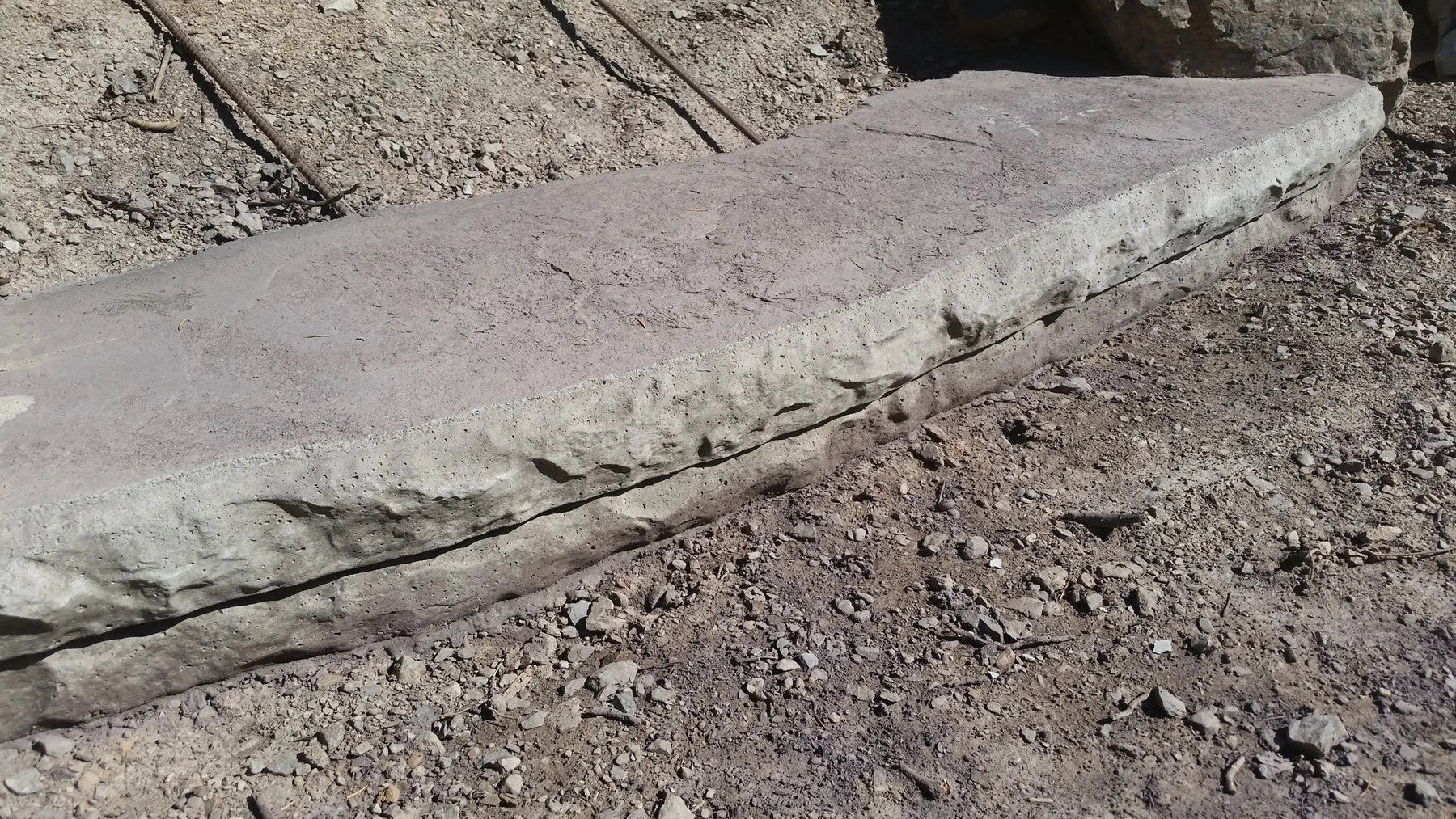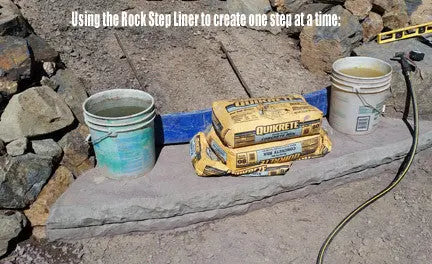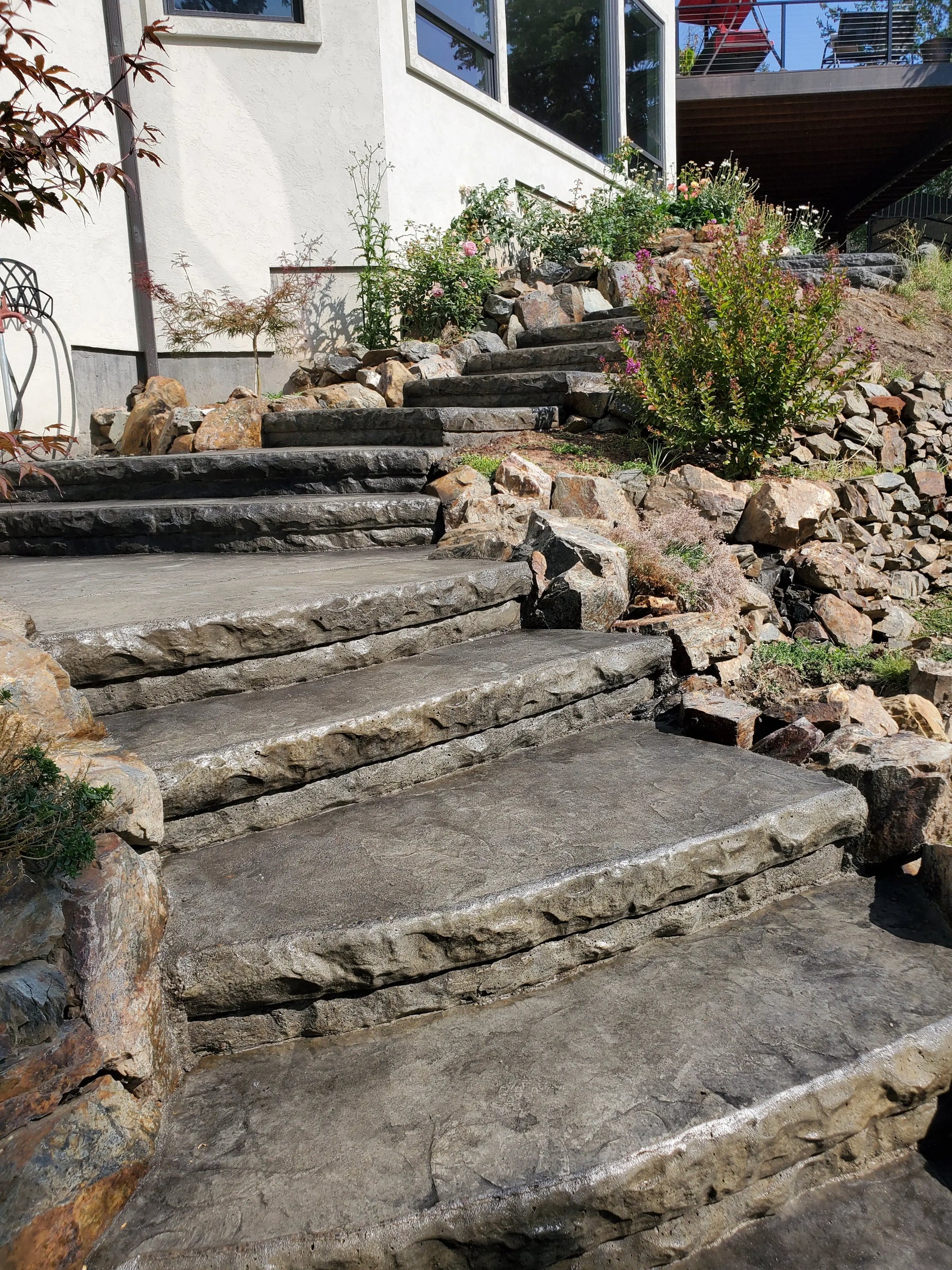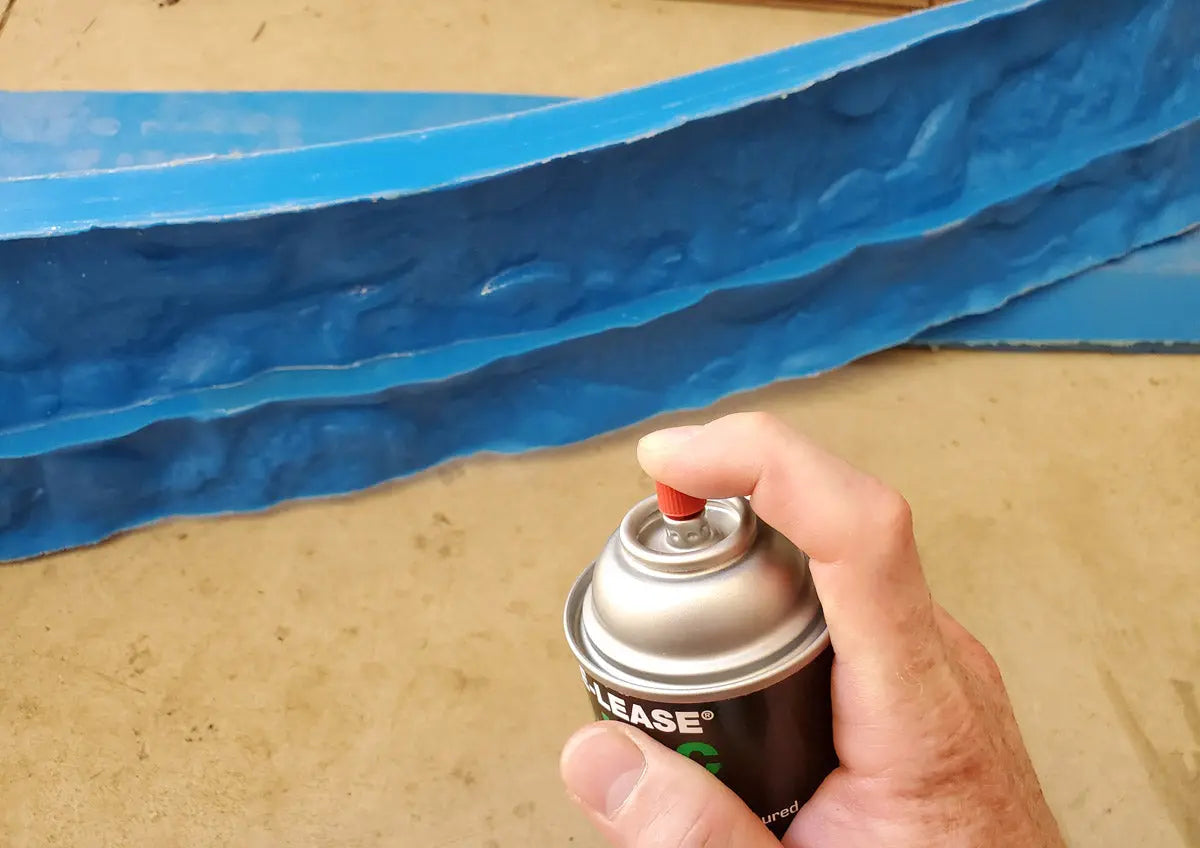 Concrete Step Form Liner- 7" Cantilever Rock Edge Overhang
Fast Ship:
Usually takes 1-2 business days to ship out.
Ships from Utah
(Click for average Ground delivery map
)
Ships via FedEx/UPS only
Concrete Step Form Liner- 7" Cantilever Rock Edge Overhang

Re-usable Step Form to create a realistic Rock Edge on concrete steps.
"Rock" edge detail creates a 4" thick 'top' step and 3" thick 'bottom' section that is set back approx 1".
The bottom edge of the Step Liner is tapered in at about a 45 degree angle, allowing easy troweling of the step below (when the forms are used to pour multiple steps all at the same time).
The top edge of the Form Liner is formed to lip just a little bit, creating a slight radius on the top of the finished concrete step- helping reduce a hard edge on the concrete.
This form is designed to be used right in place to make steps, but also works great for pool surround edging and other uses.
Made of extremely durable polyurethane that can flex and stay strong.
Cut to length easily with a utility knife or chop saw. Join cut pieces using silicone.
Good for hundreds of uses- Actually gets better with each use as they 'season'.
Specifications Concrete Step Form Liner- 7" Cantilever Rock Edge Overhang
Measurements:


Overall Form Liner: 7"H x 89 1/4"L x 1 5/8"Thick (at thickest point)
Top Step: 3"
Bottom (underneath step): 4"

Weight: 26 lbs.
Use Concrete Step Form Liner- 7" Cantilever Rock Edge Overhang
The Rock Step Form Form Liner can be curved to form a radius edge, about an 18" Radius. If the Edge Form Liner begins to ripple and distort, then the radius is too tight, so you will need to make the curve radius larger to ensure a smooth, consistent edge detail.
Edge Form Liners can be cut to fit your form. Cut using a SHARP razor knife, or with a chop saw. Liners can be cut straight, or mitered at angles.
This Rock Edge Liner is designed to be secured in place by screwing through the thick bottom part of the rubber. Use washers with the screws to keep the screw head from sinking into the rubber.
Use of a Rubber Safe form release is recommended, but usually not required. Form release will create a smoother finish on the concrete, less air pockets in the concrete edge, and easier to clean the Edge Form Liners when finished.
Vibrate concrete well (either vibrating the concrete, or rapidly tapping the edges of the forms with a hammer or palm sander), or use your fingers to compact the concrete against the Form Liner to remove as many air pocket voids as possible.
Removal Concrete Step Form Liner- 7" Cantilever Rock Edge Overhang
After the concrete is sufficiently set up, remove the Edge Form Liner by slowly pulling it away, starting on one end and working down the length of the Edge Liner.
If the Edge Form Liner needs to be removed before the concrete is cured (usually only when using on cast in place concrete, such as steps or pool decks), make sure to remove edge slowly, evenly pulling the liner 'out' away from the concrete.
Concrete may will have small 'bumps' which can be sanded off with a 200 grit sandpaper. These bumps tend to disappear the more the Edge Form Liner is used, as it becomes seasoned.
Want to make your steps look flawless? Use Cement Slurry (sold here) - mix a small amount with water to resemble peanut butter.  Mist the concrete step with water as you work, and use your hand to fill all the little air pockets. Wipe smooth with a grout sponge a few minutes later. Repeat after a few hours if needed and you should have a perfect looking stone step.
Care Concrete Step Form Liner- 7" Cantilever Rock Edge Overhang
Clean with a stiff brush and water after each use. Any silicone left on the forms should be peeled or scraped off (the sooner the easier to remove). Any hardened concrete and difficult to remove silicone can usually be removed using a wire brush.
Muriatic Acid can be used to clean of cement residue from the Edge Form Liners in a 20:1 ratio (20 parts water to 1 part muriatic acid). Rub the Edge Form Liner with a stiff nylon brush and the muriatic acid water. Rinse Form Liner thoroughly with clean water.
Store Edge Form Liners out of direct sunlight, laid out flat.
If Edge Form Liners ever get curved or twisted so they don't lay flat naturally, the easiest solution is to lay them out flat on a concrete or asphalt surface on a really hot day and let the sun heat them up, straighten them out, and then when they cool they should hold their shape more naturally.
Well worth the money
The form liner & stamp are working out nicely, great quality!
I wasn't able to track my order using the app which was ok but would have been better as far as planning things out. I'm very happy with toe product & will probably post the results on Pinterest later as I have 4 of the 5 completed now - then plan to do 6 more steps in another location on my house. Well worth the money!!