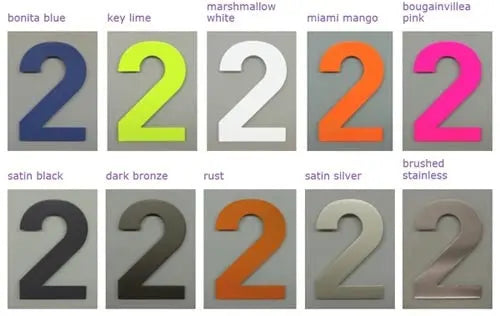 HouseArt 6" bFuller House Numbers

Shipping: This Product can take 5 to 10 business days to ship out.
Product Details:
Unique styled HouseArt bFuller Font Numbers.
Available in Numbers 0-9.
Made of architectural grade 304 stainless steel.
Mounting options: Industrial exterior-rated Adhesive Backing, or 3/8" Welded Stand-Off pegs to create a 3-dimensional look.
Available in brushed stainless steel, or numerous colored finishes.
Colored finished are powder coated (not painted), to create maximum durability and beauty.
Finishes are made-to-order, so please allow about 1 week for an order to ship out.
Product Specifications:
Measurements: 6"H (Width varies per character. Click Here for a Size Chart).
Mounting options:

Adhesive Backing

is exterior rated, and ideal for sticking the numbers to a flat surface such as metal.

Stand-offs with Spikes

come with a 3/8" Stand Off Peg welded to the back of the number, and a threaded 1 3/8" long spike (1" length once the spike is installed in the peg). The Spike is screwed into the back of the number, into the peg, and then the spike sticks into the mounting surface..
Super Service!
We have placed 2 orders with Expressions-LTD. The website was easy to use & when I request info via contact us link - the response was very quick with a thorough answer.
Thanks for your great service. I will keep you on my list of preferred vendors.