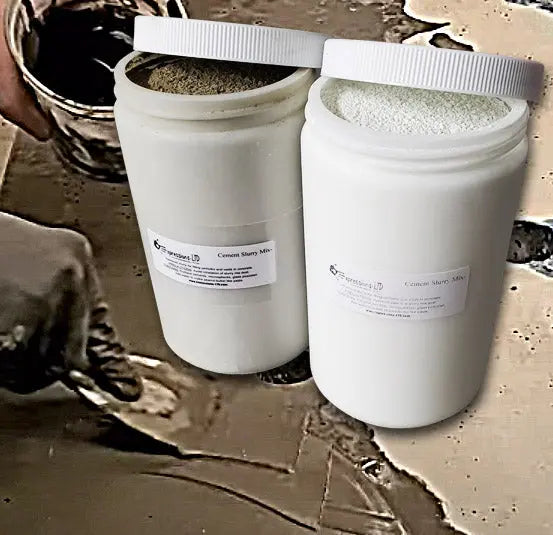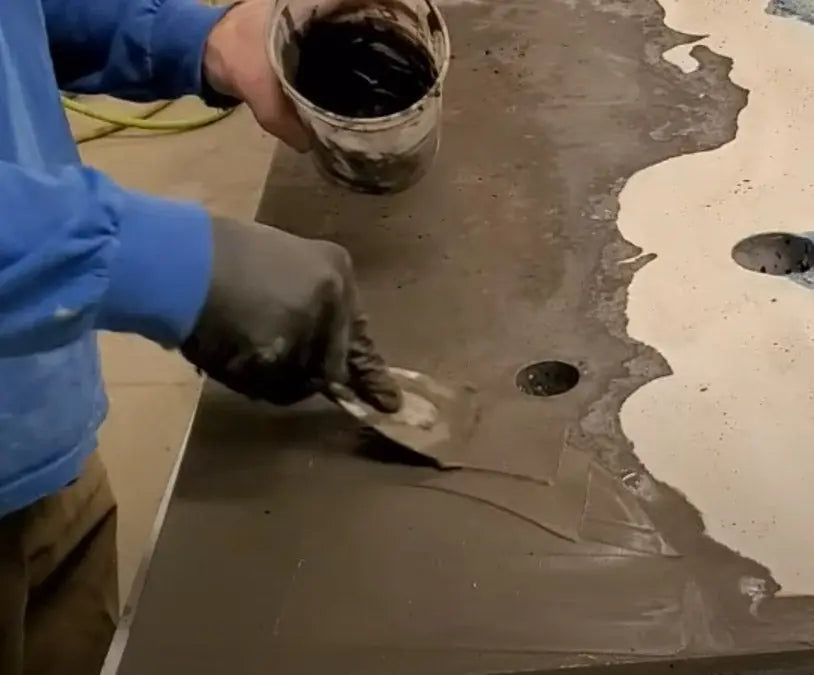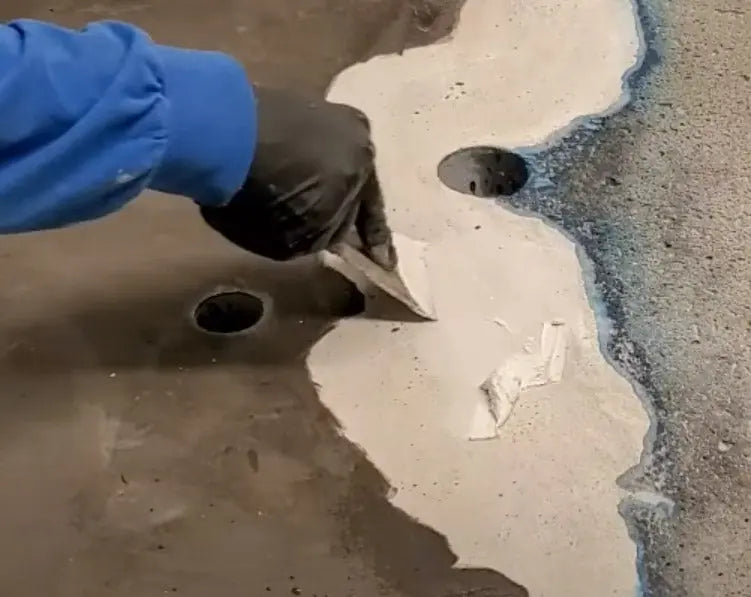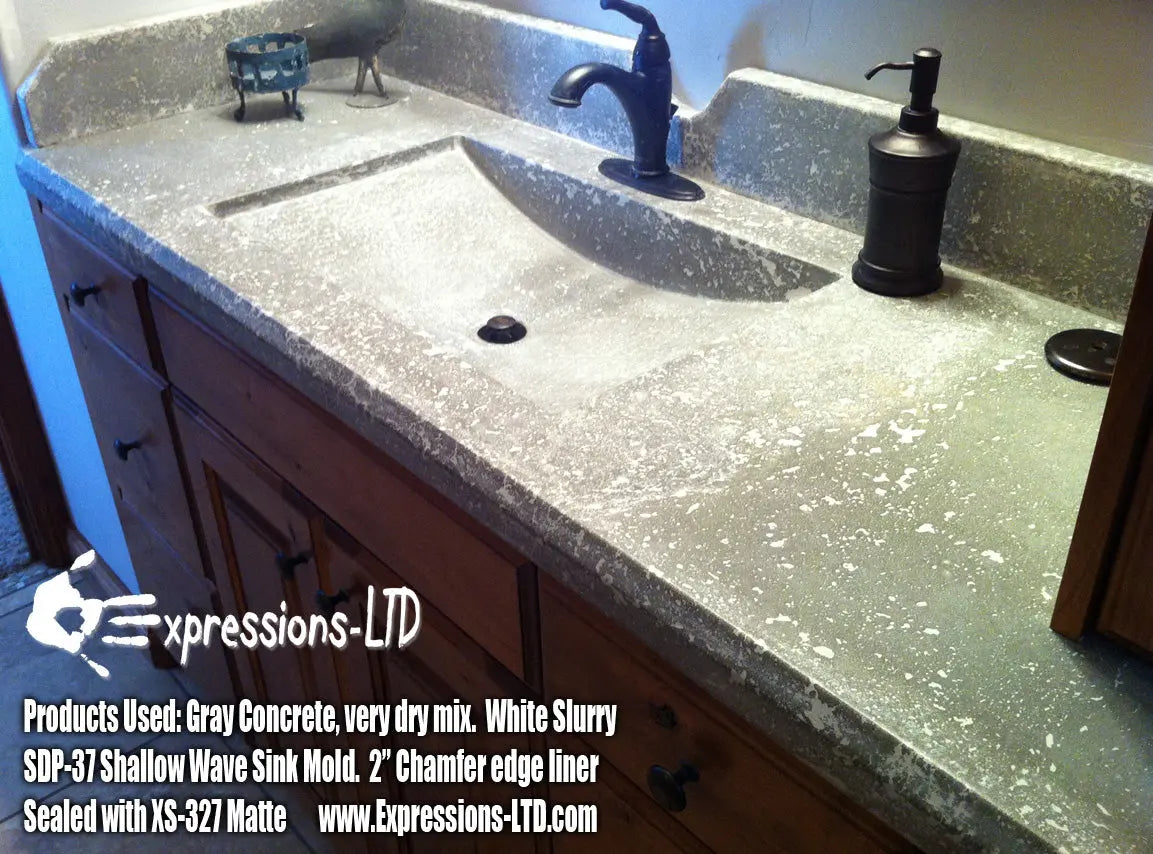 Concrete Countertop Patch Slurry Mix - Gray or White Cement
Fast Ship:
Usually takes 1-2 business days to ship out.
Ships from Oregon
(Click for average Ground delivery map
)
WARNING: This product can expose you to chemicals which are known to the State of California to cause cancer. For more information, view the product SDS, or go to  www.P65Warnings.ca.gov
Concrete Countertop Patch Slurry Mix - Gray or White Cement
Concrete Slurry Mix for filling in any imperfection or holes in concrete surfaces.
NEW FORMULA!  Now completely fortified, JUST ADD WATER. 
Contains a blend of Portland Cements, Cenospheres, and Pozzolan, Water Reducers, and fortified with acrylic polymer.
Better Color Matching.  Our new formula also uses slight intergral coloring that we add here to better match gray slurry to gray cement, and white slurry to white cement. 
Cenospheres act as miniature ball bearings, allowing the slurry to fill small pinholes easier, and act as a bonding surface for the cements to reduce shrinkage and cracking of the slurry.
Slurry mix can be pigmented before application, or stained once applied and cured.

If you want to make this slurry more self-leveling, simply add a very small amount of plasticizer (sold here).
Available in both Gray and White cement.
Specifications Concrete Countertop Patch Slurry Mix - Gray or White Cement

Size: Quart Container
Color: Available in Natural Gray Cement, and White Cement.
Coverage: Coverage rates vary depending upon size and number of voids to be filled.  1 Quart of slurry could cover 50 sq. ft. if there are lots of larger voids, or 1000 sq. ft. if there is minimal pinholes only.
Contains Portland Cements, cenospheres, pozzolan, acrylic polymer.
Application Concrete Countertop Patch Slurry Mix - Gray or White Cement

Preparation

: Polish, grind, or sand the concrete surface to open any voids in the concrete that may have just a super thin covering of cement over them. Wet concrete surface before applying the slurry, but do not over do it. Just keep the concrete damp as you work- no standing water.

Coloring

: If coloring the slurry, mix the color into the slurry in the same ratio as was used on the concrete mix. White slurry is often used to contrast the concrete color, making the slurry filled areas a different, or 'brighter' color.

Tip: Gray 'concrete' will usually dry to a lighter gray color.  Filling voids with Gray Slurry can result in darker areas where the higher cement content slurry fills.  Some people like to get both Gray and White Slurry, and mix some White into the Gray, before using, to create a lighter slurry to better match natural gray concrete (test a small area with this process and let dry to determine if you need more, or less, white cement mixed in.

Mix

: Put a small amount of Slurry Mix into a mixing container, and add small amounts of water (or water/polymer mixture: see below) until the mixture looks like thick peanut butter.

Apply

: Concrete surfaces MUST be damp BEFORE applying slurry.  Mist with water (don't flood) any area right before you apply the slurry.  Using a putty knife or your fingers (use Rubber Gloves), work the slurry into the concrete. Working the slurry in one direction with a putty knife, and then pulling across the same area in a different direction will ensure the best fill. On large voids, the slurry should be left a little thicker, as it will shrink down some as it dries.

Finishing

: Allow slurry to dry at least a few hours before attempting to sand. Usually using 200 grit sandpaper by hand, or on a palm sander, will work well. If wet polishing, allow the slurry to dry a day or more first. Once sanded, determine if another slurry coat is needed. Multiple coats of slurry are often necessary to obtain a completely flat concrete surface.

Staining and Sealing

: Slurry should be allowed to dry at least 24-48 hours before staining or sealing. Most stains react to the cement in concrete, so areas of high cement content, such as a hole filled with slurry, will generally stain darker than concrete around it that usually have a lesser cement ratio. With all color and staining, doing a test batch or area is recommended.
Arrived and seem perfect!
Unfortunately I have a delay in being able to complete my intended project since I tore my rotator cuff and bicep 2 weeks ago requiring surgery. Now I have a sling and no use of my arm for 6 weeks and 6 months of Physical Therapy until the bicep can heal at its new insertion site.
Well that's what happens when you are 110 lbs and hauling concrete !
My mind said " Yep I feel like 25 and can do this all by myself ", body said < laughing hysterically > " Uh Huh!"
Next time I will hire some help🥴
It worked really well and the customer servce on explaining the process was excellent!
It worked really well and the customer servce on explaining the process was excellent!
White slurry
Very good product. Highly recommend
!
Worked like a champ
A little goes a long way here. I mixed too much the first time. However, it easily filled my voids. Personally, my goal in concrete casting is to need this less and less as my knowledge and skills improve.
Great Stuff
Works as expected. Not a bad price either.