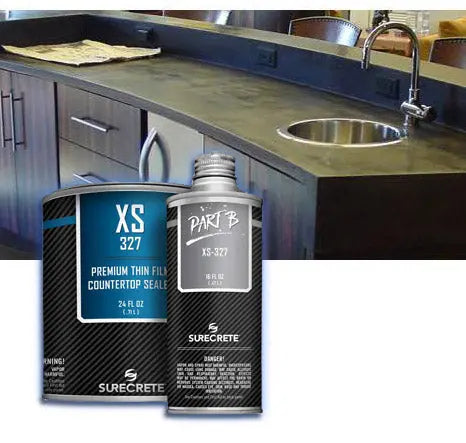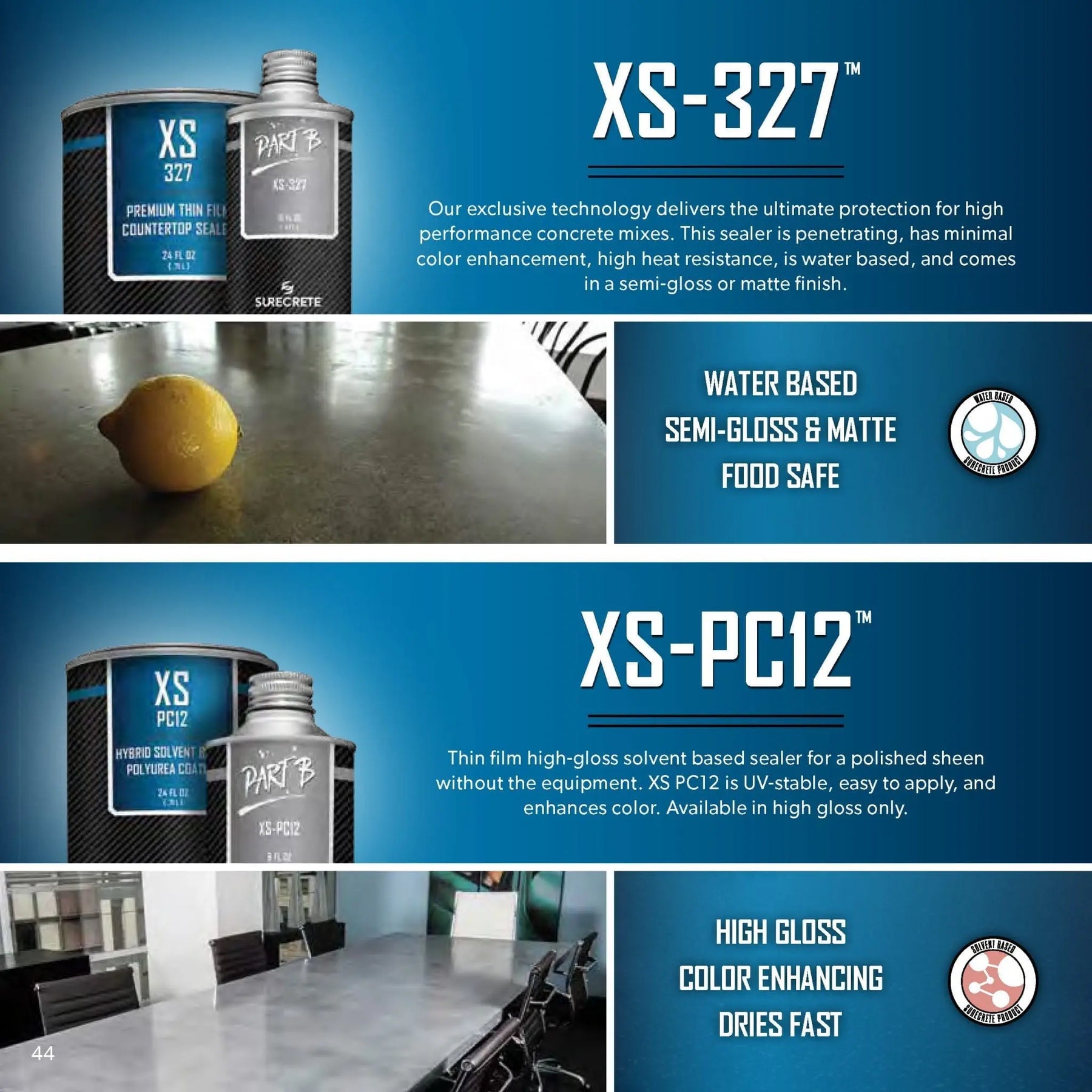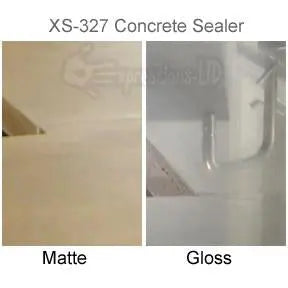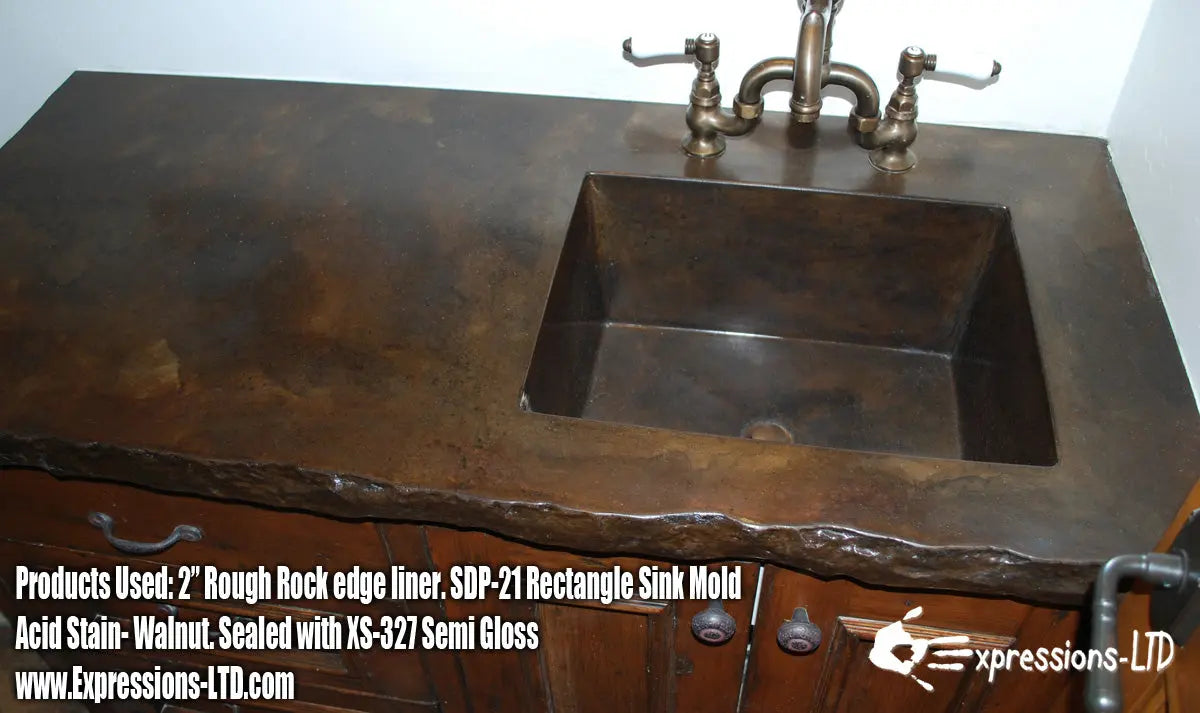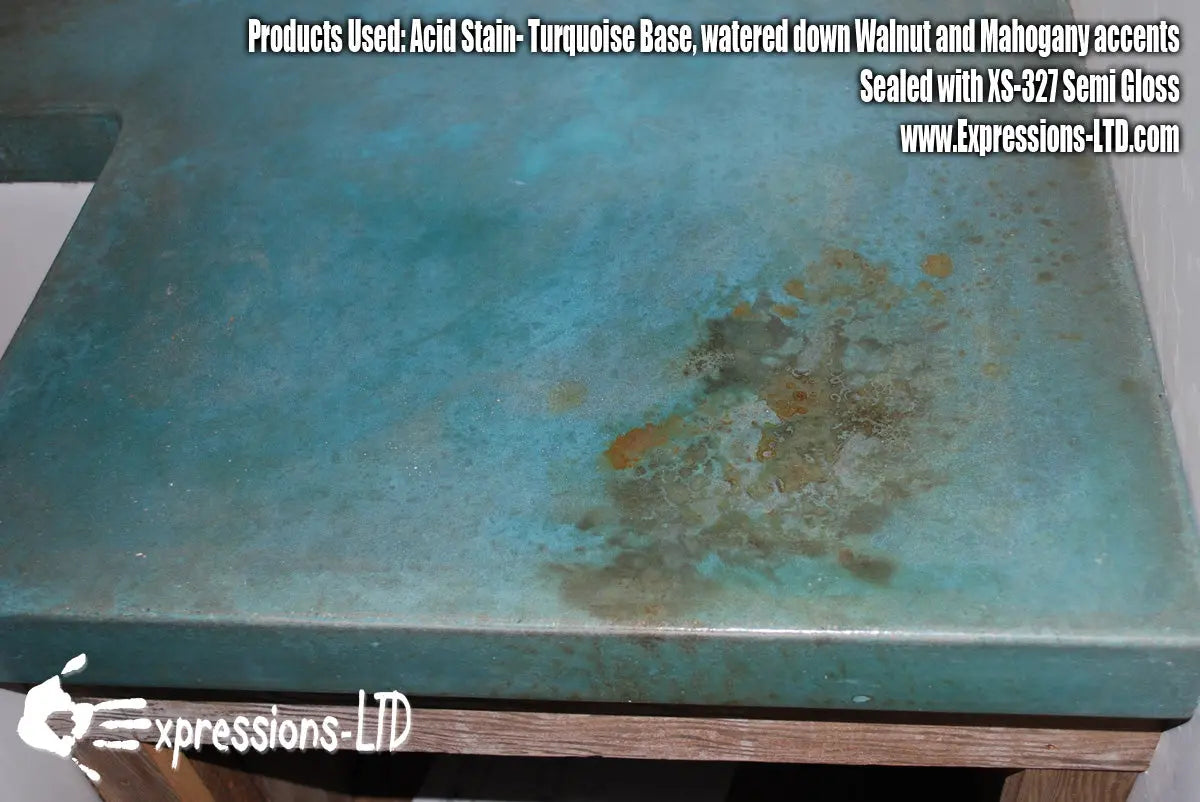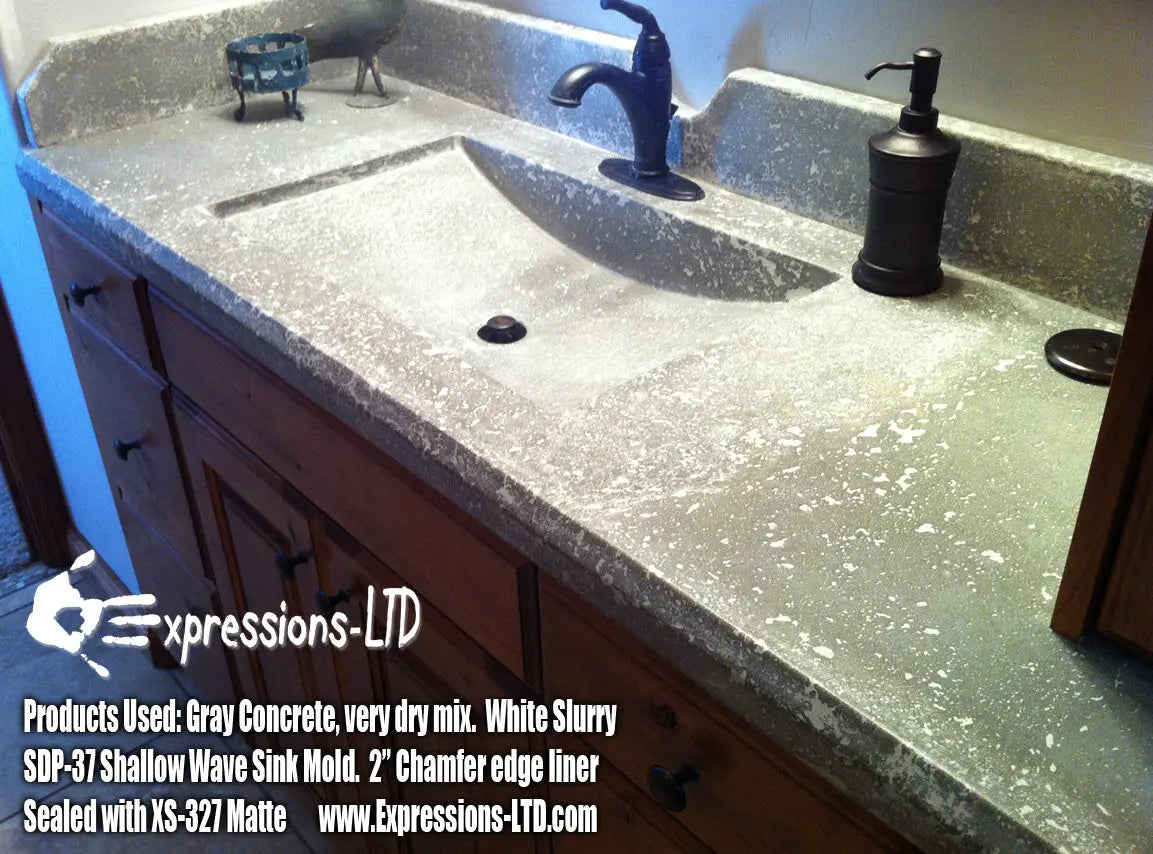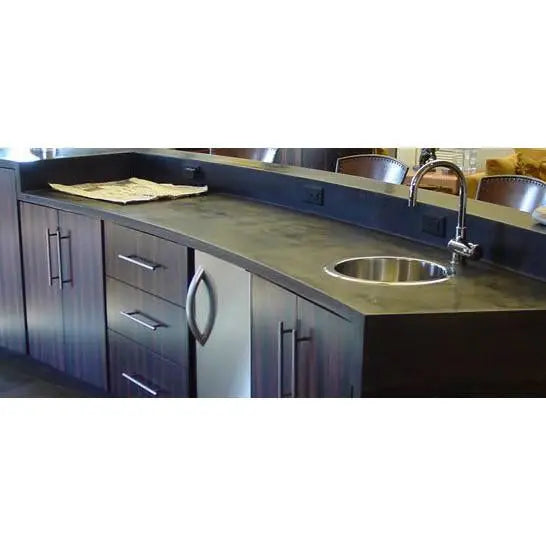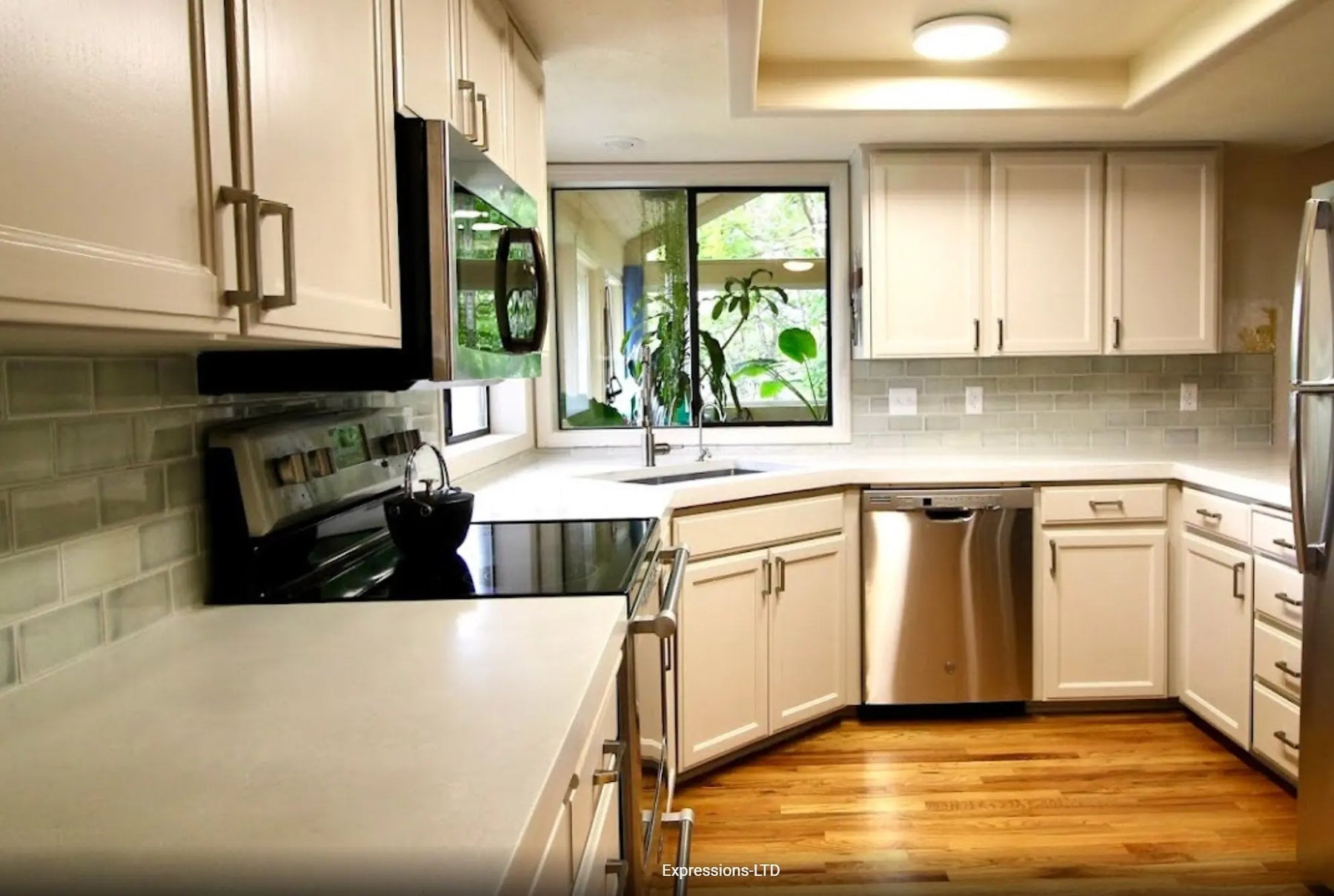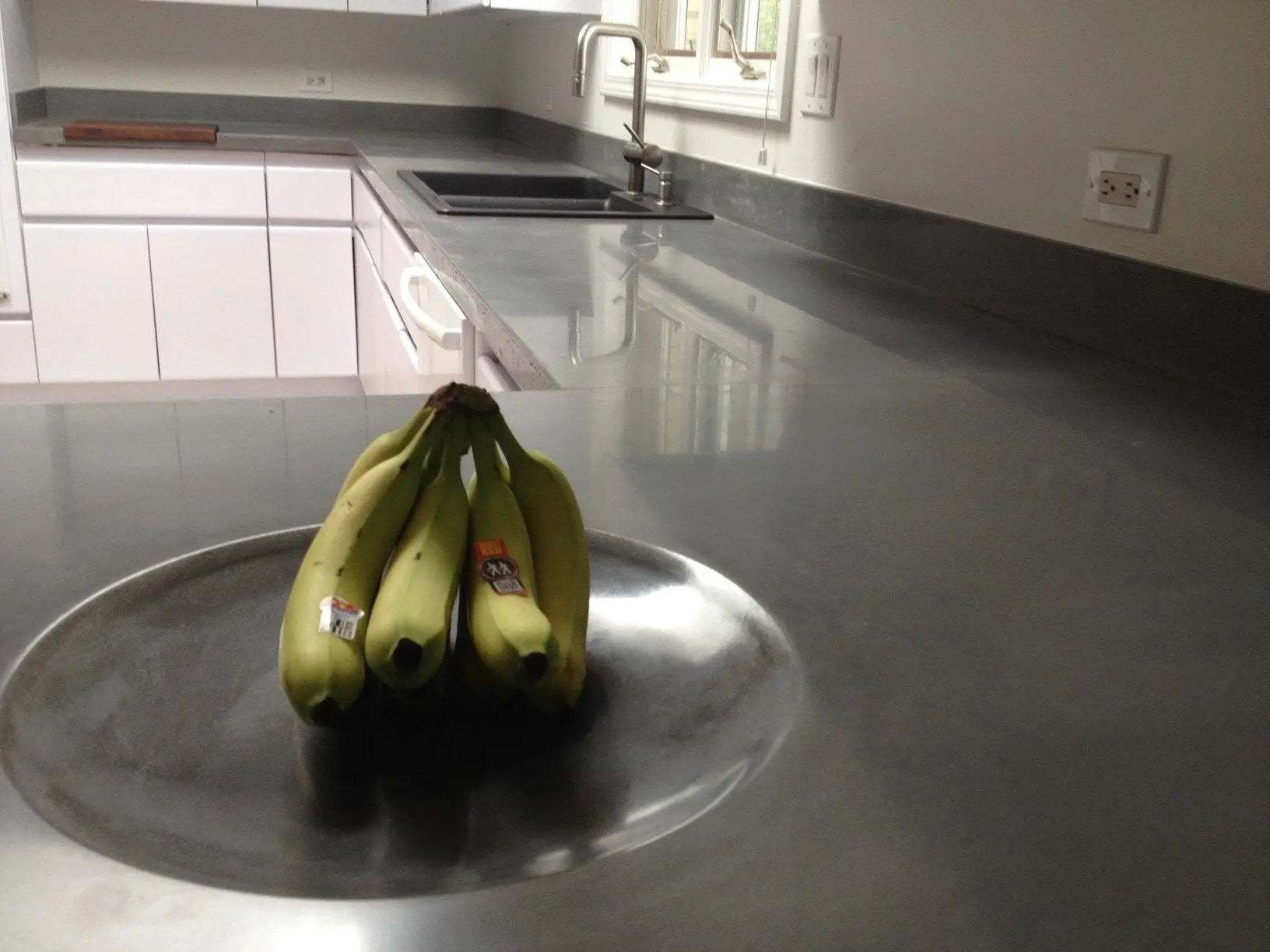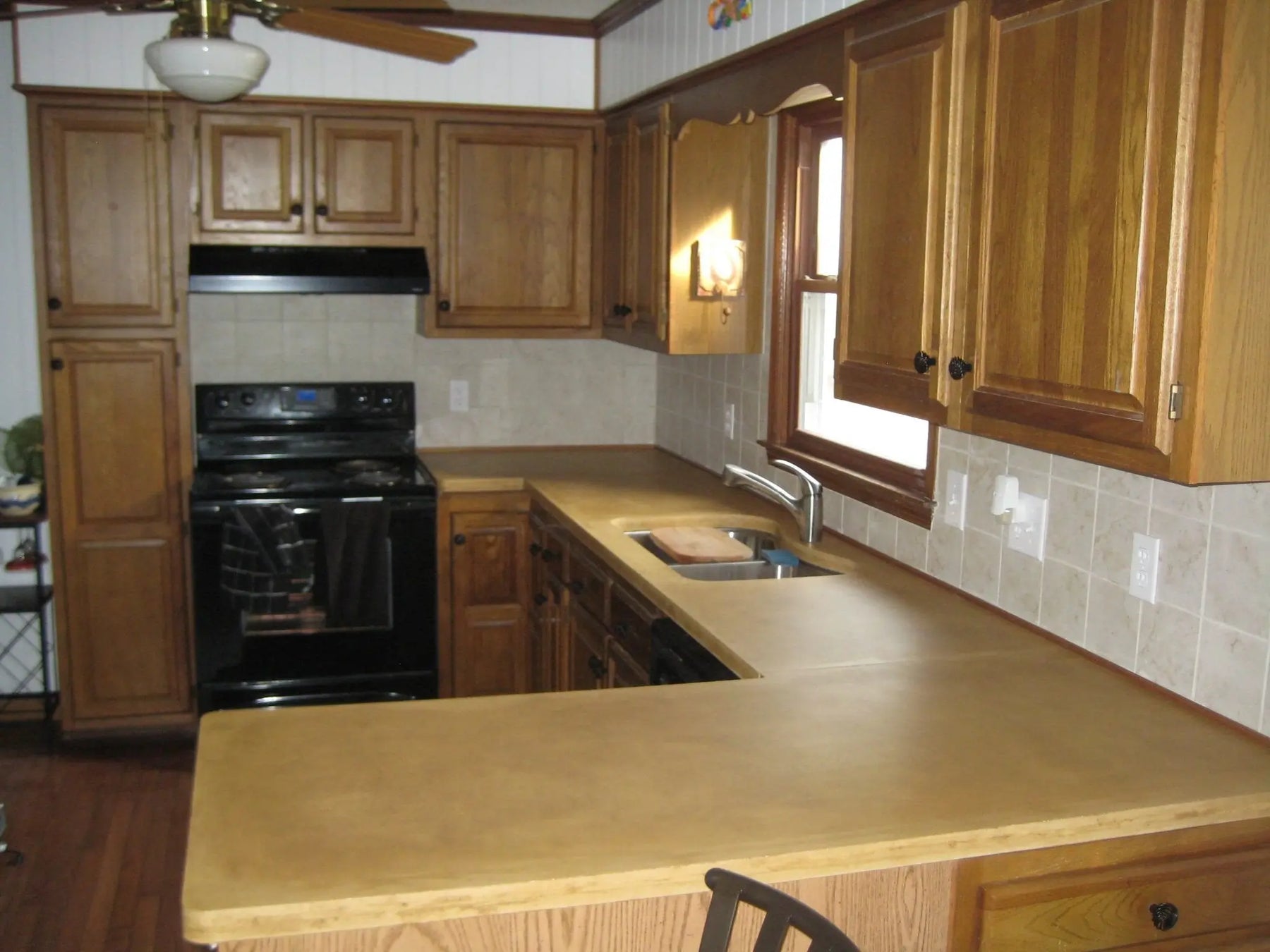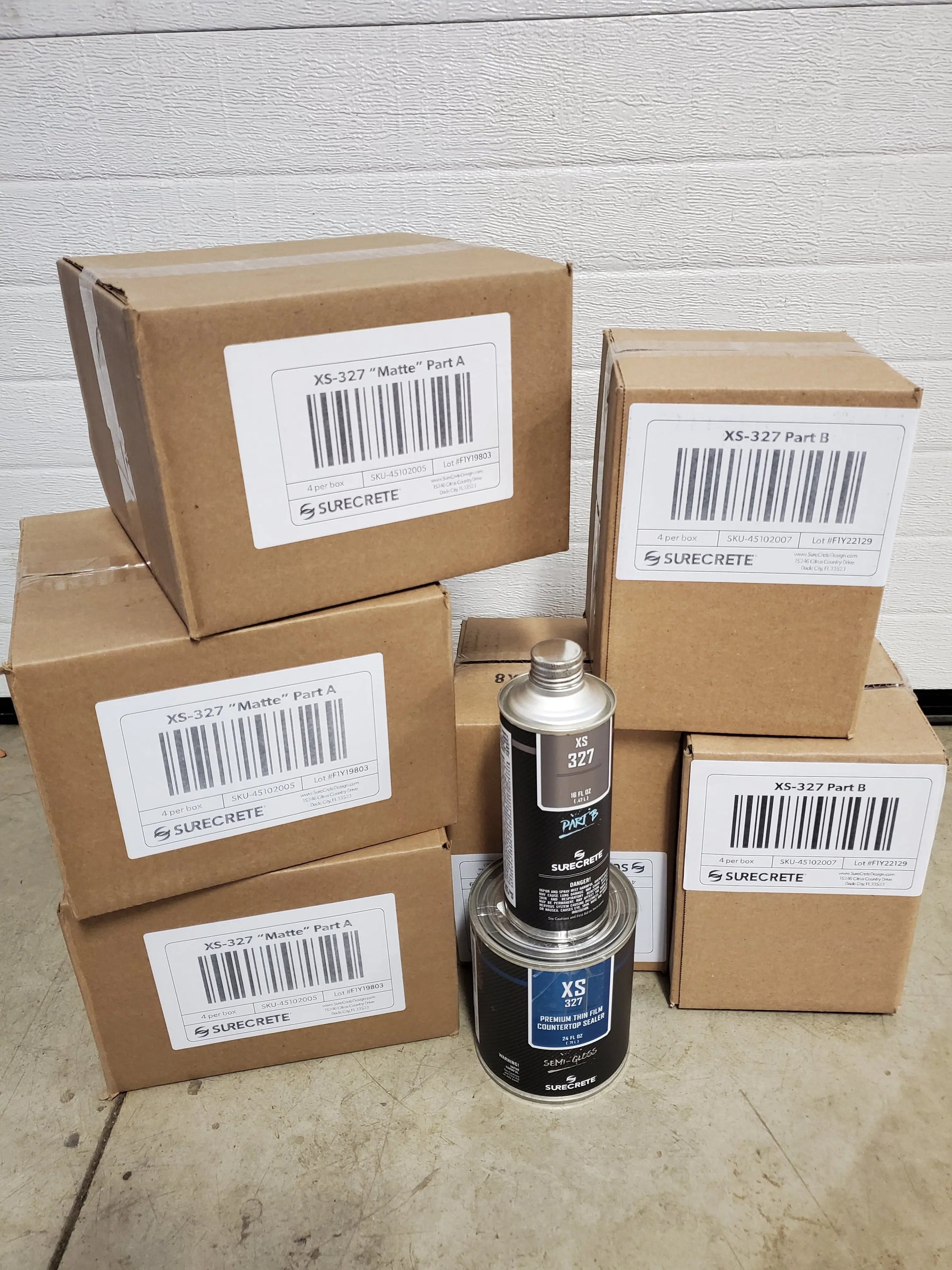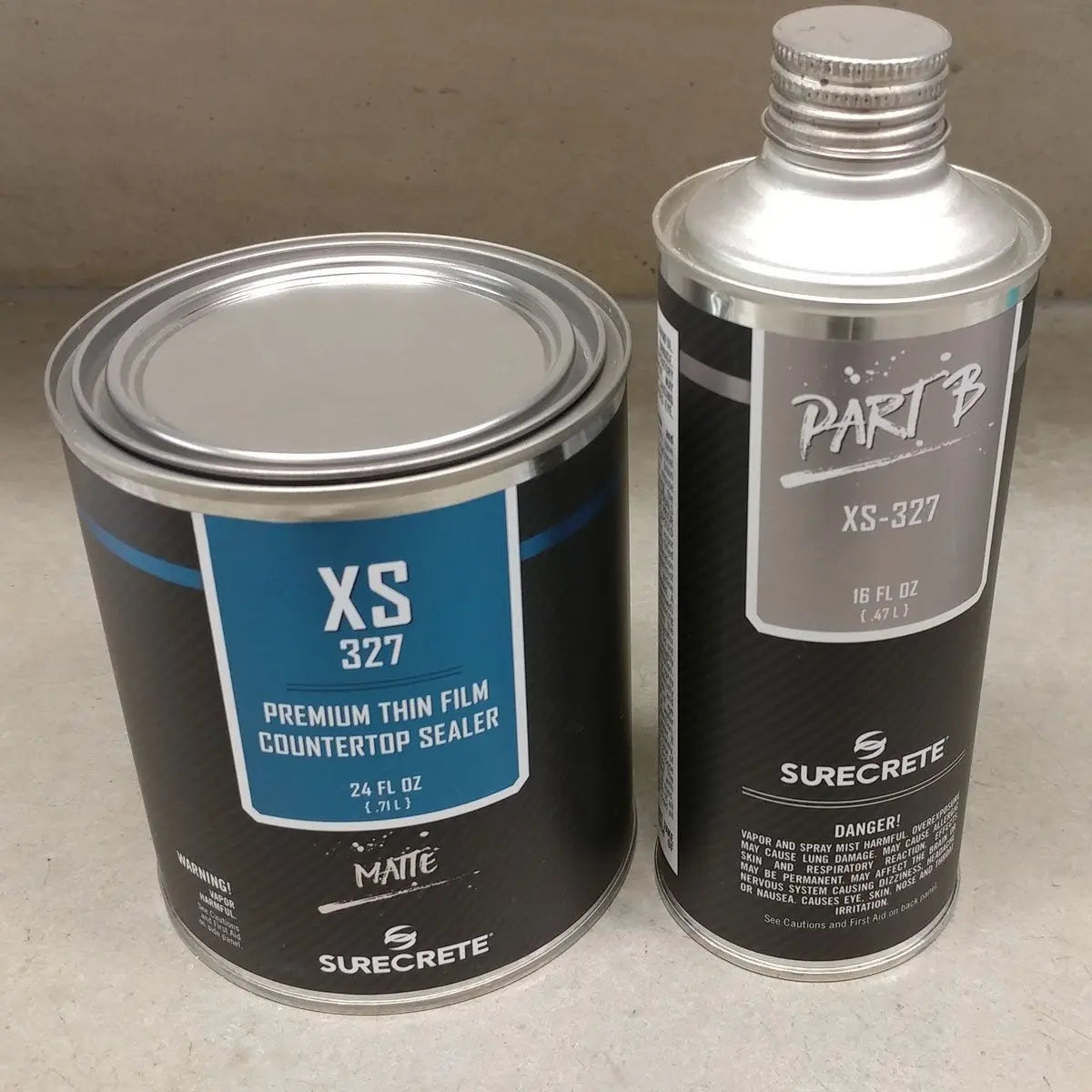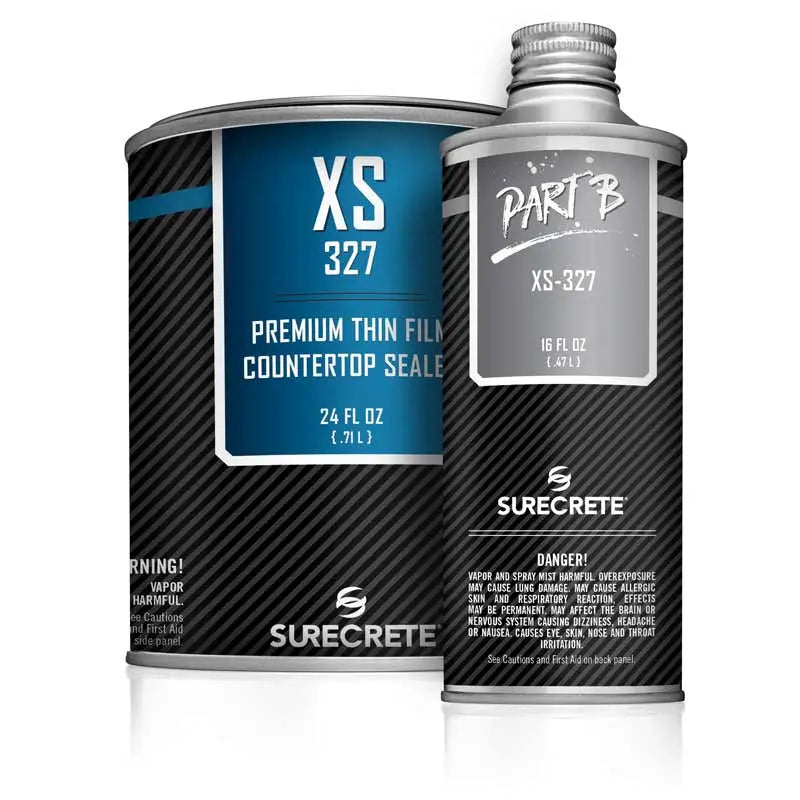 Concrete Countertop Sealer - Water Based Hybrid Polyurethane, Surecrete XS-327
Fast Ship:
Usually takes 1-2 business days to ship out.
*FREEZE WARNING* This product can freeze: 1 or 2 Day Shipping should be selected at checkout during winter months.
Ships from Oregon
(Click for average Ground delivery map
)
Concrete Countertop Sealer - Water Based Hybrid Polyurethane, Surecrete XS-327
Is this the sealer you want? Well, yes it probably is!  XS-327 is the #1 Choice for Professionals and DIYers to seal and protect concrete countertops, sinks, bathtubs, shower panels, and furniture.  It's something anyone can apply their first try, and have good results.  The secret is to keep rolling the sealer onto the surface over and over, lightly blotting your roller dry with a paper towel.  As long as you can follow the mixing instructions, and then apply the sealer to an area you can work in a few minutes (about 10 sq. ft at a time), lightly rolling until it looks perfect and then moving down and sealing the next section... then this sealer will work for you!  It's super durable, looks great, and covers A LOT of area per kit.
Easy to apply with a roller (check out our Application Roller Bundle here), almost no smell (water based!) but yet still super tough.  Dries quick.  Won't overly darken the concrete (minimal color enhancing).  Great coverage per kit.  Available in Semi-Gloss or Matte finish.

Food Safe (FDA Approved) Countertop Sealer.

Good for

 

Exterior and Interior

 

application.

Soper Low VOCs (25 g/L before adding water, less with water!)

Coverage: 100+ sq. ft. per kit

!!!

  

(This 100 sq. ft. is counting on doing a prime coat and 2 finish coats- so this kit of sealer does a LOT of coverage area!)

Mix in small amounts, a little goes a long way:
1 ounce of mixed sealer (3 teaspoons of part A + 2 teaspoons of part B = just under 1 oz of mixed sealer), is then mixed with water (or water-based stain to add color). 
For the first 'prime' coat, add 7 parts water.  So 1 oz mixed sealer + 7 oz water = 8 oz total, and will cover around 64 sq. ft.
For the 2nd, 3rd, and even 4th coats of 'finish' coats, 1 oz mixed sealer + 2 oz water (or water based stain) will cover around 8 sq. ft. 
Concrete Countertop Sealer - Water Based Hybrid Polyurethane, Surecrete XS-327
- Top quality sealer for concrete countertops, furniture, fireplaces, water features, sinks, etc.  Water-based, has almost no smell and cures quickly.  Can be pigmented using Eco Stain water-based stains (use Eco Stain in place of water)
SureCrete's XS-327 concrete countertop sealer protection is a specially formulated two component, moisture-cure, high solids hybrid water based polyurethane coating designed for application over completed concrete counter tops and surfaces. XS-327 is a penetrating, UV stable, minimal color enhancing sealer, available in both Matte and Gloss finishes (Gloss finish on XS-327 is more of a semi-gloss, not a high gloss). At 64% solids (varies upon reduction rate) and 25 g/L VOC this high performance clear top coat generates the premier balance of strength, flexibility, chemical and scratch resistance. XS-327 concrete countertop sealer is ideally suited for both commercial and residential settings applied upon concrete countertops, fireplace surrounds, shower panels, floor tiles, and wall panels. Like some other sealers, XS-327 countertop protection becomes food safe upon curing. It is stain resistant to most household chemicals and culinary items, and is heat resistant to 300°F (149°C). XS-327 is distinctive in its ability to be touched up or repaired.
With such a low VOC rating at only 25 g/L, XS-327 is an amazing eco-friendly sealers concrete countertops, after curing, the sealers staining is  completely food safe, making it an ideal sealer for use in both residential and commercial kitchens. Also, being a water-based sealer, XS-327 cement countertop coating puts out little to no odor, making it an ideal coating for use in residential applications. XS-327's scratch and abrasion resistance is also second to none, making it viable for a variety of surfaces. XS-327 Water-Based Cement Countertop topping  is simply put, the best countertop sealer on the market today.
Specifications  and Properties of Concrete Countertop Sealer - Water Based Hybrid Polyurethane, Surecrete XS-327
VOC Rating 25 g/L (before dilution)
Solids Content 64% (before dilution)
Shelf Life 1 year in original unopened container
Mixing Ratio 3 parts A to 2 parts B
Pot Life 30 minutes
Ready for re-coat dry to the touch
Re-coat "window" after 12 hours, sanding is required
Light Duty Use 24 hours
Food Safe when cured 7 days
Water-based.  Keep unused product from freezing.
Application Instructions
Following these instructions, anyone can apply XS-327 sealer countertops:
XS-327 is a moisture-cure sealer, meaning it cures best with humidity in the air.  If you do not live in a humid region, use a humidifier like this one sold on Amazon.com (there are cheaper models for $25, but the one listed has humidity settings, and filters the air as a bonus). 
If sealing a concrete piece in a shop, you can also wet the concrete floor of the shop as the sealer is applied and during curing, so there is moisture introduced to the environment. 
As a last resort, if applying the sealer in very low humidity and you cannot increase it, you will want to apply the finish coats at a 3:1 ratio (3 parts water to 1 part mixed sealer) and apply a 3rd finish coat.
Any surface that is about to be sealed needs to be completely cured, clean and free of all contaminants, and fully profiled and etched.
Mix 2 parts B and 3 parts A continuously for 3 minutes to ensure complete catalyzation.
For prime coat, add 7 parts water to 1 part catalyzed product and mechanically mix for 3 minutes.
Induction time: Let catalyzed product sit for 10 minutes.
Flood surface with xs-327 concrete countertop sealer, and work into surface using a high density foam roller until surface is saturated. Can take up to 15 minutes to fully saturate.
Backroll the surface with a relatively dry roller using only the weight of the roller. 

Backroll means to KEEP ROLLING over and over, super lightly, until the finish looks flawless.  BECAUSE there is water mixed in with this sealer, the water will try to pull together into 'spots' so you must just keep rolling it out so the spots(dots) don't stay and become permanent.  It takes just a few minutes to completely back roll each area in front of you and then move down and repeat the process until the whole concrete piece is sealed and looks perfect.  This process of backrolling applies to ALL COATS.  If you fail to backroll enough, and have small spots in the finish you will need to wait for the sealer to dry and sand the sealer off and then start again, so make sure you backroll until perfect!  Did we beat this dead horse enough yet?  Backrolling is easy!!

Once prime coat is dry to the touch, surface is ready for first coat.
After mixing another batch to full catalyzation, dilute catalyzed product at a rate of 2 parts water to 1 part sealer (low humidity environment? Try using dilution rate of 3 parts water to 1 part sealer instead).
Apply XS-327 again in similar fashion as prime coat, this time with only an even coating, again back rolling to prevent roller marks.
Once first coat is dry to the touch, surface is ready for second and final coat of sealer.
Mix one more batch of XS-327 cement countertop sealer, then dilute catalyzed product at a rate of 2 parts water to 1 part sealer (low humidity environment? Try using dilution rate of 3 parts water to 1 part sealer instead).
Apply countertop sealer in similar fashion to first coat with an even coating and again back rolling to prevent roller marks.
24 hours after second coat of XS-327 countertop sealer is applied, the surface is ready for light use, and is fully cured and food safe after 7 days.
Frequently Asked Questions About XS-327:
Question: Is XS-327 counter topping food safe?
Answer: After full cure is achieved in 7 days, sealed surface is completely food safe.
Question: How long do I have to wait between coats?
Answer: Only until the sealed surface is dry to the touch and not tacky. If allowed to sit more than 12 hours, surface will need to be sanded with 220 grit sand paper to ensure proper adhesion.
Question: Do I need to use multiple coats XS-327?
Answer: Yes, the prime coat is essential for good penetration of the sealer and it is much easier to apply at dilution rates of 2:1 and 1:1. "Straight-up" application is never suggested.
Chemical Resistance for XS-327 after 24 hours
MEK no effect
Xylene no effect
Tap Water no effect
Mineral Spirits no effect
100% Ethanol no effect
10% Acetic Acid no effect
5% Sodium Hydroxide no effect
50% Sodium Hydroxide no effect
85% Lactic Acid no effect
50% Sulfuric Acid no effect
38% Hydrochloric Acid no effect
10% Sodium Chloride Solution no effect
28% Ammonia no effect
Coffee no effect
Cola no effect
Grape Juice no effect
Ketchup no effect
Mustard- Transient Staining
Clorox Bleach 5-10% no effect
Test Data for XS-327 Counter Coating
Appearance (cured) Clear matte or gloss (semi-gloss sheen)
Water Resistance Excellent, beads water
Mechanical Stability Excellent
Light Stability Excellent
Appearance (wet) Milky
Odor Sweet
Application Temperature 60 – 90 degrees Fahrenheit
Gardener direct/reverse impact >160 inch pounds
Taber Abrasion 40-60 mg loss
QUV – A 5.0 > @ 2,000 hours
Gloss retention >95% @ 2,000 hours
Good stuff
I used this on a custom sink with an intentionally rough look (lots of cracks). I used white Surecrete Eco Stain in place of half the water. It was amazing how much coverage I got, so I ended up using 5 coats just to be sure since it's a sink and pretty rough. There was very little smell which was great and the time between coats was not very long. Since this cures with moisture, I definitely recommend back-rolling to avoid spots and make sure you're environment isn't too dry or it will stay a bit tacky for a longer time.
There was a mixup with the initial order (wrong items sent), but Expressions resolved the issue quickly and shipped the right products out to me without any hassle.
Better than expected
Very low VOCs, no noticeable smell during application. I was working in a base with the door open.
Follow Rich's instructions of only as much as you can properly work in a few minutes. Back rolling the bubbles takes patience. I used a rag to repeatedly dry my roller whenever it stopped pulling off bubbles.
I would go heavy and thorough on the prime coat to get a good deep initial layer.
Love the shine
Drying time is quite long which I knew, but it gives a lifted bubble over some spots that I will have to sand and redo. beautiful shine though.
Yes, XS-327 needs to just be rolled and rolled until it basically dries, and you'll get a perfect finish without any of the 'spots' caused by water pulling together into dots. Takes about 4-5 minutes to roll an area in front of you (10sq. ft. approx) to the point that it no longer has any standing water/sealer.
Great Stuff
Very happy with this product, works great and can take many coats. Only thing I have to compare it with is Thompson's Water seal, but this is so much better
Great product
Amazing product from an amazing company. They really go out of the way for the customers. Planning another project very soon.