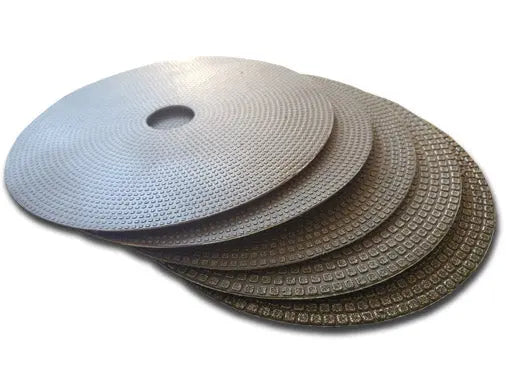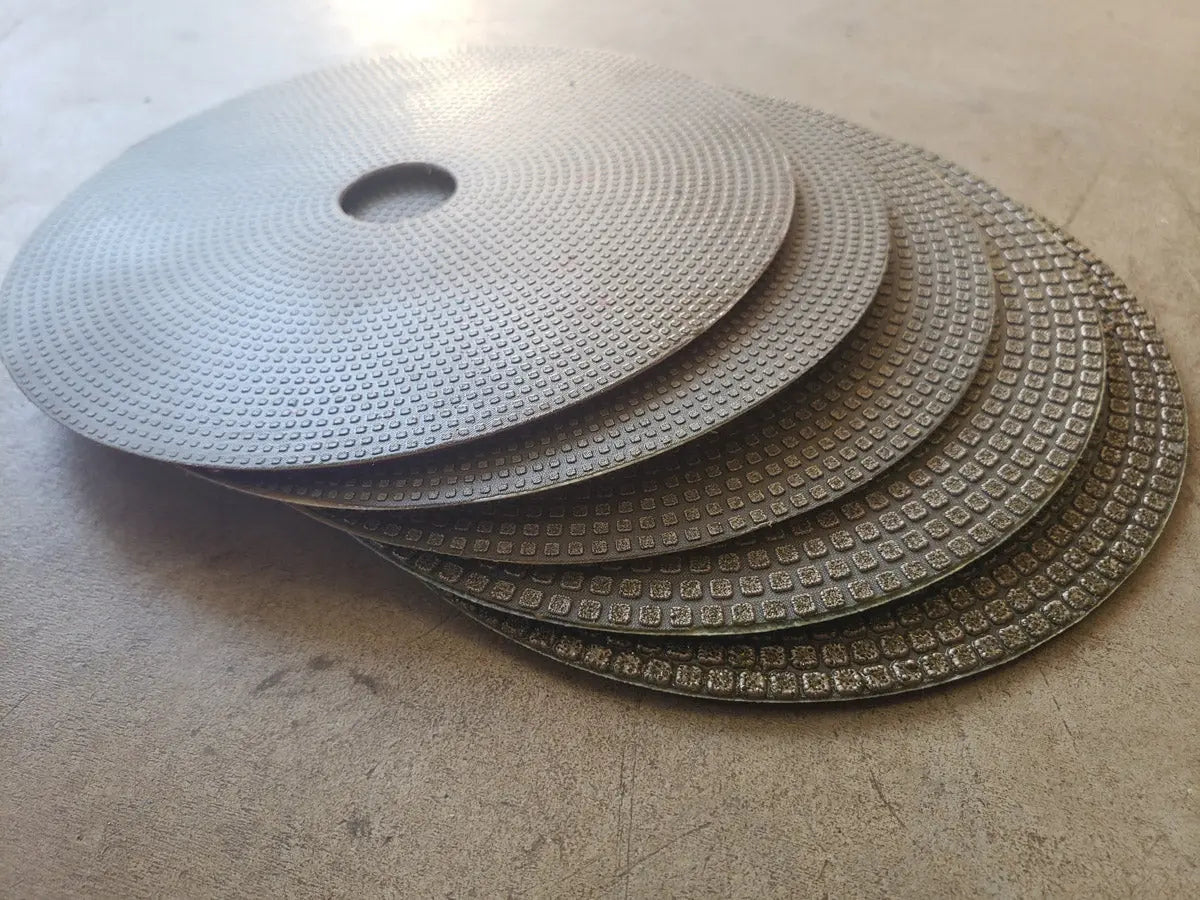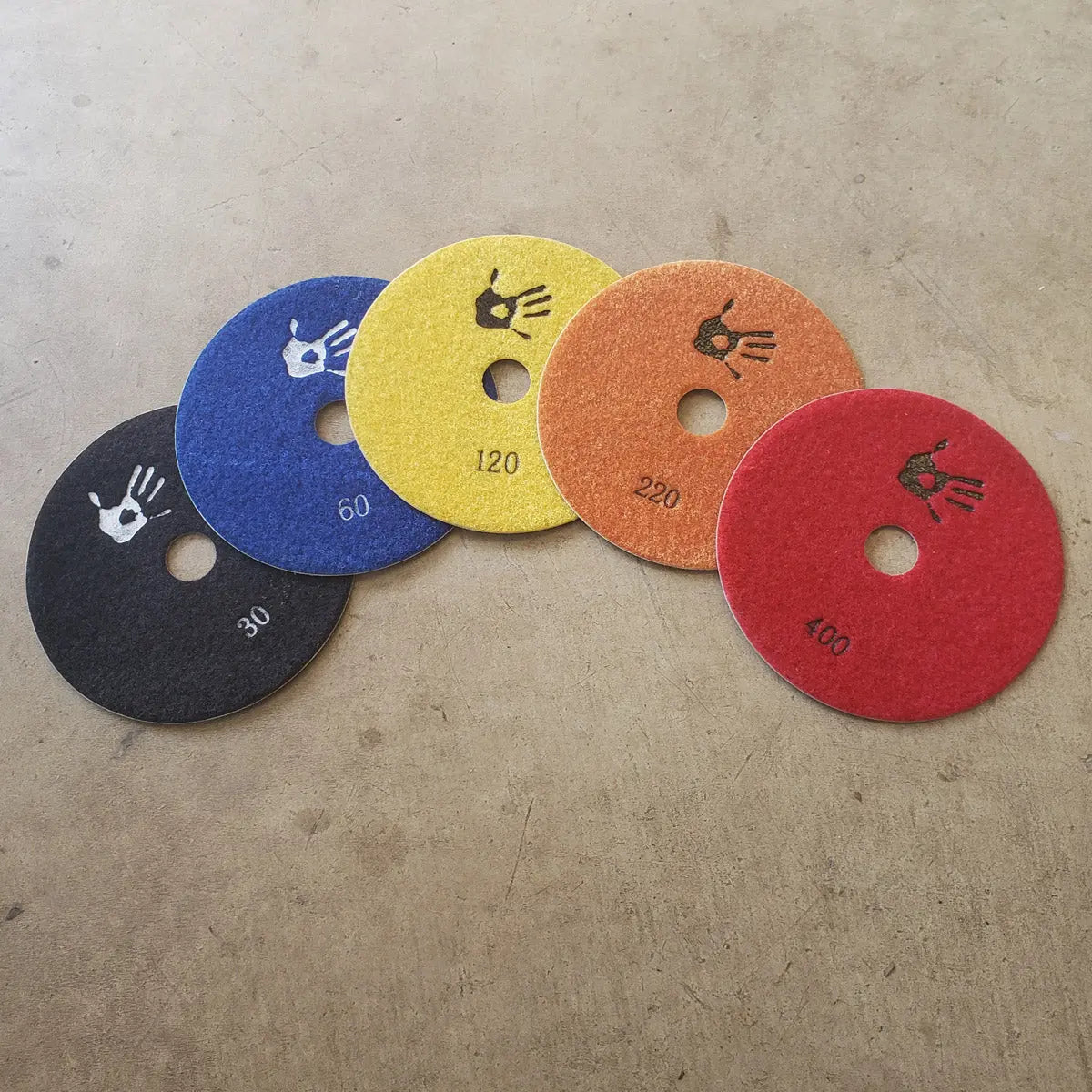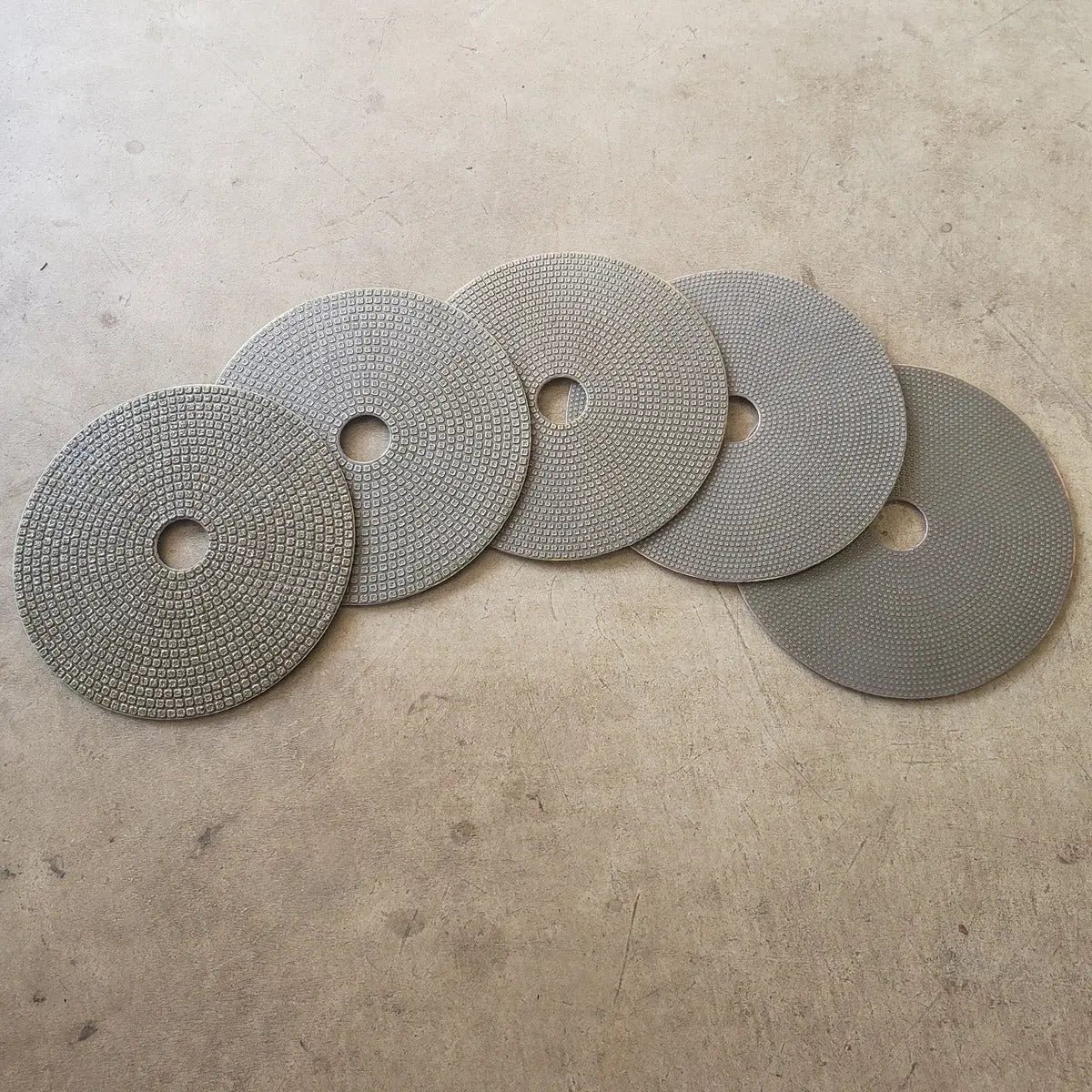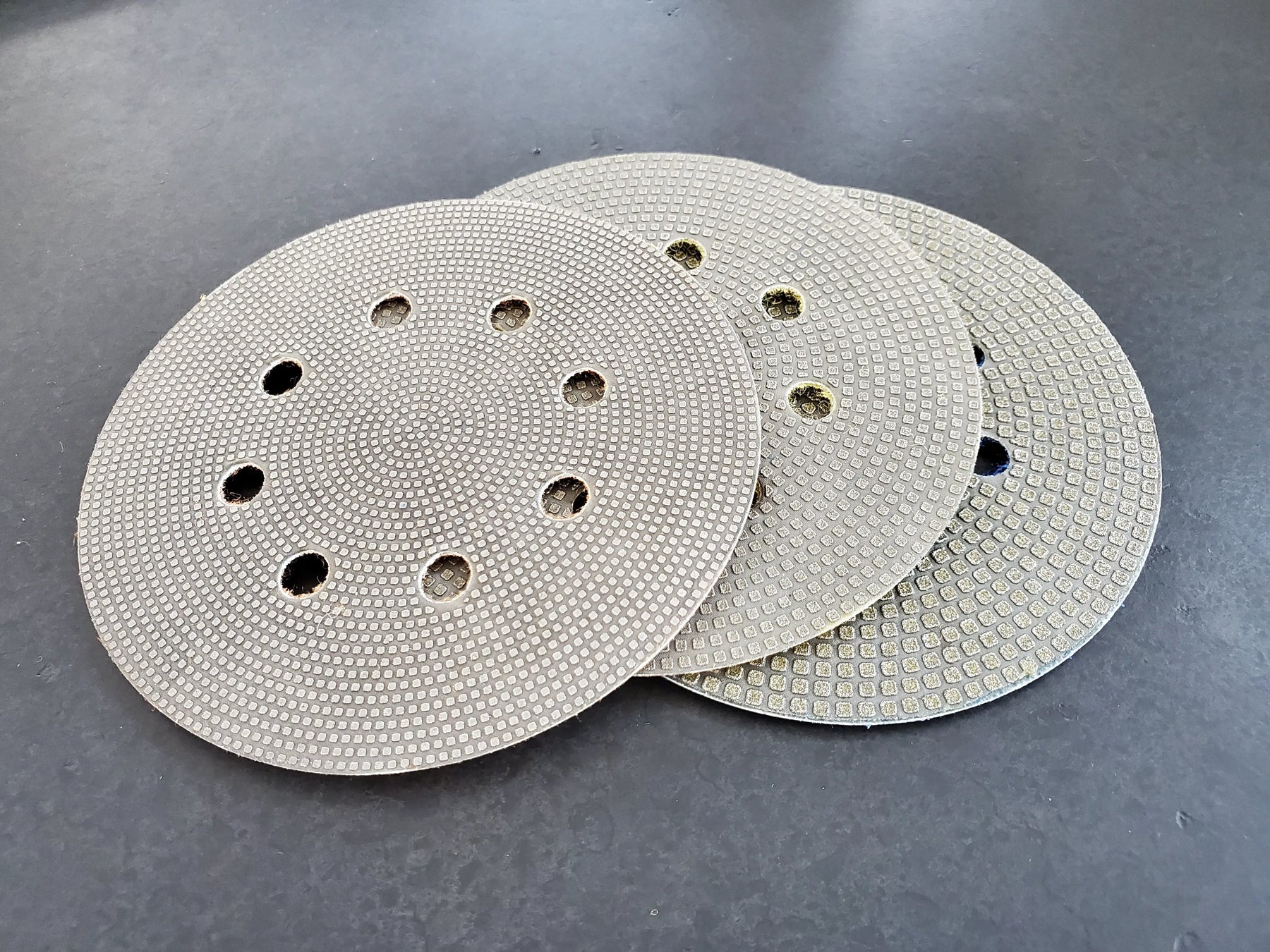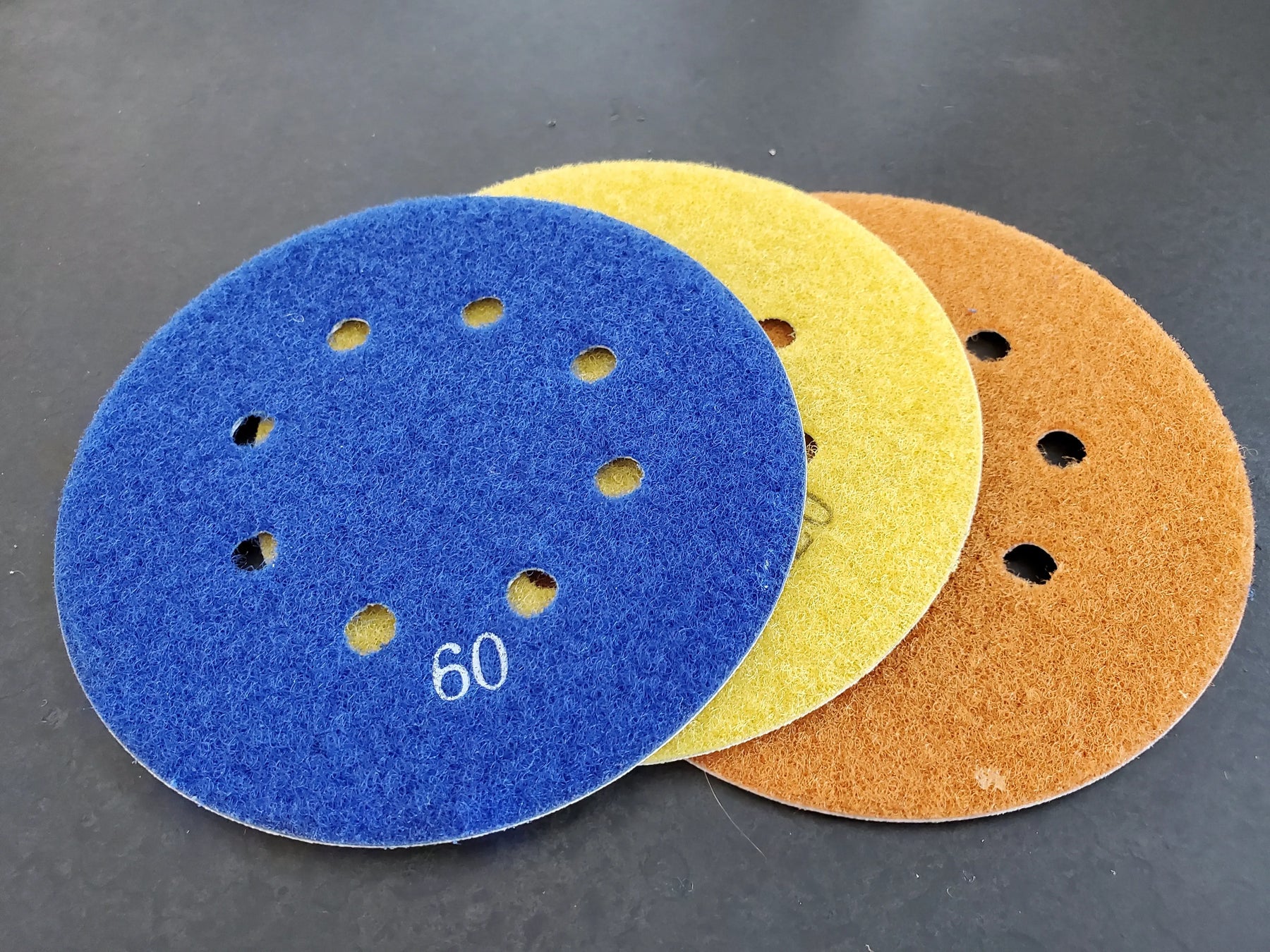 Diamond Sanding Pad Discs, ExpXT 5" Velcro Backed Electroplated
Fast Ship:
Usually takes 1-2 business days to ship out.
Ships from Oregon
(Click for average Ground delivery map
)
Diamond Sanding Pad Discs, ExpXT 5" Velcro Backed Electroplated
Our EXPxt line of pads are premium grade, Velcro-backed diamond sanding pads.
Designed to fit most standard orbital sanders, or polishers.
PLEASE NOTE: 

Some customers have expressed problems with the Velcro backing on the pads not holding up and getting ripped off.  In

every case

, this is caused by the pad NOT being seated fully to the sander/polisher, and so the velcro sides can move independently, even in very slow amounts, but eventually the sander machine moving faster than the pad will rip off strands from the velcro pad, leading to a loss of velcro and trouble keeping the pad connected.   

Many 'orbital sanders' have a fine Velcro surface, designed to stick to paper thin, lightweight sanding paper.  The fine smooth feeling Velcro on these sanders makes it hard to grip the thicker, heavier Diamond Sanding Discs, and so extra care should be taken to seat the pad well to the Velcro before use, as well as run the sander at a low to medium speed.  Many orbital sanders can have their Velcro replaced with a more aggressive version, such as this on Amazon: https://amzn.to/3dfxiYH (look at the pictures of this Velcro Replacement and you will see the large 'hooks' on this, which is ideal. 

MAKE SURE you push and wiggle the pad firmly onto your sander/polisher, and ensure just a slight amount of downward pressure is applied while using the pads, and the Velcro backing will last as long as the diamonds (which is a LONG time!)

Available in two styles: No Sander Holes, With Sander Holes:

No Sander Holes: We designed these EXPxt pads to fit a sander or polisher and still allow the center hole when needed, for water when used on a polisher, but the rest of the pad is smooth and flat to ensure maximum surface evenness. This pad style also works well when using them with an orbital palm sander and a little water on the concrete, so the smooth pad will block the sander from sucking up the wet slurry into the dust ports.
With Sander Holes: Have small holes (that are in normal sandpaper) which can aid in dust collection when using these pads without water.  

For use on concrete, granite, marble, and glass surfaces.

Ideal choice for sanding down/cleaning up concrete countertops that are poured in place!

Electroplated and Resin bound diamonds.
Designed for DRY or WET use.

(Tip: wet almost ALWAYS works better on concrete of any type, so even if you just use a squirt bottle to keep the area wet as you work!)
Diamond Sanding Pad Discs, ExpXT 5" Velcro Backed Electroplated Specifications:

Measurements: 5" diameter.

Electroplated:

 Diamond grits are electroplated onto the backing pad for increased durability and life.

Electroplated Grits: 30, 60, 120, 220, 400.
Great for sanding kiln shelves
Sanding kiln shelves has been the bane of my existance. These wet sanding disks make it sooo much better. There is no way regular sand paper can do this job. Shipping was quick too!
Great Product
These did exactly what we needed them to do. Expressions Ltd. is fantastic to work with--providing great service and support every step of the way!
Looks brand new still
This is a great sanding pad set (I got the 3 pack). I was able to sand my whole kitchen concrete countertops that I made in place, and sanded down all my trowel lines and got it all smooth. I sanded dry and just used a vacuum and fans with open windows, so a little messy, but after finishing I looked at that diamonds on these pads and I can't see any wear at all yet- very impressed!