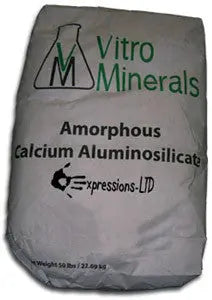 GFRC Pozzolans, Vitro Minerals VCAS- Full Pallet (56 Bags)
NO FREE SHIPPING on this product. Please order separately from other products that may qualify for Free Shipping.
Shipping: This Product can take 2 to 5 business days to ship out.
 GFRC Pozzolans, Vitro Minerals VCAS- Full Pallet (56 Bags)
This pallet price does not include free delivery, due to the huge variance in actual freight costs for different locations (freight costs typically are $250-$600 per pallet in the US 48).  We will contact you with the best freight price at the time of the order, or you can email us before placing the order at sales@expressions-ltd.com and include the delivery address (please include if residential or commercial, and if you need a lift-gate) so we can get a shipping quote beforehand for you.
VCAS pozzolans may be used to replace a portion of the Portland cement used in your mix design. By themselves, VCAS pozzolans are not cementitious. However, when incorporated in concrete mixtures, VCAS pozzolans react with the calcium hydroxide produced during the hydration of the cement to form additional cementitious compounds that will make your concrete 20% stronger, more durable, less porous, and also greatly reduce efflorescence.
Vitro Minerals VCAS pozzolans are made from Vitrified Calcium Alumino-Silicate material having low alkali content.
VCAS is now ASTM approved
Add to GFRC or concrete mixes, the mix will become more creamy and trowel smoother.
Can replace up to 15-30% of the cement in GFRC or Concrete mixes without negative consequences.
View our Concrete Mix Recipes for examples of mixes using VCAS. 

Our Supreme Concrete Countertop recipe calls for 5lbs of VCAS per 80lb bag of concrete, which would mean one bag of VCAS would treat 10 bags of concrete mix.  An 80lb bag of concrete should yield around 3.5 sq. ft. of concrete at 2" thickness.  So 1 bag of VCAS will create about 35 sq. ft. of 2" thick concrete countertop. 
Our GFRC recipe calls for 6lbs of VCAS per batch size, and in the end should yield pretty close to the above sq. ft. coverages per bag of VCAS since GFRC is usually only 3/4"-1" in final thickness.

VCAS Pozzolans are white, and will not discolor white or pigmented cement mixes, unlike metakaolin, silica fume, fly ash and slag byproducts.
Specifications GFRC Pozzolans, Vitro Minerals VCAS- Full Pallet (56 Bags):
Sold by the pallet: 56 bags, 50 lbs. per bag. 

Ships via Freight Carrier.  If you don't have a way to get the pallet off the truck (fork lift or loading dock) then you will need to select the Lift Gate option above for the additional cost to have the freight carrier bring the pallet to you on a truck with a lift gate.

View VCAS Data Sheet.
View VCAS MSDS.
Pretty good
Ordered VCAS and it shipped and arrived on time. What more could I ask for.
VCAS
Order was shipped quickly but the bag of VCAS was just thrown in a box. The VCAS powder was spilled all over inside the box and was a mess. Otherwise it was good.
Great
The right stuff at the right price