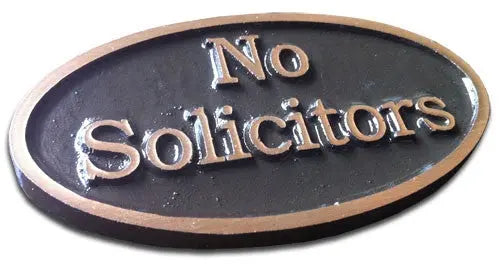 Bronze No Solicitors Plaque, Oval

Shipping: This Product can take 5 to 10 business days to ship out.
Product Detail:
"No Solicitors" plaque, forged from solid Red Bronze. Oval Design.
High quality sign that will actually increase curb appeal, rather than detract from it as most 'No Soliciting' signs do.
Designed to be mounted without any visible screws.

Secure in place by using double-sided tape or silicone.
Back of the plaque is drilled and 2 threaded bolts are included with each plaque.
Product Specifications:
Oval Plaque Dimensions: 4 1/16" Wide, 2 1/8" High, 1/4" Thickness.
Threaded Bolt Diameter: 3/16" (size to drill the holes)
Spacing between threaded bolts: 3" (distance between drilled holes)
Each Plaque includes brass mounting hardware: (2) Threaded Bolts, (2) Washers, (2) Nuts.
Installation:
Standard Install: Drill 2 holes in your wall, brick, stone, etc. Attach the included bolts to the back of the No Solicitors Plaque. Fill the 2 holes in your wall with silicone, and then insert the Plaque. A little extra silicone on the back of the Plaque will ensure a good secure placement.
Excellent quality and fast shipping.
It's not as easy as you'd think to find a decent quality plaque like this. I was looking for something somewhat specific and this was a great find. The size, material, color and quality fit my needs perfectly. I put entirely too much effort into looking around on the internet for an item like this and I happened across Expressions-Ltd completely by chance - and I'm glad I did.
The plaque itself is weighty and substantial - it looks to be extremely well made and should last for years to come. I believe it will stand up to many years of intense Chicago winters. It comes with mounting hardware of equal quality and the installation video on the product description page was definitely helpful.
Expressions-Ltd shipped the item the very next business day and it was delivered just a couple of days after that. You couldn't ask for better service!
Great Plaque, Poorly Cut Brass Bolts
The bronze 'No Solicitors' oval plaque looks elegant, and is easy to install (especially after watching the helpful video on YouTube).
My only gripe is that the brass bolts were obviously just snapped off (vice cut) to the appropriate length, making them impossible to thread into the enclosed brass nuts let alone into the shallow holes drilled into the back of the bronze plaque. I needed to cut a bit off the end of each brass bolt (using a fine jigsaw) in order to get them to thread properly. This wasn't difficult, but it was another time-consuming step that would not have been necessary if the brass bolts had been cut more carefully in the first place. Otherwise I would have given an Excellent 5-star review!