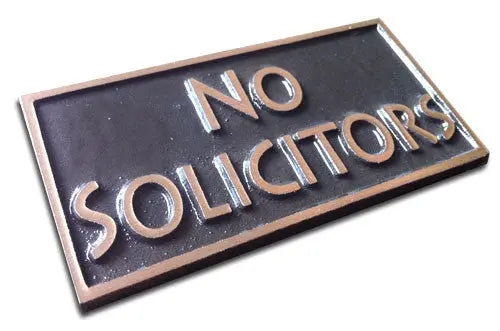 Bronze No Solicitors Plaque, Rectangle

Shipping: This Product can take 5 to 10 business days to ship out.
Product Detail:
"NO SOLICITORS" plaque, forged from solid Red Bronze. Rectangle design with all Capital Lettering.
High quality sign that will actually increase curb appeal, rather than detract from it as most 'No Soliciting' signs do.
Designed to be mounted without any visible screws.

Secure in place by using double-sided tape or silicone.
Back of the plaque is drilled and 2 threaded bolts are included with each plaque.
Product Specifications:
Rectangle Plaque Dimensions: 4 1/16" Wide, 2 1/16" High, 1/4" Thickness.
Threaded Bolt Diameter: 3/16" (size to drill the holes)
Spacing between threaded bolts: 3" (distance between drilled holes)
Each Plaque includes brass mounting hardware: (2) Threaded Bolts, (2) Washers, (2) Nuts.
Installation:
Standard Install: Drill 2 holes in your wall, brick, stone, etc. Attach the included bolts to the back of the No Solicitors Plaque. Fill the 2 holes in your wall with silicone, and then insert the Plaque. A little extra silicone on the back of the Plaque will ensure a good secure placement.