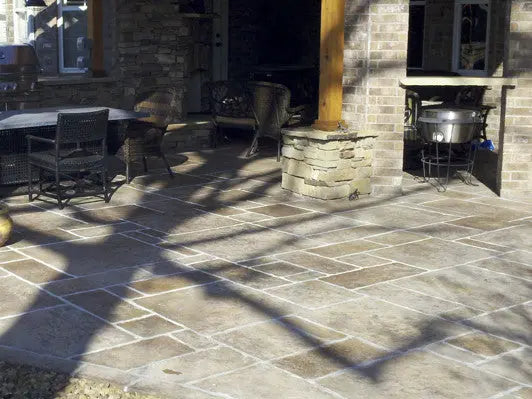 Concrete Color Hardener - True Impression
Ships from Illinois
(Click for average Ground delivery map
)
Shipping:
This Product can take 5 to 10 business days to ship out.
Ships via FedEx/UPS only
Concrete Color Hardener - True Impression
Color Hardener is ready-to-use, powdered dry-shake hardener used to add color into the surface of freshly placed concrete. It produces a hard, long-wearing, abrasion-resistant surface.


Color hardeners come as powders that are hand-broadcast onto the freshly placed concrete and then worked into the surface with a float or trowel. They are easy to use and are available in an assortment of colors. They are different than integral color which colors the entire concrete slab, whereas color hardeners pigment just the top layer and tend to be a bit more intense than integral. They are often used in place of integral colors when more control of the final surface color is needed or when it is not practical to use integral color. They are fully compatible with other coloring products such as

 Antiquing Release ,concrete stains, and sealers, for creating realistic, professional quality stamped concrete surfaces.
Due to heightened surface density the color-hardened concrete has improved resistance to the effects of freeze-/thaw cycles and de-icing salts.
Color hardener is a specialized colored overlay mix consisting of silica, cement, and pigment. The powdered color hardener is broadcast onto the surface, given time to absorb moisture, and is then floated into the concrete. It will actually strengthen slab surface by making it denser.  This harder surface can improve the longevity against traffic and other environmental factors. For decorative contractors, color hardener provides the benefit of a richer cream top surface which takes texture better than just plain concrete.
Another benefit for color hardener is that there are colors available that are very expensive if choosing integral colors since integral color colors the entire slab and with color hardener you are only coloring the top 1/8 inch of the surface. More than one color of hardener can also be used to create a more dynamic surface.
It is ideal for pedestrian or vehicular traffic areas such as malls, retail stores, restaurants, sidewalks, streetscapes, driveways, hotel entrances, car parks.  Ideal for Indoor and Exterior concrete.
Surfaces enhanced with Color Hardener are:
Nonfading, permanent colored surfaces
Durable in freeze/thaw conditions
Hard, dense and abrasion-resistant
Best for imprinting with concrete stamps
Cost-effective and easy-to-maintain
Product Specifications:
Sold in 60-pound bags
Coverage:

Typically applied at a rate of 1/2 to 1 lb of Hardener, per sq. ft.
Residential Projects: 2 applications which total 60 lbs/120 sq. ft.
Commercial Projects: 2-3 applications which total 90 lbs/100 sq. ft.
Light colors require 2-3 applications which total 90-120 lbs/100 sq. ft.
Heavy duty uses require 3 applications which total 120 lbs/100 sq. ft.
Application:
Place, vibrate, and float the concrete surface according to standard ACI recommendations (do not power float or trowel the surface yet). Cover or protect adjacent surfaces.
Following the initial floating, when excess moisture is no longer evident, broadcast approximately 2/3 of the dust on color hardener onto the fresh concrete surface. Apply dust-on color hardener using a dry shake method of uniformly broadcasting the product onto the surface of the freshly placed concrete. Once the Hardener achieves a uniform moistened appearance on the concrete, float the broadcasted material into the surface with a mechanical or manual float.  Do not steel trowel.
When the water sheen has again disappeared, broadcast the remaining 1/3 of the color hardener onto the surface at right angles to the initial application. Float the second application as above. Keep a small amount of material to correct areas that have insufficient color depth.
After the surface has achieved proper firmness, apply a broomed, stamped, scored, textured or troweled finish. A mechanical troweling machine may be used for final finishing. Do not over trowel. 
Avoid using plastic sheeting, membrane paper or moist curing methods. After seven days, apply your concrete sealer.
Documentation:
Fast delivery and color is as advertised.
Concrete color hardener
Although we haven't used the color yet, you get 5 stars for your website which allowed us to order directly from it and not have to go through a distributor. You also shipped it for free and delivered it very quickly. All of the other companies either don't have the colors and can't get them for 6-8 months or we would have to pay an enormous amount for freight.
Clueless contractor
Instead of spreading product over concrete service, contractor added to the mixer. Thus, I cannot give an honest review.
Fast shipping
I love the the product was well packaged and it was fast shipping!