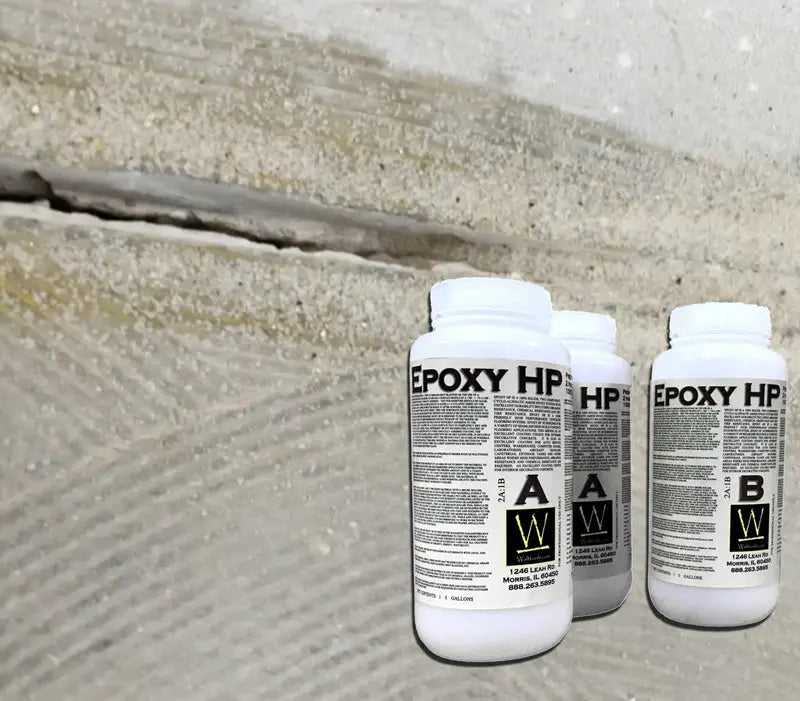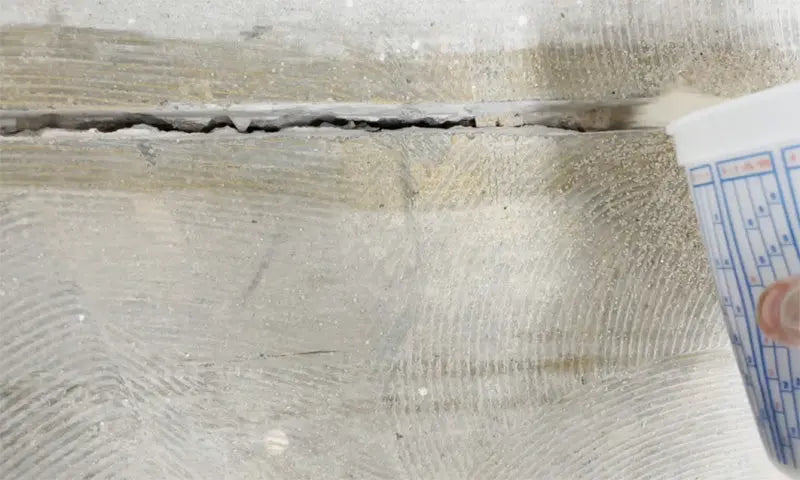 Concrete Crack Repair Epoxy Filler
Ships from Illinois
(Click for average Ground delivery map
)
Shipping:
This Product can take 2 to 3 business days to ship out.
WARNING: This product can expose you to chemicals which are known to the State of California to cause cancer. For more information, view the product SDS, or go to  www.P65Warnings.ca.gov
Concrete Crack Repair Epoxy Filler

While there are are specialized 'crack repair' caulk tubes, one of the best methods is to actually just fill the crack with sand, and then pour epoxy over it!
Epoxy HP is a highly-durable, two-part, 100% Solids, decorative coating.  Yep, this is the epoxy used for Metallic Epoxy Floors & Countertops, Epoxy Floors with flake or quartz broadcast.  Same epoxy resin, and what you want to use to fill your cracks!
If you need to pigment the epoxy to fill the cracks, then no problem!  Just use RZ Tint Color (sold here) to pigment this epoxy. 

Cracks (and defects) to be filled should first be widened- fastest way, use a Crack Chase Blade (sold here on Amazon) for your grinder. This will smooth the edges of the crack making it easier to fill. Filling the crack is the easiest by first filling it much of the way with coarse sand to about ¼ inch from the top and then pouring small batches of the Epoxy over the sand to fill the crack. Some settling will occur so you can add more after a short period of time. The goal is to get as close to the top as you can without overflowing. Overflow build-up can show on your final floor.
If you overflow, use a putty knife or blade to scrape off and spread the excess. If you are going to cover the floor with epoxy (Metallic, Flake, etc.) then being slightly low on the cracks is usually okay, as that should fill with your base coat to present an even floor.
When it comes to control joints (joints put in the concrete on purpose when it was poured), you have a choice to make- Some people are okay with seeing the joints on the finished floor. Others prefer them filled for that 'seamless' look. You can follow the previous procedure to fill them if you choose. Even if you are allowing them to remain, you will want to check for the ones that have opened up (concrete spread open in the joint, down below) and still at least partially fill the split with sand and some epoxy- otherwise, you will lose a lot of material on your base epoxy coat down into the substrate under the concrete!
And now that you know how to fill the crack like a pro... the rest of the 'basic info' about this product, the TI Epoxy HP: 

Cycloaliphatic formulation for highest performance

Excellent chemical resistance

Tintable (Tints sold here)

Enhances surface colors

Long pot life

Durable finish

Non-yellowing indoors

ZERO V.O.C formula

Coverage

3 Quart Kit: 50-75 sq ft per kit (based on porosity and surface profile)

3 Gallon Kit: 225-375 

sq ft per kit (based on porosity and surface profile)

15 Gallon Kit: 1,125-1,875 

sq ft per kit (based on porosity and surface profile)

Download: Technical DATA SHEET