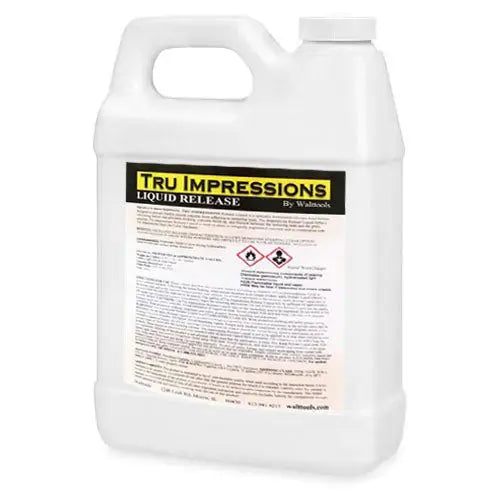 Liquid Release - Clear Concrete Release - Concentrate (Makes 5 Gallons)
Fast Ship:
Usually takes 1-2 business days to ship out.
Ships from Illinois
(Click for average Ground delivery map
)
Liquid Release Concentrate
Add the contents of the concentrate to one 5 gallon pail of mineral spirits you obtain locally.  This gives you 5 gallons of liquid release for concrete stamping.  Saves shipping cost! 
Normal ready-to-go liquid release (sold here in ready-to-use gallons) is also considered HAZMAT for shipping, and so cannot ship unless it's in single gallon containers, and then can only ship via Ground.  This Concentrate product is not HAZMAT, so CAN ship AIR for an emergency last minute need! (and then you can make a 5-gallon pail using your own mineral spirits)
Tru Impressions liquid release CONCENTRATE is a cost effective bond breaker used to prevent decorative concrete mats from sticking to fresh concrete
It may be used with integral colored concrete, as well as surfaces treated with Tru Impressions dust-on color hardener
Ideal for jobs where the messiness of powder needs to be avoided
Great for treating countertop edge forms and vertical tools
1 gallon of mixed release will treat approx 150 sq ft

MUST BE USED BLENDED WITH MINERAL SPIRITS.  DO NOT USE ALONE.

2 LB
Tintable- As a note, Liquid Release can be tinted by adding a small amount (a few ounces) of Powder Accent Release into a gallon of the liquid.  This will leave a bit of color behind and will provide some nice contrast.
Download Liquid Release Data Sheet (TDS)
Download Liquid Release Safety Data (SDS)