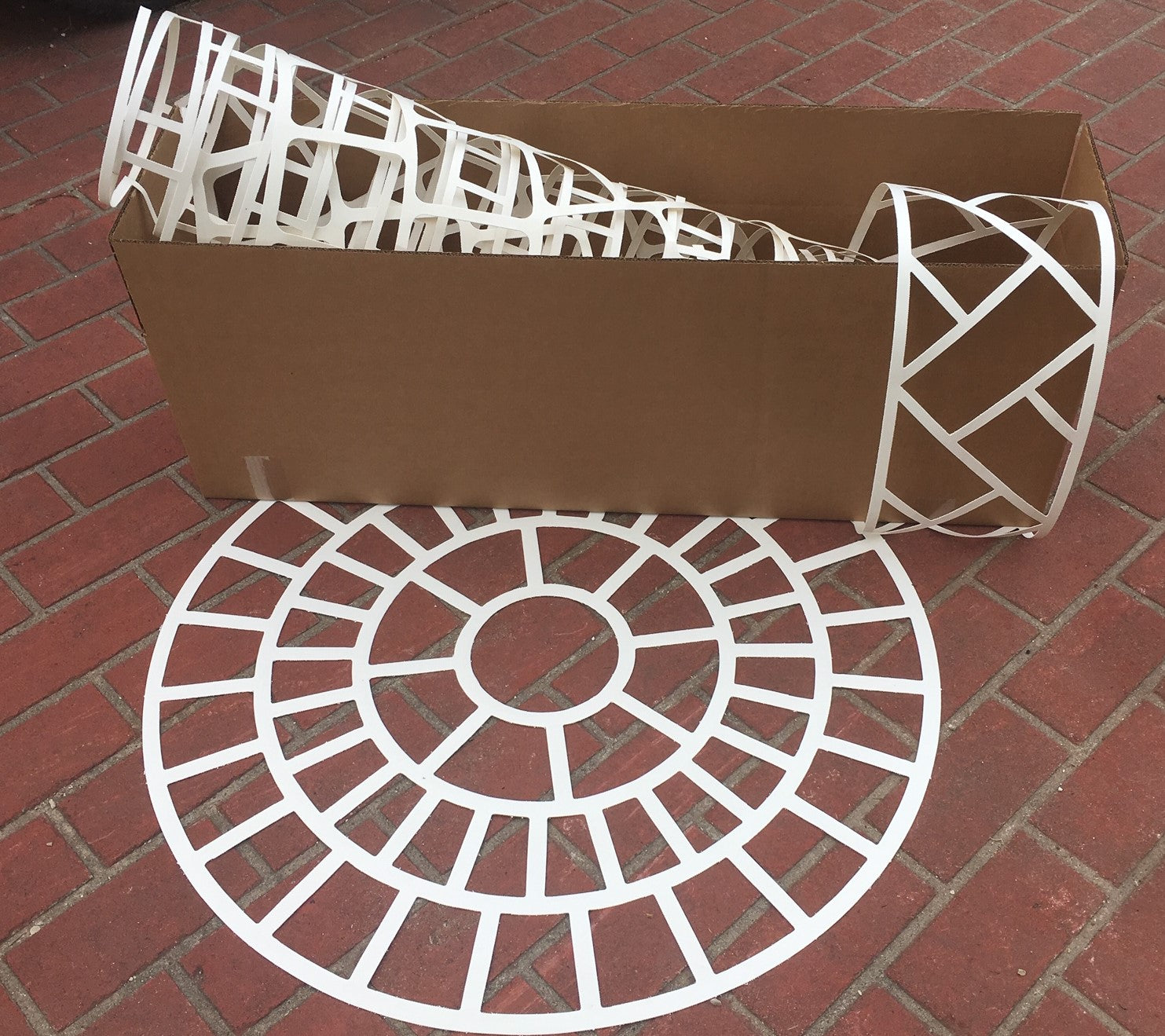 Concrete Paper Stencil - Sample Pack
Fast Ship:
Usually takes 1-2 business days to ship out.
Ships from Missouri
(Click for average Ground delivery map
)
Ships via FedEx/UPS only
Product Detail:

 
Sample Pack of paper stencils.
Select which stencil patterns you want from the drop down menus above.  Our

 

full line of stencils can be viewed here

 

for reference.
Sample kit includes 4 Field Pattern Samples, 1 Header Pattern Sample, and 1 small accent (Inca or Universal Circle).
Each sample pattern is about 3 feet in length, and ships in a large box (so we don't fold or bend your stencils!)
Stencils are designed for use with wet concrete and

 

Overlay Resurfacing Systems.
Manufactured in the USA, using superior high-strength white paper that can handle the toughest conditions.
White Paper Stencils are superior to most other 'brown' stencils, that are thinner, have problems laying flat, and tear easily when used.
Stencils are used to achieve the look of stone, tile or brick without the higher installation and maintenance costs associated with such applications.
Stenciled concrete and overlays leave a flat and even surface better suited for pool decks, walkways, driveways and interior floors.
Non-adhesive white paper stencils which are poly-coated on both sides for maximum moisture resistance. Made of thicker paper, these stencils may be used more than once depending on application method.
Product Specifications:
Stencil Application:
Standard Application Method- Fresh Concrete:
Standard Application Method- Overlay

Lay the stencil down on the existing concrete surface. Once stencils are evenly laid out and flat, spray an

 

Acrylic Overlay

 

as straight down as possible, not at an angle, over the stencil.  Remove stencil carefully.  Experienced users can re-use sections of the stencils (watch video below for example).

Alternate Application Methods:

Vertical concrete surfaces/walls.
Trowel over stencils with a thin layer of

 

Micro-Topping.
Careful use of

 

Acid Stain

 

is also possible over a stencil, but recommended for experienced applicators only.
Can also be used with Drywall & pigmented drywall mud, paint, as well as with Asphalt spray coatings.

Professional tips for stencil use:

When using stencils in new concrete: Slump should be 4-5", to reduce excess bleed water. Use water reducer (SP-7000 Water Reducer sold here).  Use surface retarder for hot or windy weather. 
Video: Stencils with New Concrete (Color Hardener, Release, & Stamping)
 Video: Stencils with sprayed Acrylic Overlay