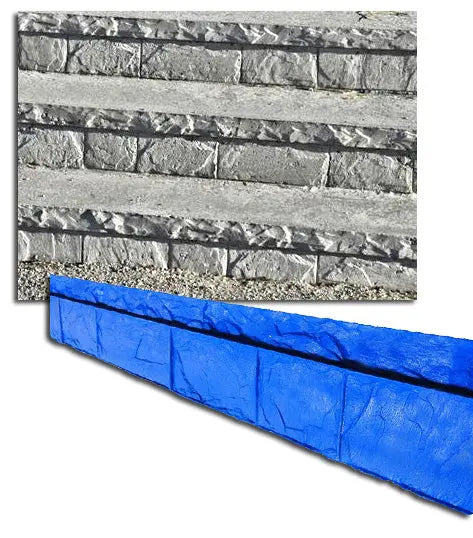 Concrete Step Insert Form Liner - 7.25" Cantilever Chiseled Slate
Ships from Illinois
(Click for average Ground delivery map
)
Shipping:
This Product can take 5 to 10 business days to ship out.
Concrete Step Insert Form Liner - 7.25" Cantilever Chiseled Slate
Chiseled Slate Stepliner with built in cantilever coping

Heavily chiseled slate tiles that are placed in an attractive pattern and finished with an offset slate coping for an outstanding showpiece.

Actual height is 7.25" to match a standard 2x8 board
Consists of a 5" slate riser with built in 2-1/4" chiseled slate cantilever coping.


8 ft length.

They can easily be joined for a longer spread. Joint touch-ups are a breeze and impossible to detect.

Flexible enough for radius work.

Excellent for steps, fireplace hearths, firepit rings, and more.


1"+ thick with up to 1" profile.

22 lbs each.