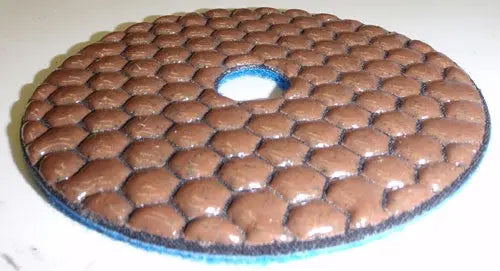 Diamond Polishing Pads, EXPell 5" DRY
Fast Ship:
Usually takes 1-2 business days to ship out.
Ships from Oregon
(Click for average Ground delivery map
)
Diamond Polishing Pads, EXPell 5" DRY
The

EXPell Polishing Pads

designed with specific diamond powder, bonding agents, and other additives for concrete polishing. The pads also work great on granite, marble, or other stone surfaces.
Dry Pads are ideal for on-site touch up applications, where use of water is not practical.
Professional grade, premium Dry Polishing Pads (Can also be used wet).
Hexagon matrix makes these Premium Dry Polishing Pads more aggressive and flexible.
They can achieve exceptional polishing results on concrete, natural stone, engineered stone and quartz surface.
Designed for DRY or WET use. Pads designed exclusively for Wet Polishing are also available
High diamond concentration.
Grits are color coded on the Velcro backing.
Diamond Polishing Pads, EXPell 5" DRY Specifications:
Available Grits: 50, 100, 200, 400, 800, 1000, 1500, 3000- and in packs of:

Full Set: All 8 Grits, 50-3000#
Concrete Counter Kit: 3 Grits, 50-200#. Most concrete countertop sealers require a surface honed to finer than 200 grit for proper bonding, so polishing to just 200 grit is normal.

Measurements: 5" Diameter.
Dry pads can be used wet or dry, although dry use is recommended for dry pads, and wet use for wet pads.
Optimal RPM: Dry - 2000 RPM maximum.

DO NOT

exceed the recommended RPM for the pad- it will burn through the pad at a faster rate!
Diamond Polishing Pads, EXPell 5" DRY Coverage and Use:

Coverage rating for Diamond Pads is basically non-existent.
The reason is because each user will use the pads differently, and each surface will have different hardness ratings, which will effectively change how long the pads will last polishing that surface.
A Polishing Tool (Polishers sold here) should be used, not a grinder. Polishing with water needs to be done by a tool that is safe to use around water, and most grinders are not water-friendly. Grinders also usually have very high RPMs, which will chew through a diamond pad. We carry a variety of polishing tools, both electric and pneumatic.
Allow the polisher to do the work. Forceful excessive pushing down on the polisher and pads will burn through them faster than necessary.
Keeping the pad flat while polishing will prolong it's lifespan. Polishing at any angle will wear the edges of the pad faster than the middle.
A

general

benchmark (keep in mind

GENERAL

means your results could be drastically different) is that when polishing concrete, to polish deep enough to expose some sand and aggregate in the concrete, a 30 Grit pad would be used first to get 'down' to the desired level. One 4" Wet 30 grit pad is

usually

sufficient to get a small sized kitchen (40-50 sq. ft.) polished down to expose sand and gravel aggregate. Purchasing more of your lowest grit needed is usually a safe way to ensure you get the job done. Wet pads will usually have at LEAST double the life of a Dry pad.
Once the surface is honed to the proper depth, the rest of the pad grits are used to now polish the surface, removing the scratches left by the 50 grit. So, a 100, 200, and so forth. Each finer grit removes the scratches from the previous coarser grit.

When polishing a sink, it is usually harder to get the polishing tool down into the sink and maneuver. A polisher extension will make this process much easier.

Polisher Extensions sold here.

Please keep in mind that what works for one, may not work for another. Concrete hardness, the hardness of the sands/gravel, etc. will all effect diamond pad life.
Granite, Marble, or other stone surfaces will polish differently than concrete, and usually are just 'polished' rather than being honed first to get to the proper level of exposed aggregate.
Expressions-ltd has great pricing and ships quick. My experience as a customer for years!