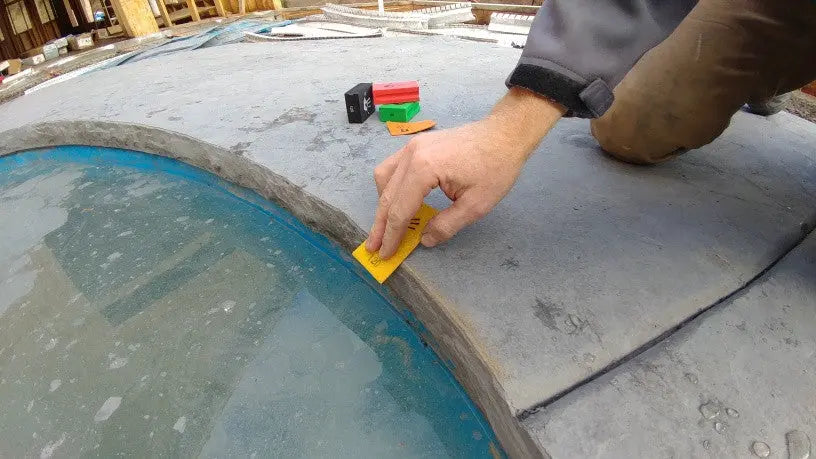 Diamond Sanding Block Hand Pads
Fast Ship:
Usually takes 1-2 business days to ship out.
Ships from Oregon
(Click for average Ground delivery map
)
Diamond Sanding Block Hand Pads
Premium grade, foam-backed straight diamond hand sanding pads.
Higher diamond content than other hand pads on the market.
For use on concrete, granite, marble, and glass surfaces.
Electroplated and Resin bound diamonds.
Designed for DRY or WET use.
These Sanding Block Hand Pads use the same diamonds grits and bonding as our Velcro-Backed Diamond Sanding Strips (which are bendable and good for corners and radius surfaces) and our Triangle Multi-Tool Velcro Diamond Strips.
Diamond Sanding Block Hand Pads Specifications:
Measurements: 4"L x 2 1/4"W.

Electroplated:

Larger sized diamond grits are electroplated onto the backing pad for increased durability and life.

Electroplated Grits: 50, 100, 200, 400

Resin-Bound

: Finer sized diamond particle grits are bound in resin, and provide smoother polishing.

Resin-Bound Grits: 800, 1800, 3500.
Worked well
Worked as expected. Would not hesitate to get similar products from this company.
I use these for sanding the bottom of pottery
These are marvelous for sanding the bottom of pottery. They are excellent for wet sanding the "feet" of mugs, bowls and other pottery. I use a 60 then 120, then 200 and finally a 400. I could go higher if I wanted to go crazy with the sanding but these make a wonderful smooth bottoms.
love 'em
I needed these pads to polish edge cuts on curbs and saddles, I used to own a set but
over the years lost them, so I switched to the 7 pad regiment for my variable speed grinder.
What a mess, especially in freezing temps. , outside getting soaked. I cannot wait to use them on at the next opportunity.
Sanding concrete
I purchased the 120 and 220 grit diamond pads for sanding decorative concrete. They work great on edges and flat surfaces. Not so great on curves because the pads a rigid which is good for flat surfaces. They can be used wet or dry but wet works better.
Sanding Blocks
They have worked well so far