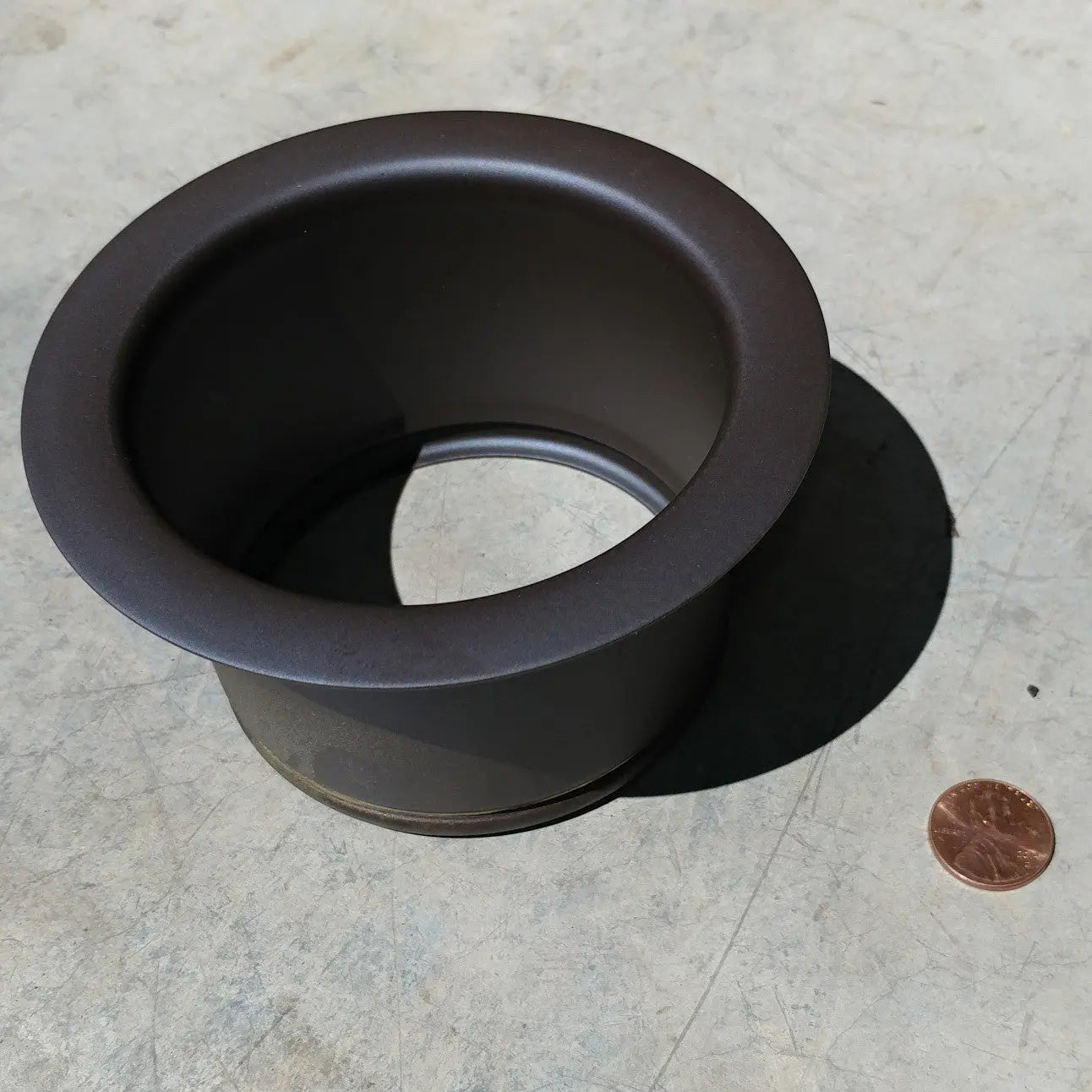 Extra Deep Concrete Kitchen Sink Disposer Flange
Fast Ship: Usually takes 1-2 business days to ship out.
Extra Deep Concrete Kitchen Sink Disposer Flange
Extra Deep disposer flange.
Designed for thicker concrete and stone sink depths.
Available in Stainless Steel, Oil Rubbed Bronze, and Flat Black finishes.
Ideal for concrete sink thicknesses of 1" to 1.5".
Disposer Collar Flange fits all In-Sink-Erator models of food disposers (Should also be compatible with Kitchenaide, Emerson, Kenmore and Grainger brands).

Please Note: Installation of this flange requires the garbage/food disposal unit- which will include a mounting bracket and snap-ring that will allow securing and tightening this flange in the sink.
Notes on Finishes:
Stainless Steel versions are PVD.  Very durable.
ORB, Flat Black, and Powder Coated, and most Special Order finishes are more sensitive to chemicals and harsh environments.

Any damages to the finish on these drain pieces is not covered by any warranty.  If the finish peels or chips off, it is from chemicals or cleaners being poured down the drain, and no warranty coverage.  PLEASE take care with the cleaning and products put on these as stated here:

General Cleaning and Maintenance Instructions: Always wipe your fixture down with a soft cloth after each use to prevent mineral build-up and water-spotting. Should spotting occur, remove water spots with warm water and a soft, damp cloth. Do not use abrasive cleaners, ammoniated products, rubbing alcohol, detergents, astringents, bleach based cleaners, aggressive chemicals, abrasive cleaning pads, or harsh polishes on the fixture. Use of such products may void the warranty. Do not allow soap scum or toothpaste to build up on the product. These will gradually wear away the protective coating and may diminish the beauty and durability of the finish
Powder Coated Finishes: Powder coated color finishes DO NOT HAVE A PROTECTIVE COATING so they are susceptible to surface damage. If not properly cared for these products can be scratched, scuffed, or chipped. If the exterior color coating is damaged or compromised the underlying base material may tarnish and/or corrode. Use of abrasive cleaners or pads can remove or dull the color coating and damage the finish. Periodically clean the fixture with mild liquid soap and a soft clean cloth to gently remove surface spots. 
PVD: Physical Vapor Deposition, process creates the most durable finish available on the market today. Although these finishes are stain and tarnish resistant never use bleach or any abrasive cleaner, cloth, or pad to clean the product. More specifically, avoid any and all cleaning products designed to remove tarnish or rust or any cleaning agent that contains hydrochloric, hydrofluoric, and/or phosphoric acid or caustic agents. Periodic cleaning can be done with a soft clean cloth to gently remove surface spots.
Hard to find part
We looked all over for a way to connect our garbage disposer to our concrete sink and all of our local places only had the basic size. This simple piece of metal makes all the difference!