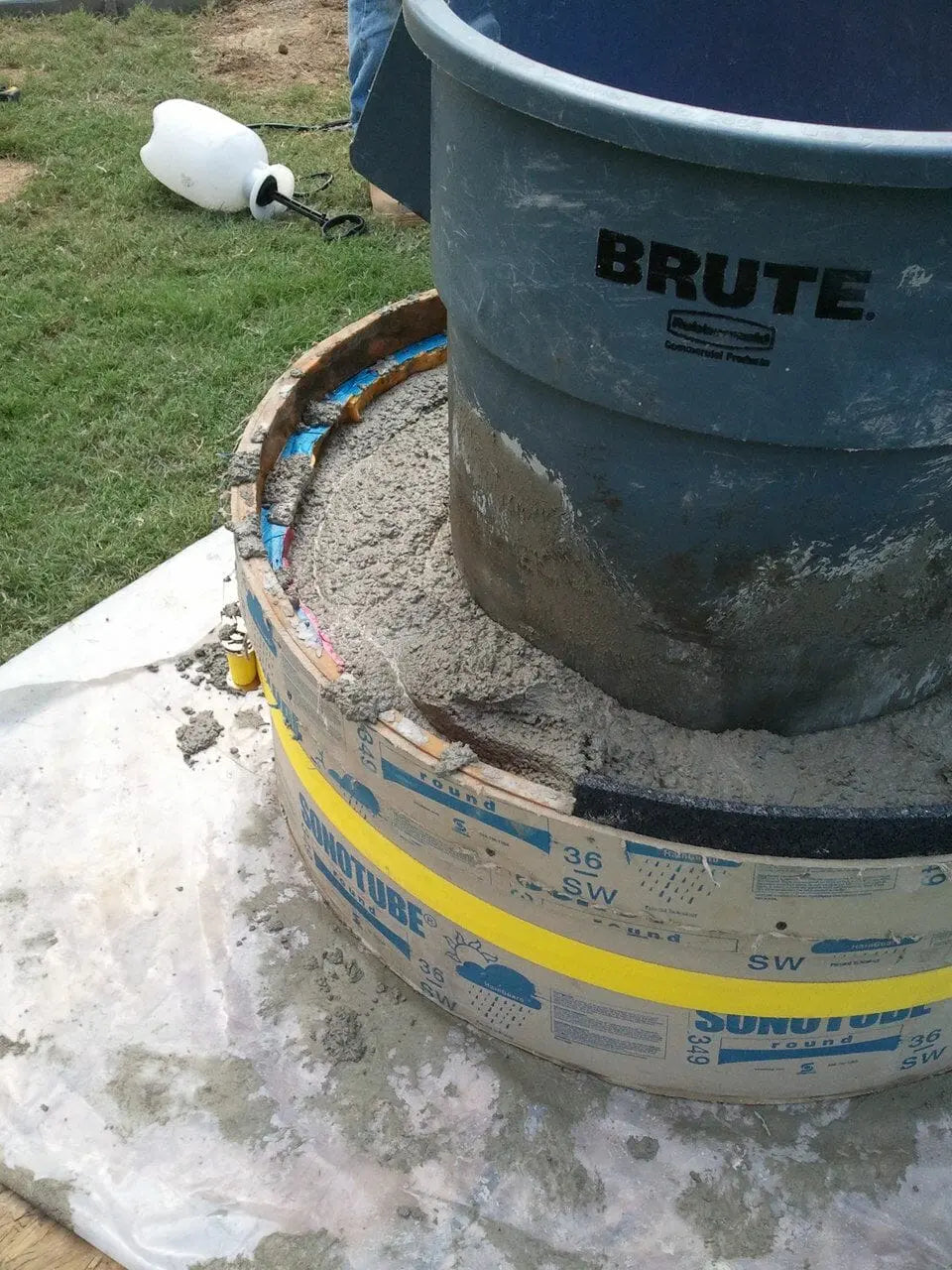 Firepit Concrete Liner Stamp - Stacked Stone
Ships from Illinois
(Click for average Ground delivery map
)
Shipping:
This Product can take 5 to 10 business days to ship out.
Ships via FedEx/UPS only
Firepit Concrete Liner Stamp - Stacked Stone
Stacked Stone rubber form liner for making concrete firepits and seatwalls.
Super simple to use to make a concrete firepit:  Just get a 3-foot Sonotube (from your local construction supply store), and get TWO of these liners and they will fit inside it.  Cut the cardboard Sonotube first with a vertical cut up the side, then it will open slightly and you can place the liners inside, then use a few ratchet straps to close it down tight, and fill with concrete.  Removal is easy, and the Sonotube can be reused in most cases.  To create the inner ring of the firepit, you can use something as simple as a garbage can filled with water (so it doesn't move!)
**Actual liner you receive may be a different color than shown!
Size Dimensions of Firepit Concrete Liner Stamp - Stacked Stone 
Size: Each liner is around 13" tall, and 5.5' feet long overall (each 'step' is @ 4.9")
Stacked stone detail- highly detailed weathered fieldstones, with 1" or more of relief (sticking out)
Ends of the liners are staggered so they meet up with each other when using in a circle (again, 2 of these needed to make a 36" circle!)
How to Use Firepit Concrete Liner Stamp - Stacked Stone 
Create the top coping cap / ledge in a number of ways:

We have a specially made Rubber Edge Liner Form (sold here) just for this purpose!  It can be used in a form, but was designed to be screwed right to your firepit outer form (Sonotube, wood circle, etc.).  Some consideration should be taken to assure your securing it is adequate- a few screws probably won't hold it securely once filled with concrete, so use a bunch or back it with some 2x4 braces if you aren't sure!
If you can pour the firepit base ring first, then you can come back and set up a

 

Bendable Plastic Countertop Form (sold here)

 

and one of the Rock Liners to go in it, and then pour the cap. 
Another common way is shown in the picture below above shows an example where parts of the 36" Sonotube were cut and spread lightly larger than the 36" diameter and secured in place with screws.  Something like cutting 4" sections of the Sonotube, and then cutting the ring open and sliding over each other, until you've built out a 'ledge' to your desired distance (@1" - 2" common).  Place some tape over these ring sections so it's smooth and watertight.  Then cut another ring of Sonotube, 6"-7" high, and place this around the outside and screw into place.  You can now set in a form liner for the edge, such as a 2" or 3" high rock or slate liner, and pour the concrete firepit and cap as one solid piece.   and a 2" or 3" Edge Form Liner can then be used to create the cap.
When using a sonotube, occasionally the cardboard diameter will vary a few inches and the rubber liners may not fit perfectly- but this is fine because to use the cardboard tube, you typically will cut it open, either just one one side and then stretch the tube open, or cut the tube in half, and then clamshell around the liners.  In either case, once cut and liners inserted, use straps to keep the sonotube closed until after the concrete is done.