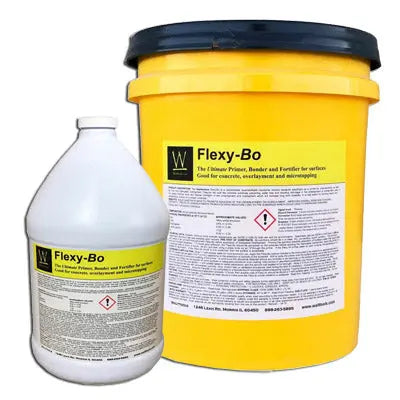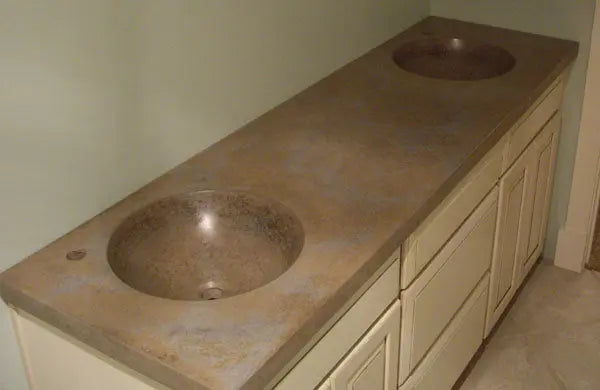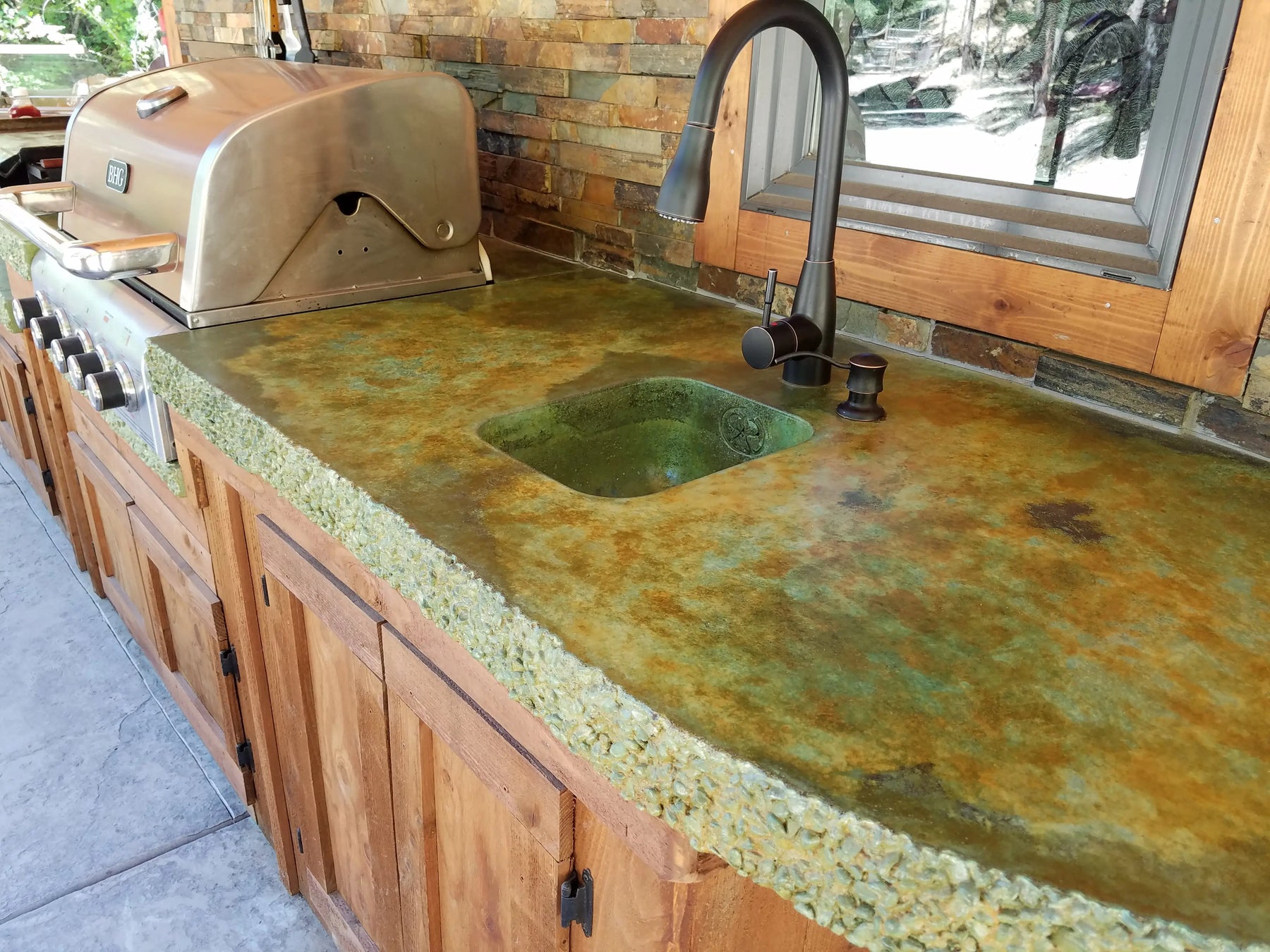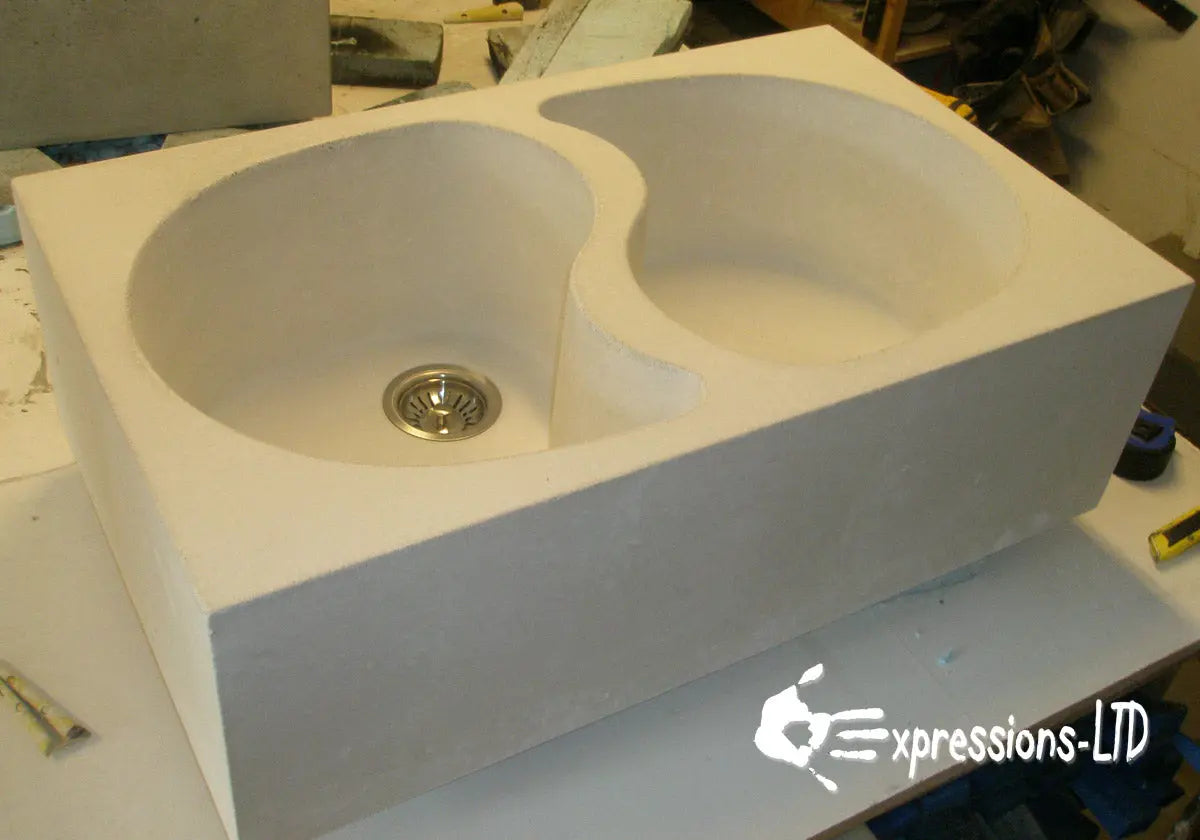 Flexybo Concrete & GFRC Acrylic Polymer Curing Aid, Fortifier & Primer
Ships from Illinois
(Click for average Ground delivery map
)
Shipping:
This Product can take 2 to 3 business days to ship out.
*FREEZE WARNING* This product can freeze: 1 or 2 Day Shipping should be selected at checkout during winter months.
Product Detail:
Flexybo is 100% acrylic.  49% solids.
Acrylic Polymer is a MUST for any GFRC mix. Without it, GFRC work must cure for 7 days in a climate controlled environment with over 95% humidity!
Flexybo is also a must to use on any old concrete surface prior to applying a new overlay or microtopping.  It will seal the substrate, preventing water loss and any resulting shrinkage in the underlayment or overlayment.  It will greatly improve the bond and flexural strengths which will increase long-term durability. When used as a primer, 1 gallon provides up to 500 sq ft surface priming coverage!
Adding Polymer to GFRC and Concrete mixes speeds up cure time, in some instances to just 24 hours, so you can demold your concrete piece very quickly.
Add to concrete mixes to reduce shrinkage and increase bonding and strength.
Polymer works by 'holding' the water in the cement, not allowing it to surface during curing. This speeds the cure time up drastically, so molds can be taken apart and precast concrete/GFRC taken out of molds after just 24 hours.
Provided added workability with the GFRC mix, and increases adherence to vertical mold surfaces.
Suitable for use with both white and gray Portland cements.
Contains a defoamer which prevents the polymer from foaming during mixing, which would trap excess air in the GFRC mix.
Does not yellow when weathered, so will not discolor GFRC finishes, as some acrylic polymers can do.
Product Specifications:
PLEASE NOTE: If you are used to working with other brands of polymer, you may notice a difference between brands - Some polymers add a 'thickener' agent to make them appear thicker, but it serves no useful function and is arguably a bad idea in concrete as it requires more water to offset it...  There is no addition of a thickener in Flexybo, which is why is will appear this way.  The polymer structure and content in Flexybo is the same and performs the same or better than other polymers.  When using Flexybo, you may need to use slightly less water in the GFRC/concrete mix recipe since there is no thickening agent present.
Type of Polymer: Acrylic co-polymer, 49% solids, re-emulsifiable.
1 Gallon Polymer weighs approx. 8.8 lbs. (usually added to concrete mixes based on weight, not volume)
Available in 1 gallon, 5 gallons (and 55 gallon drums upon request).
This is a potentially FREEZABLE PRODUCT (though rarely happens)!  In any case, if the polymer freezes HARD during shipment it can be damaged and become unusable.  If it gets a light freeze, once it fully thaws and is mixed up, it should be uniform in consistency.  If it appears to stay chunky or separated, do not use.  If you are overly concerned, consider selecting 2-Day or Next Day Air shipping on this product when checking out, during winter.
Adding to Concrete and GFRC Mixes:
Please see our Concrete Recipe section for some typical Concrete and GFRC recipes.
Recommended polymer content is 5% polymer solids to the weight of dry cement. This Polymer is 49% solids, so 94 lbs. of cement would need 10 lbs of Polymer. This formula of 5% is for both GFRC, or for concrete mixes.
Polymer can also be added into Cement Slurry paste mixes. Create mix water by combining 5 parts water with 1 part polymer, and use this water mix instead of just straight water when mixing the slurry. (Slurry is usually used to fill voids and pinholes in the concrete surface, prior to sealing the concrete).

NOTE:

When adding Polymer to concrete or GFRC mixes, the temperature of the mix should remain around 60°F -65°F . Adding ice to the water in the mix will help keep the mixture cool. Use of a thermometer will help control the temperature.
Using as a Primer before using an Overlay or Microtopping:
Dilute 1:1 with potable water for most common applications. Apply the FlexyBo solution liberally to the entire area to be coated at an approximate rate of 200-300 square feet per gallon depending on the absorption or porosity of the substrate. Brush or roll the primer into the surface taking care to seal all the pores in the concrete and to avoid any "puddling" of the primer.
A continuous film should be obtained without any "pinholes" or air openings on the surface, which indicate high porosity. Very porous or absorbent substrates may require 2 coats of primer to seal effectively, with the first coat diluted 2:1 with potable water for better penetration, and the second coat applied at 1:1 dilution.
Allow 1-2 hours of dry time between coats. The dry time of the solution will vary with temperature, humidity, wind, dilution rate, or ventilation procedures used during the time of installation. Increase airflow by use of fans to help speed dry time if necessary.
Allow the Flexy-Bo to dry to a tack free state before applying the Overlay or Microtopping (sold here). This is 30-60 minutes depending on conditions. Primed surfaces are usable up to 4 hours and should not be subjected to traffic. If the coating application exceeds 4 hours, then another coat of Flexy-Bo should be diluted 2:1 with potable water, and then reapplied to the area. If doing a stamped overlayment take great care not to allow any release agent from contaminating the primed surface.
Good stuff
Really made my slurry coats bond well. Wouldn't do a countertop without it.
Good Product, But Packing Peanuts are Horrible
I enjoy the product, but opening a box with packing peanuts is the worst and that's always how they ship it to you. When I throw them away I find them all over the street when the garbage truck whips them everywhere!!
Very Good Acrylic Polymer
This acrylic admix is high solids and works very well for us in our concrete composite products. We've been using this product for several years and highly recommend it.
Great Product!
This is a wonderful product for gfrc. Definitely would purchase again.