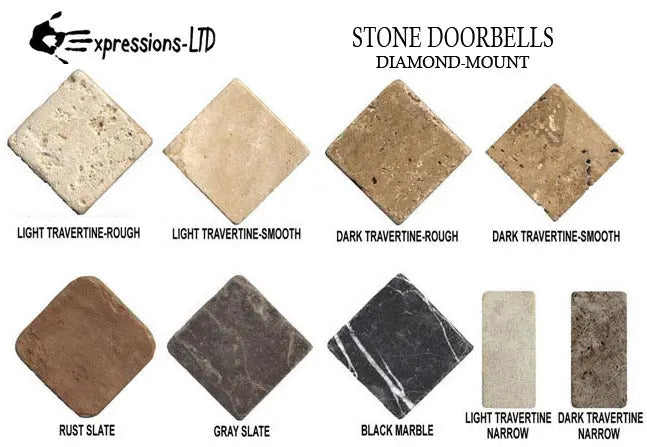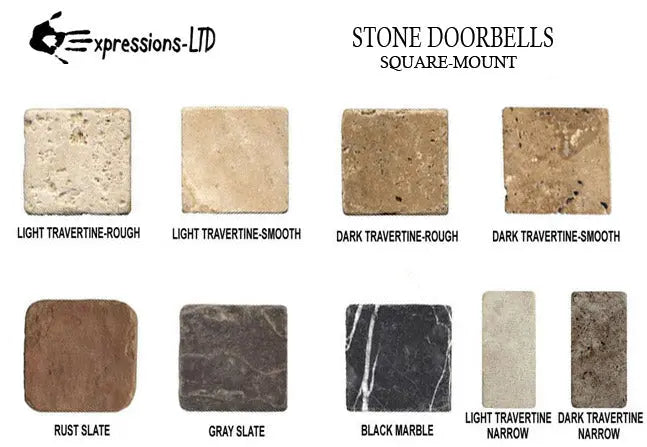 Gecko Accent with Doorbell Button on Stone
Stone:
Narrow Light Travertine
Stone Orientation:
Diamond Mount
Custom Stone Doorbells take 5-10 days to make and ship out. Ships via USPS Priority Mail only.
Gecko Accent with Doorbell Button on Stone
Doorbell Button and Accent mounted on a natural stone piece.
Button illuminates in a warm amber color for nighttime visibility.
Each stone piece is unique and will vary slightly in appearance.
Doorbell is for use with wired, non-battery operated doorbell systems only.
This is a doorbell only- Door Chimes and Low-Voltage Transformers are sold separately.
Doorbells can also be used to replace most garage door buttons.
Each Stone Doorbell is custom-made to order, and is non-refundable.
Specifications of Stone Doorbells
About Stone sizes:

Standard Stone: 4"L x 4"W, 5.25" Tip to Tip
Narrow Travertine- 2"W x 4"H

About Mounting Orientation:

Diamond: Stone Tiles are in a diamond orientation
Square: Stone Tiles are in a square orientation

**Narrow Stones can only be oriented in the square direction

Each stone is unique, and color may vary a little, or a lot! Real stone means colors, textures, variations, etc. will vary from piece to piece. Dark Travertine may appear lighter than pictured, Light Travertine may appear darker than pictured, etc.  See this example of "Dark Travertine" stones:


As each Stone Doorbell is custom made upon order, they are non returnable- so please make sure you are aware that each individual doorbell may vary.
Installation of Stone Doorbells
This doorbell requires a small hole approx. 3/4" wide by 1/2" deep behind the doorbell for the back of the button to fit into.
Each doorbell includes a small pack of adhesive, which will bond the doorbell stone to any surface- brick, stucco, wood, vinyl, etc.
The back of the stone will have some double-sided tape on it, which is just a temporary way to hold the Doorbell to the wall until the adhesive dries.
To install, simply connect doorbell wires to button, and apply the adhesive to the back of the Doorbell Stone. Peel the paper cover from the double-sided tape, and stick the Doorbell to the wall surface. Hold the doorbell to make sure the double-sided tape is holding it in place as it should. The adhesive glue should harden within a day.

For hard to bond to surfaces, use masking tape to hold the Doorbell to the surface in addition to the double-sided tape, until the adhesive glue dries.

Mounting adhesive included for simple installation to any surface.
Beautifull Gecko and Stone
Beautiful but too fragile : the button had to be replaced after 2 days of use.
excellent service
You guys got that item to me so quickly. Wow. Already up on the house and I love it.