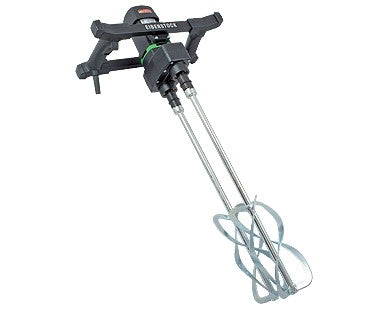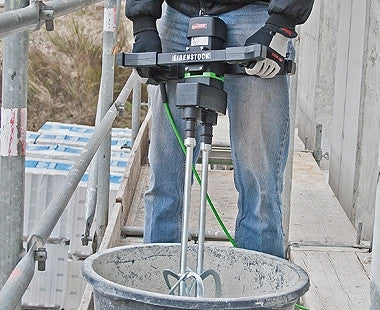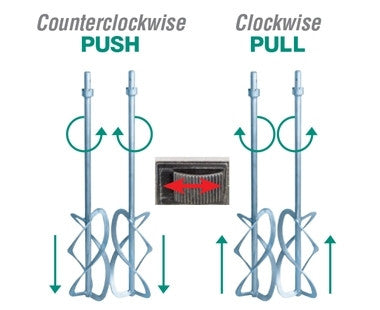 GFRC Mixer, Eibenstock EZR 23 R/RL Mixing Drill
Shipping:
This Product can take 2 to 5 business days to ship out.
Ships via FedEx/UPS only
Product Details:
Eibenstock, top of the line, powerful, professional grade mixers.
USE:
Mixing clockwise of highly viscous and stiff materials, e.g. tile cement, ready-mixed mortar and plaster, screed, epoxy resins, sealants, granules, multi-component materials, coatings
Mixing anticlockwise of building materials with low and middle viscosity, e.g. paint, glue, filler and leveling compounds
Drywall construction, tiler, painter and plasterer, civil engineering, floor renovators
FEATURES:
Two mixing effects simply by switching
Two contra rotating stirring rods – no counter torque, easy handling, saves time and effort
Electronic switch – dust protected
Soft start for less splashing
Temperature control
Stepless speed regulation and constant speed – optimum settings on the material to be mixed
Cap with labyrinth-guide – protection against dust, dirt, stones, splash water
Damping and protection elements
Can be used by hand or mounted to the 25GP-WD Mixing Stand.
Product Specifications:
Model: Eibenstock EZR 23 R/RL.
Mixing Capacity: 5 Bags, 25 Gallons.
Output: Up to 1200 lbs./hour.
Power: 14.5 Amp / 110 Volt AC.
Free Speed: 680 RPM.
Load Speed: 0-450 RPM.
Weight: 17 lbs.
What's Included:
EZR 23 R/RL Eibenstock Mixing Drill
Two 4.75" dia. Mixing Paddles
Operator's Manual
Great customer service
I've ordered a lot of times from expressions and they are always fast, accurate and an all around great business!