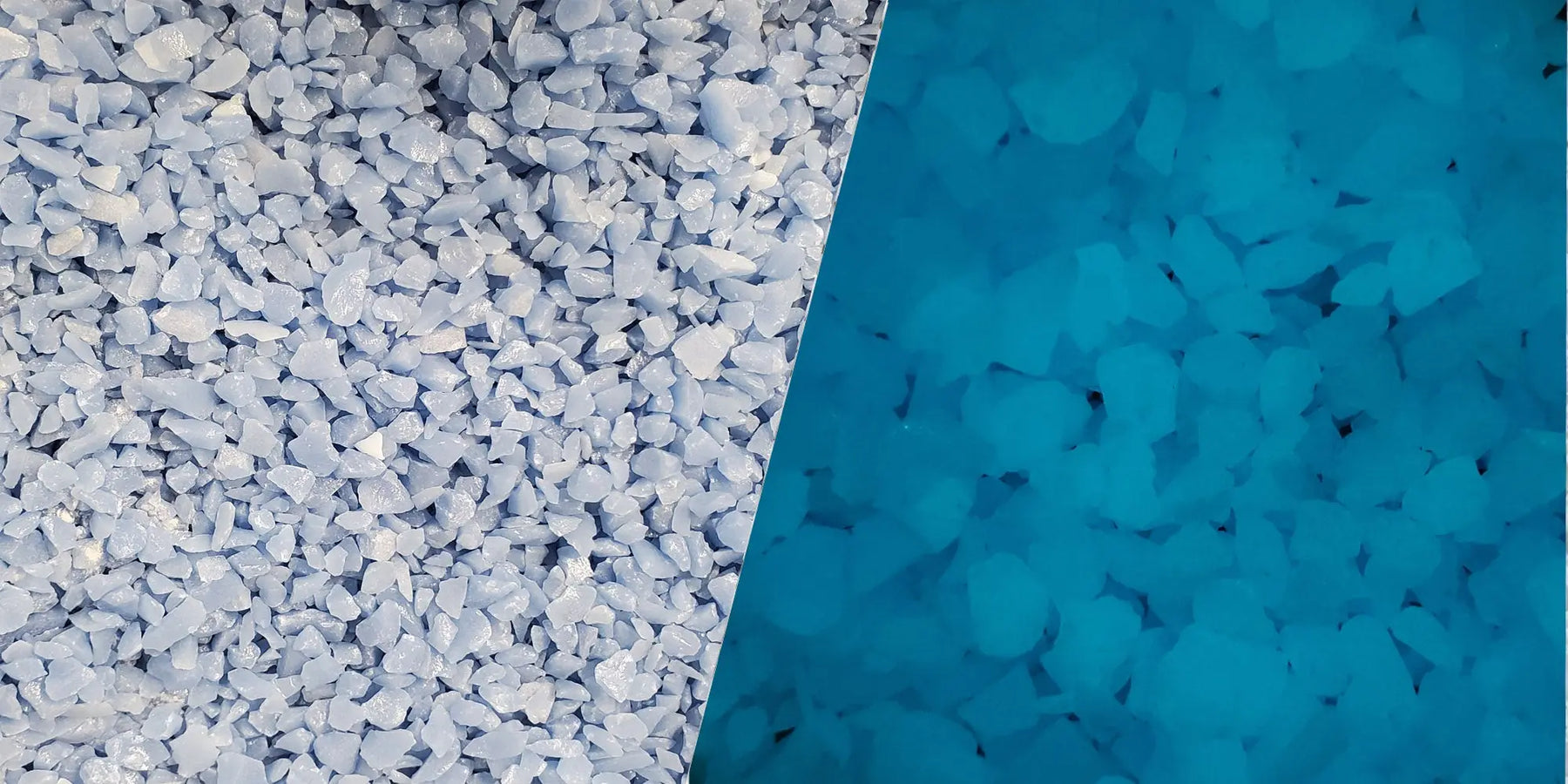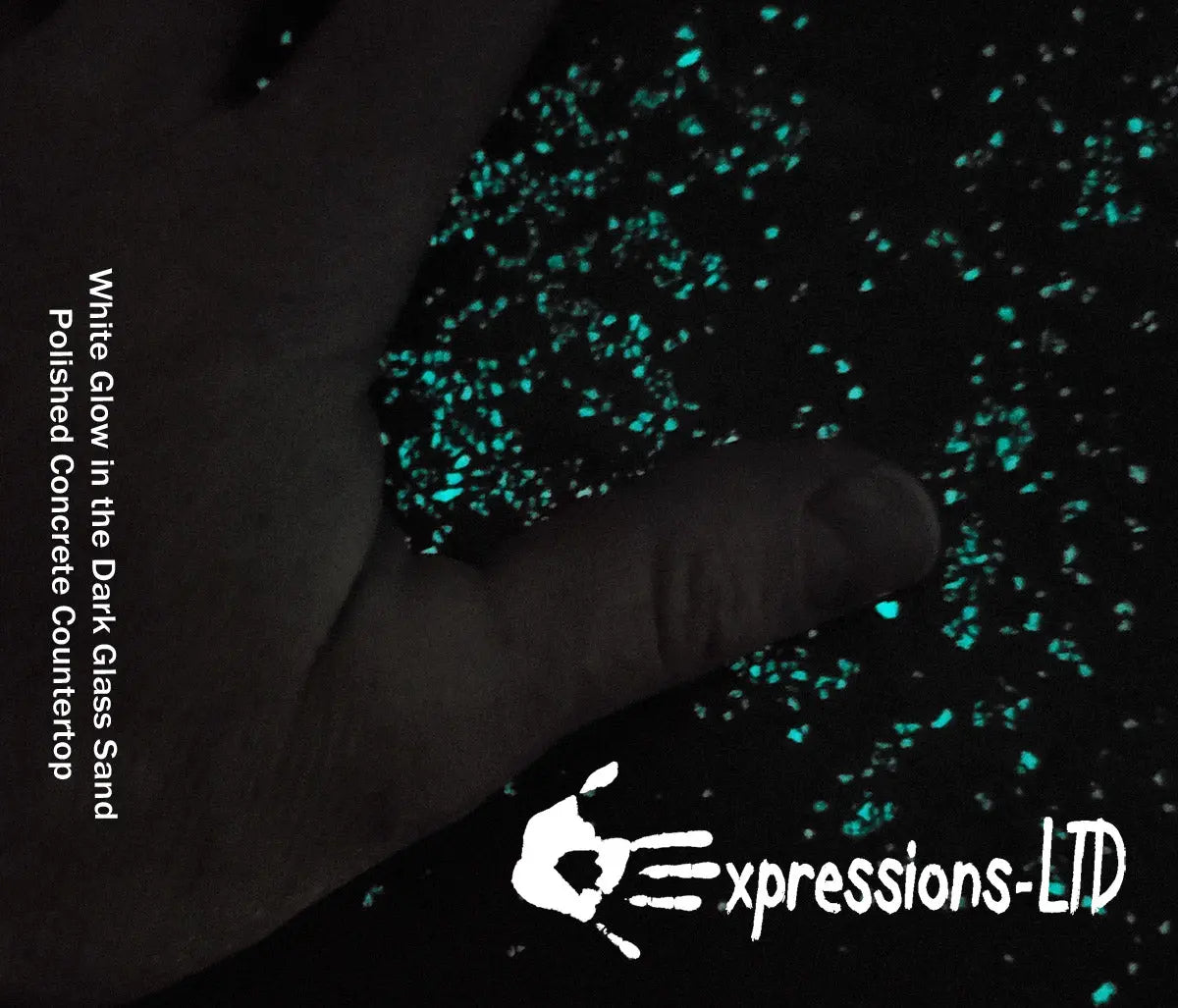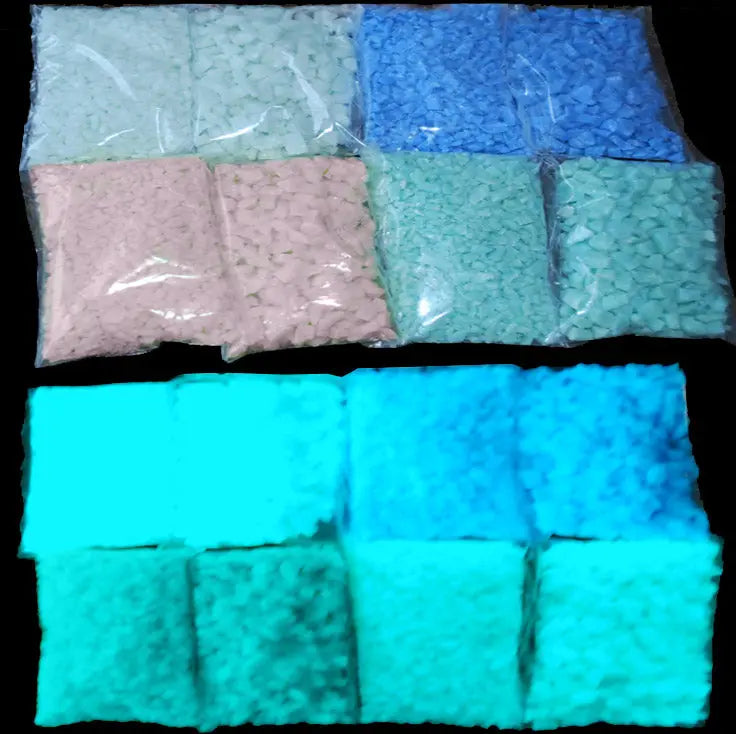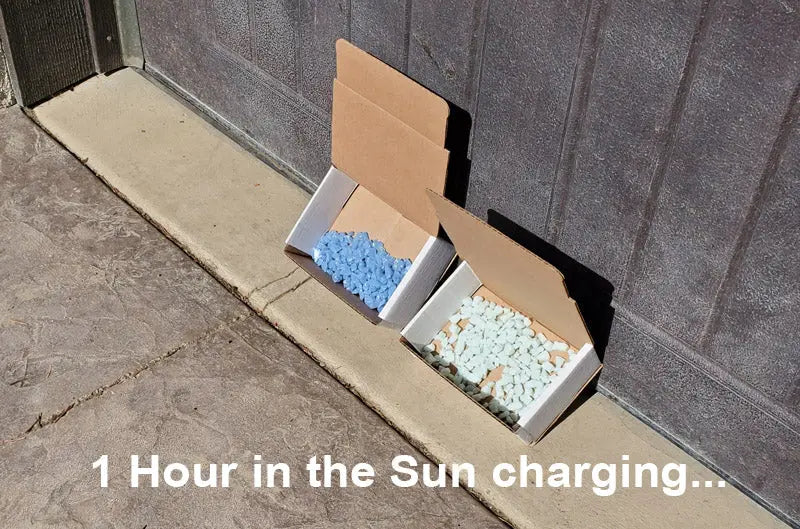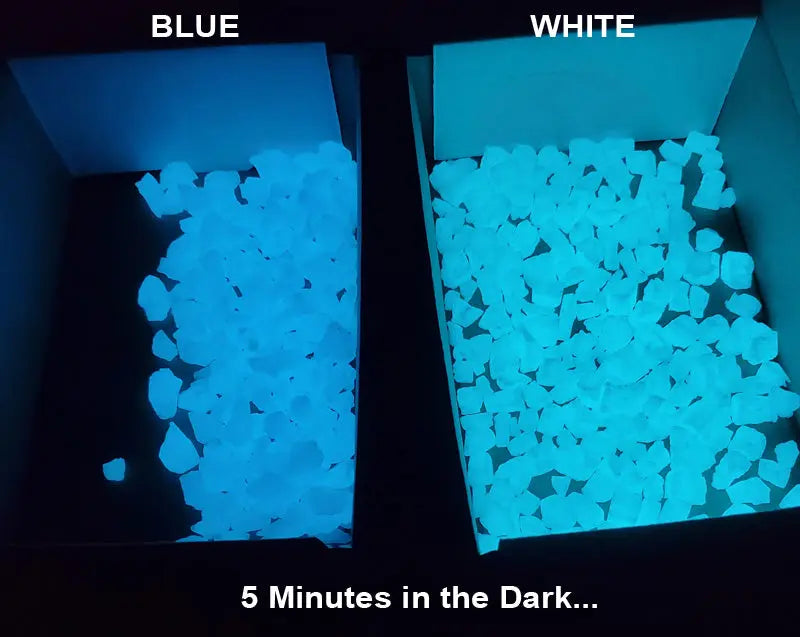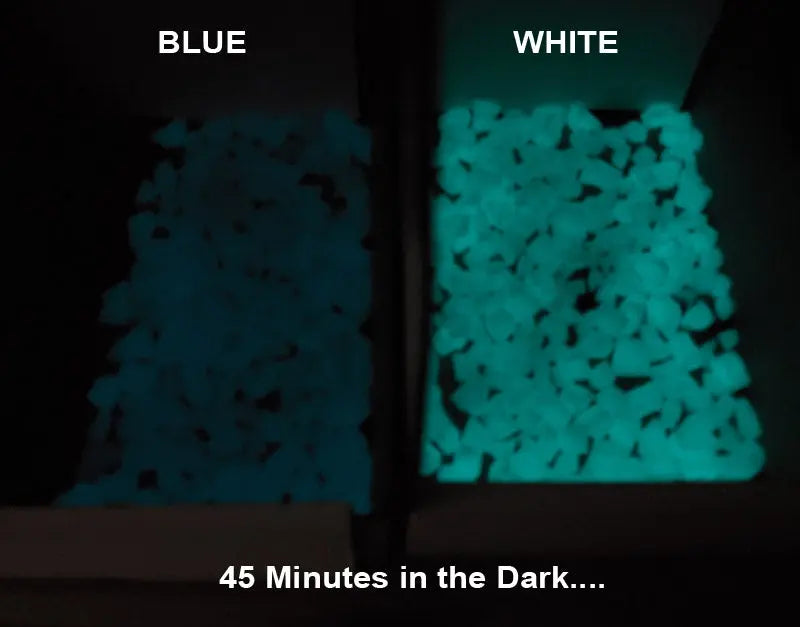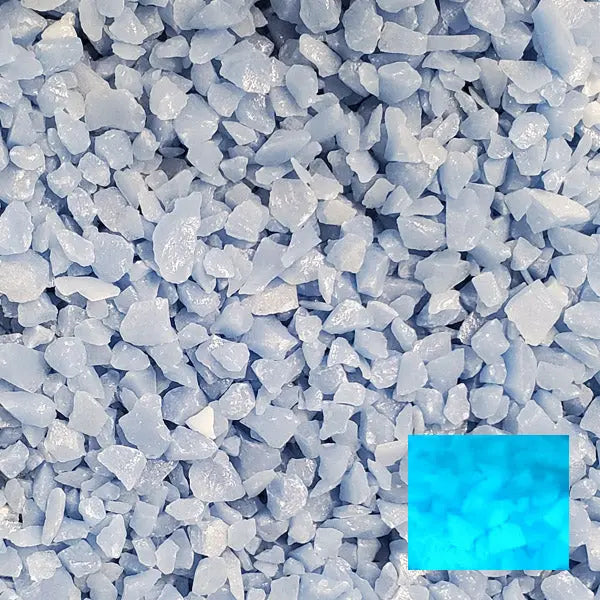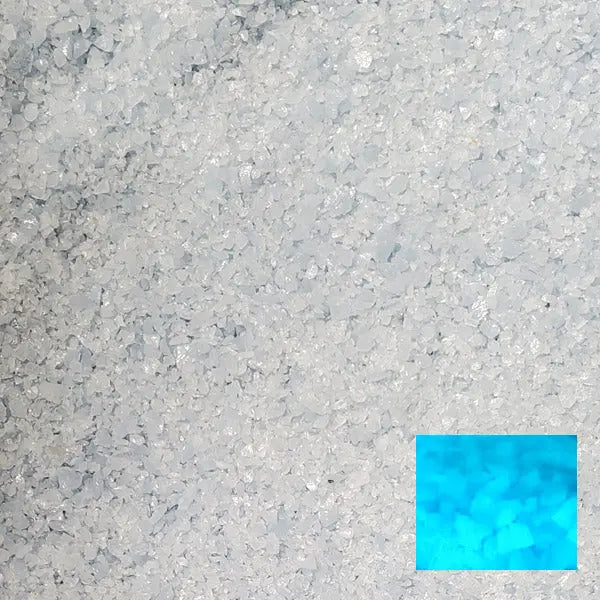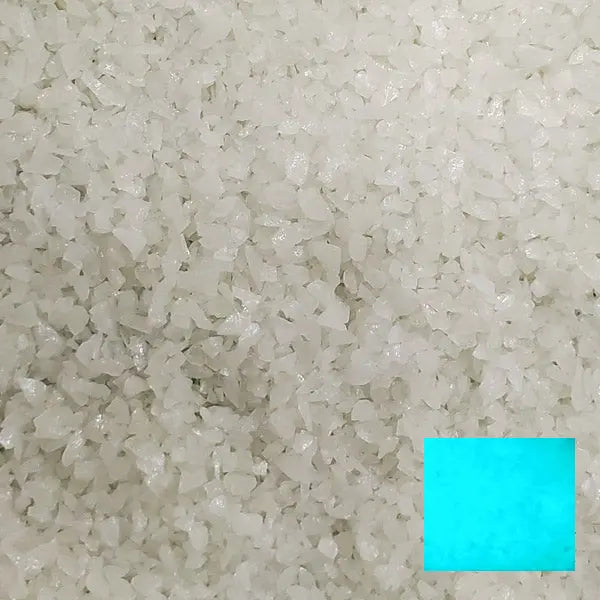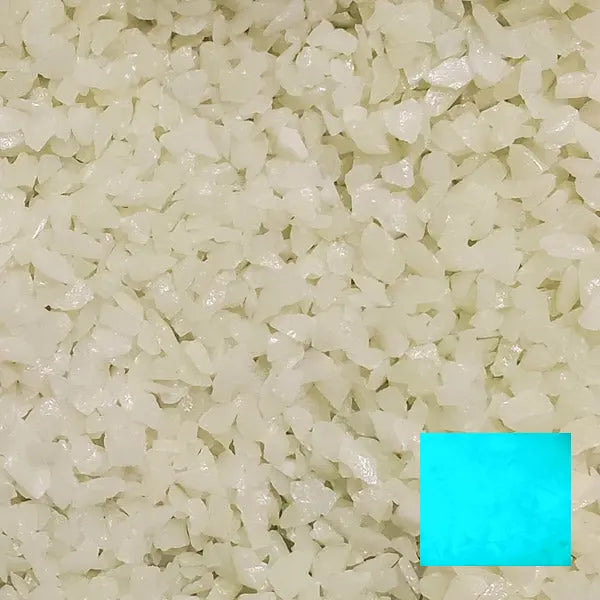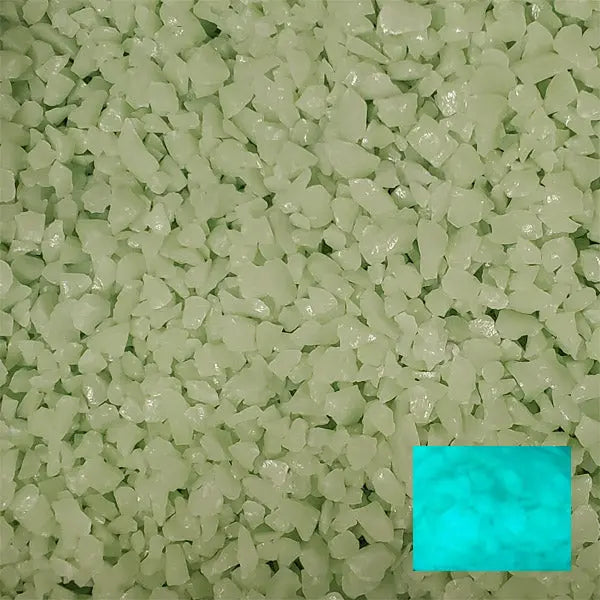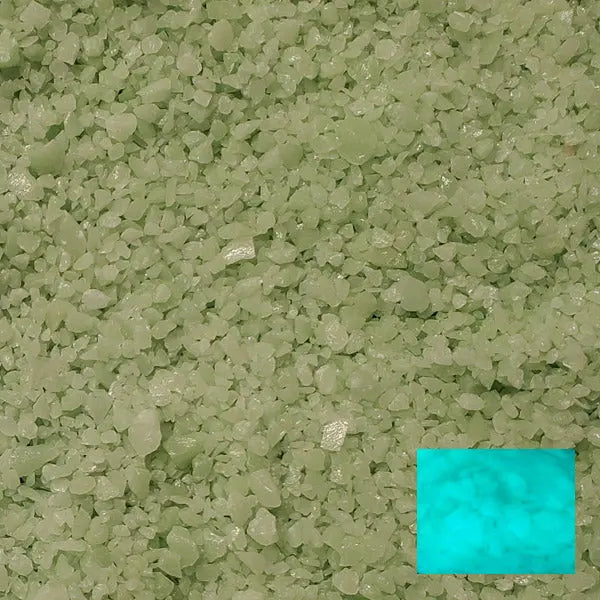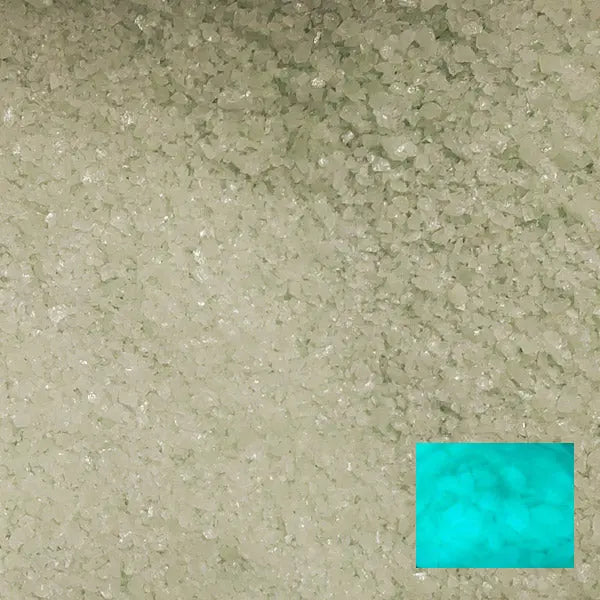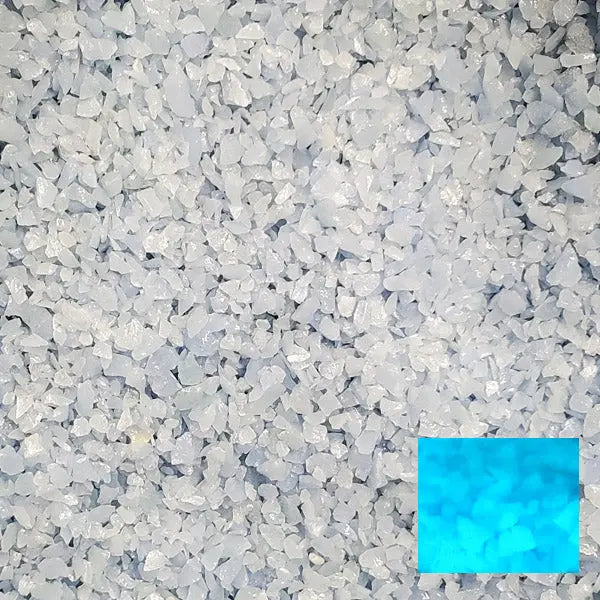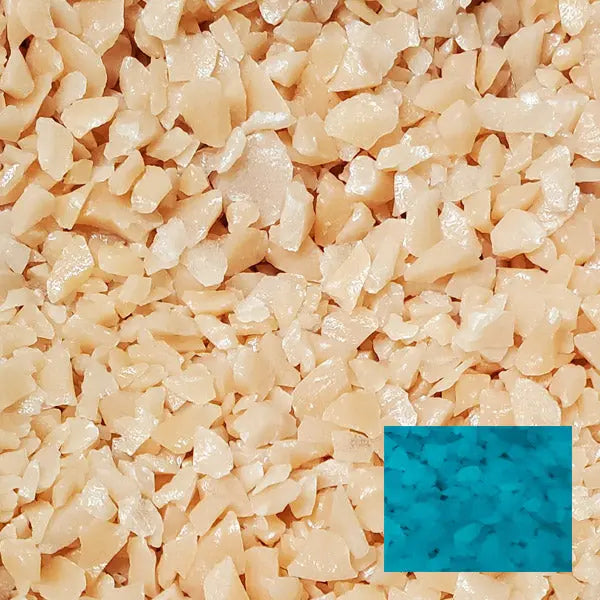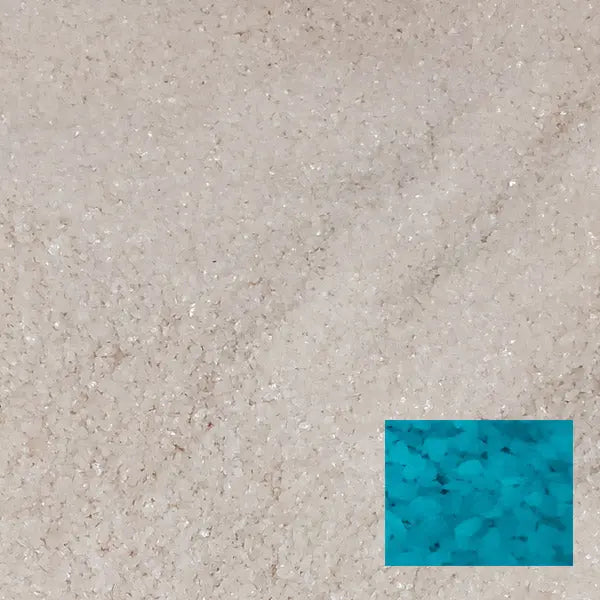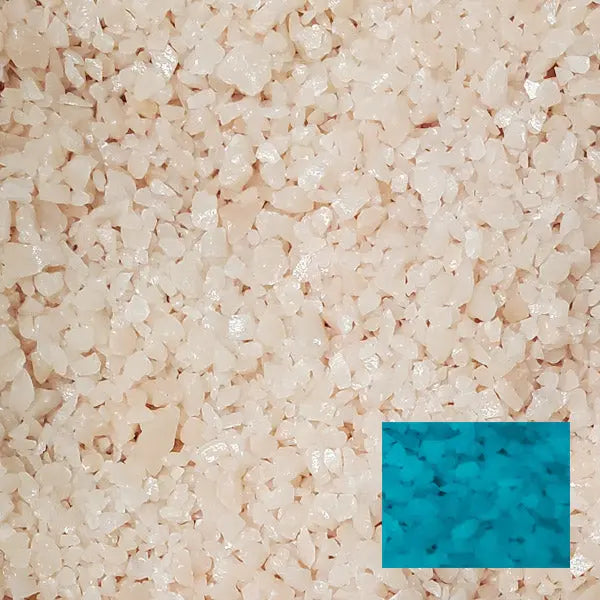 Glow In The Dark Rocks Glass Aggregate - Photoluminescent
1/2 POUND of Photoluminescent Glass:
Blue - Large Rocks
Fast Ship: Usually takes 1-2 business days to ship out.
Glow In The Dark Rocks Glass Aggregate - Photoluminescent
Expressions LTD Glow Rocks are made of Glass.

Glass is for concrete

. There are cheaper products on the market made of resin instead of glass. Resin expands and contracts when hot/cold. Things that expand and contract in your concrete are not good... Our Glass product doesn't shrink, doesn't swell in the heat, is non toxic, and can be polished just like any aggregate.
Our Glow Glass aggregate has been used in thousands of projects, all around the world- Countertops, Pool Decks, Sidewalks, Steps, Firepits are some of the more common applications.
Photoluminescent materials (commonly called "glow-in-the-dark") has the ability to absorb light (sunlight, fluorescent, incandescent, etc) and then to emit light. When ambient darkness occurs, it becomes highly visible, lasting at least 8 hours, and up to 20 hours. Upon removal of the light source, the stored light is gradually released, the strongest glow is produced during the first 30 minutes of darkness, the most critical period following a power failure or other emergency. Then it fades over a period of time, when there is light again, it stores energy again.
The glowing effect created is both beautiful, and a safety element at night.
Glow Rocks and Sands have an expected lifespan of twenty years (though we have some tables made in 2007 that still glow the exact same now as they did when made).
Made of glass and ceramic elements.
Non-toxic, Non-radioactive. Photoluminescent materials contain no phosphorus or lead, or any other hazardous element or chemical. The term phosphorescence is sometimes used to describe luminescence, but these photoluminescent materials contain no phosphorus.
How it works: The basic principle of photoluminescence is simple: electrons orbiting atoms or molecules absorb energy through collision with photons during excitation. They then emit this excess energy as photons of (usually visible) light at a later time.
This product meets the safety regulations for IMO Resolution A. 752 (18), ASTM, DIN 67510 Parts 1-4, UL 924 JIS-Z9107:1998, and ISO_17398.
Specifications Glow In The Dark Rocks Glass Aggregate - Photoluminescent
Sold in 1/2 lb bag sizes. Each bag is about the size of a credit card, 1" thick
Available in colors: (See below for pictures)

Whit

e (Daytime: Whitish/Light Green. Nighttime: Bright White/Blue Glow)

Blue

(Daytime: Blue. Nighttime: Blue Glow) 
Pink (Daytime: Red/Pink.  Nighttime: Yellow/Green Glow)

Green

(Daytime: Teal. Nighttime: Green/Bluish Glow)

Available in sizes:

Large Chips: (Average chip size: 1/4" to 1/2", with some variance)
Small Chips: (Average chip size: 1/8" to 1/4", with some variance)
Sand: Available in most colors (Sand size is about like coarse sea-salt)

Coverage: Coverage will vary. Average use for a fairly dense 'glow' effect is one 0.5 lbs bag of Glow Rocks spread over a 10 sq. ft. area.
Use: For precast concrete, spread the Glow Rocks over the form material as desired. For GFRC, spray the face coat over the Rocks. For Wetcast, you may want to use small amounts of silicone to hold the Glow Rocks in place, so they don't 'float' up into the concrete, and away from your finished surface. For in-place concrete, just broadcast over the freshly placed concrete, and carefully trowel down into the surface. Cast in place can make seeing the Glow Rocks difficult if they get pushed under the cream, so you may need to lightly sand the concrete later, or us a muriatic acid wash to eat away a little of the concrete surface to help expose the Glow Rocks again.
FAQ Glow In The Dark Rocks Glass Aggregate - Photoluminescent:
Question: When do I place in fresh concrete for a sidewalk or steps?
Answer:  

There are a lot of ways to use the glow sand, but most commonly it's spread over the concrete after it's been troweled the final time.  Immediately after.  The top layer of concrete needs to have some of the soft cement cream, and then the sand can be spread on it and very lightly pushed straight down with the trowel. 

Question: It looks like there is cement covering more of the glass than I wanted.  How can I fix?
Answer:

Once the concrete piece is cured a few days to few weeks, if some of the glass sands/rocks are buried too much, you may be able to use some muriatic acid (start with 1 part acid to 20 parts water) and lightly scrub the concrete to remove some of that top covering of cement.  Always test a small area before doing this on the whole surface at once!

Question:

 The concrete was too hard when we put on the glass, and it didn't stick.  Is there any way to get it to stay now?

Answer: You can use attempt to spray or roll on an acrylic concrete sealer over it, and just do a bunch of coats and it will probably hold it there, but if that sealer wears down enough over time, it may then loosen the sand product and it will then wash away.  Acrylic sealer may need to a fresh coat applied each year or even more frequently, in such cases.  If indoors, then there are more options as you can use Epoxy or Poly coatings that are thicker, and will hold the glow sand the best.
Glow In The Dark Glass Aggregate Rocks/Sand, Photoluminescent 1/2 lb.
Great help
Fantastic customer service highly recommended!!
Still glowing after 12 years
I have the large and small Blue glow in the dark glass in my nightstands that I made them in 2008.  They still glow when I turn the light off at night just like they did 13 years ago, and hours later they still have some glow just as they always have done. It's not enough light to see by, but just makes a really cool look, like the stars in a table!
Exposed Patio
I gave the product a 4 star rating due to my own lack of ignorance! The product glows like crazy in the complete dark and is beautiful. I mixed it into the top a Davis Integral Color, Rustic Brown. I also added crushed mirror to give the patio sparkle in the day and under lights at night. However I didn't take into consideration that 60' away from the patio is a public street light which washes light on the patio and the light from the rock is negated. Under the right conditions this product would be a home run but unfortunately for me it wasn't!
TBD
Have not tried them yet but optimistic. They look correct and like the color.