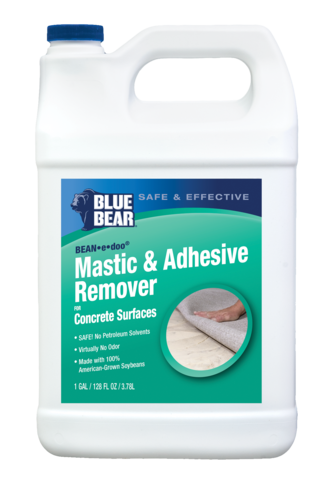 Glue Adhesive Mastic Remover for Concrete, Bean e Doo
Fast Ship:
Usually takes 1-2 business days to ship out.
Ships from Illinois
(Click for average Ground delivery map
)
Product Description:
Remodelers looking to restore or beautify concrete that's underneath old tiles or carpet held down by mastics or glues need an effective adhesive/mastic remover they can rely on.  Tackle remodeling an old concrete surface covered with old mastic and adhesives like a pro! BLUE BEAR Mastic Remover for Concrete Surfaces is an effective green choice to easily remove old black mastics under tiles and glues and adhesives under carpet. Home owners can safely restore concrete back to a smooth surface for creative decorating.

Bean-e-doo Mastic Remover  (Also known as Blue Bear 500 MR and Blue Bear Mastic Remover- all the same product).
Works on vinyl, tile and Cutback (asbestos based) mastics.
Safe to use on concrete- not for wood
Can be used indoors and outdoors
Low VOC and odor (California compliant).  Less than 3% VOC.  Virtually no odor.
Made from American grown soybeans.  GHS Complain.>
Available in 1 gallon, 4 Gallon (case), 5 Gallon Pail, (and by request: 55 gallon, 275 gallon)
You can pour the product, and spread it with a broom, and some use a pump-up sprayer. 
Coverage:
Coverage ranges between 100 to 200 square foot per gallon. 
Square footage coverage varies based on the thickness of the mastic.
The goal when applying is to have the mastic remover stand on the floor to the top of the trowel lines in the adhesive.
Documentation: