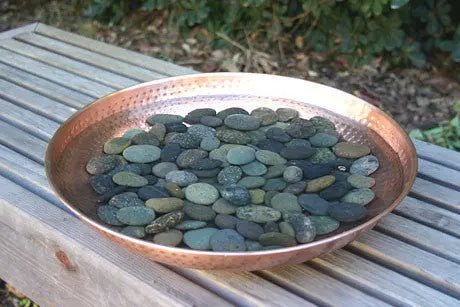 Hammered Shallow Basin Dish in Copper or Aluminum
Ships from California
(Click for average Ground delivery map
)
Shipping:
This Product can take 2 to 5 business days to ship out.
Ships via FedEx/UPS only
Hammered Shallow Basin Dish in Copper or Aluminum
A utility basin for many purposes! Shown here as a catch basin for our Rainchains, but it can be a table bowl or even a birdbath!

Copper version is made of pure, unfinished copper, it will age beautifully, indoors or out.

Available in Copper or Aluminum, and as a standard dish, or with a hook for securing a Rainchain.
Color and surface texture may vary, as each one is made by hand.
Fill the Dish with pebbles, or ground cover plants for a dramatic effect.
Can be used for any purpose- not limited to use as a base for securing Rainchains
Specifications Hammered Shallow Basin Dish in Copper or Aluminum
1

6" in diameter, 3" high.
Copper Bowl
This is a beautiful bowl and well worth the wait so be patient. We are using this copper bowl on top of a log to serve as a bird bath. It has nice depth and looks awesome sitting on the rustic log. Customer service was excellent when I emailed about the delay and kept track of the product for me. But they do clearly state that shipping will take time. We couldn't be more pleased.