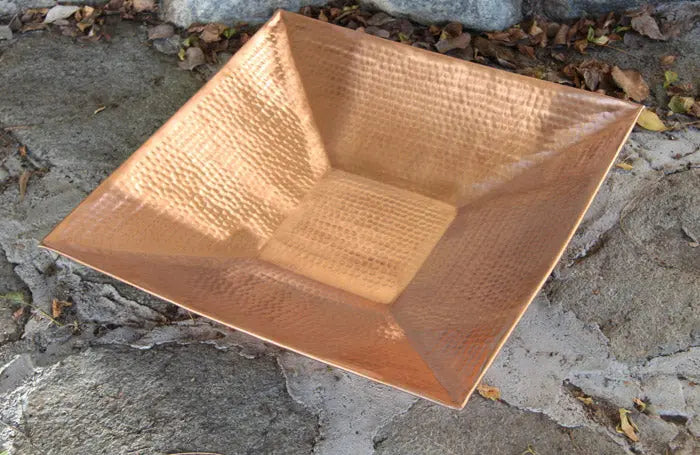 Hammered Copper Square Shallow Basin
Style:
Square Copper Basin
Ships from California
(Click for average Ground delivery map
)
Shipping:
This Product can take 2 to 5 business days to ship out.
Ships via FedEx/UPS only
Hammered Copper Square Shallow Basin:
This hammered copper dish is designed to be useful for many purposes! Fill it with pebbles or plant it with ground cover for a gorgeous effect! Use it indoors as a container, fruit display, or whatever else you can think of.
Just like our Hammered Copper Dish, but now in a square shape with shallow angles.
Fabrication of this handmade dish is difficult; exact dimensions, color and surface texture may vary somewhat.
Available as a standard dish, or with a hook* for securing a Rainchain.

*With Hook option includes our patented brass loop assembly and a short length of light copper link chain to secure your rain chain. (Beware of other brands out there with loop imitations that easily break!)
Specifications Hammered Copper Square Shallow Basin
Available as a normal basin, no holes in the bottom (but you can add on your own)- or with a Loop Kit so you can use to secure the bottom of a Rain Chain.  
16" across x 3-1/2" high.

Great product
Perfect for my copper bird bath