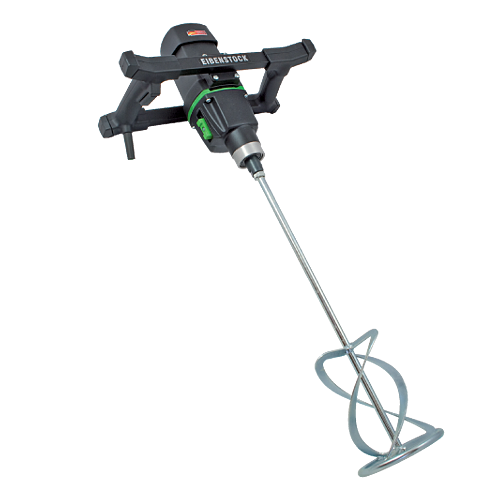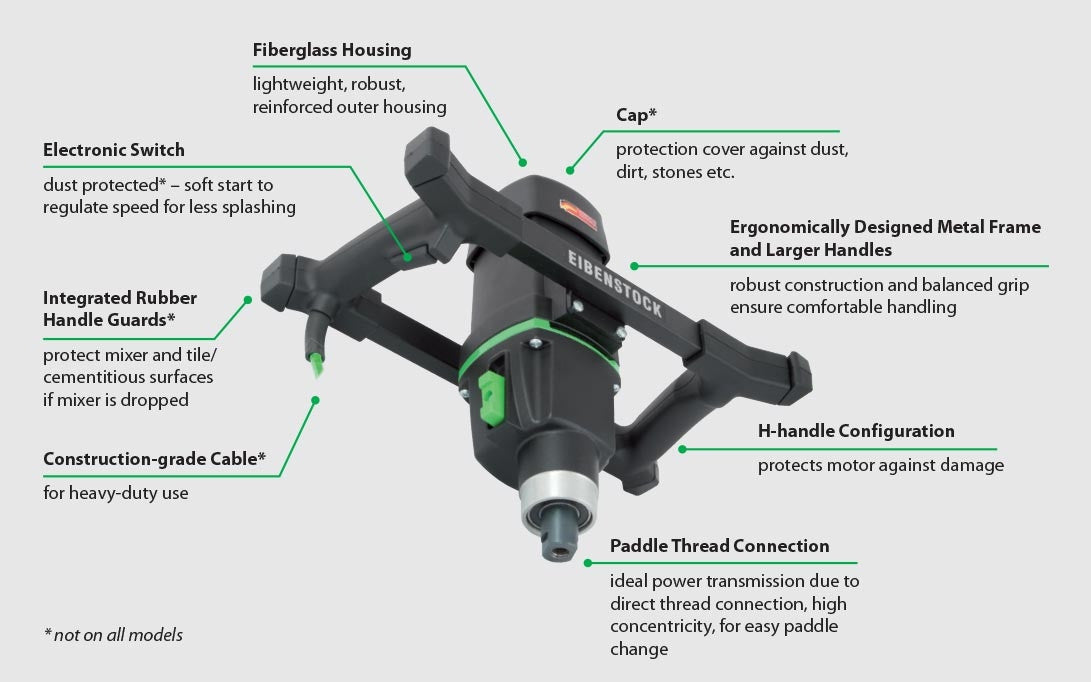 Heavy Duty Mixer Eibenstock EHR 23 2.4 S Mixing Drill
Shipping:
This Product can take 2 to 5 business days to ship out.
Ships via FedEx/UPS only
Heavy Duty Mixer Eibenstock EHR 23 2.4 S
Eibenstock, top of the line, powerful, professional grade mixers.
The Eibenstock EHR 23 2.4 S Mixing Drill has a powerful 14.5 Amp motor, with 2-Speed Gearbox!  Allows mixing of up to 200 pounds of high-viscosity materials:

Epoxy, mortars, plasters and cement to quartz-containing resins and flooring compounds, as well as insulation and other materials.
Ideal for mixing GFRC as it can turn while under a heavy load, and slowly mix the material without shearing off the glass fibers and pulverizing them, as other mixers will do.

Soft start and variable speed for less splashing and better control.
High-torque motor with specially designed gears provide maximum power. Mix quantities from 1 gallon, to 200 pounds.
Pro-Series mixing paddle unique design mixes from the bottom up, eliminating air injection into the mix. Included MG 160 paddle has a 6.25" diameter head.
Can be used by hand or mounted to the 25GP-WD Mixing Stand.
While more expensive than some other electric mixers available, Eibenstock Mixers are a case where you do get what you pay for.
Specifications Heavy Duty Mixer Eibenstock EHR 23 2.4 S

Model: Eibenstock EHR 23/2.4S.
Mixing Capacity: 5 Bags, 35 Gallons.
Output: Up to 1800 lbs./hour.
Power: 14.5 Amp / 110 Volt AC.
Free Speed: 440-970 RPM.
Load Speed: 0-250 RPM (low gear) - 0-580 RPM (high gear)
Suitable Paddles Diameter: M-14, 5" to 6-1/2" 
Weight: 15 lbs.
What's Included:
Heavy Duty Mixer Eibenstock EHR 23 2.4 S
MG 160 Mixing Paddle: 6.25" diameter mixing head
Operator's Manual