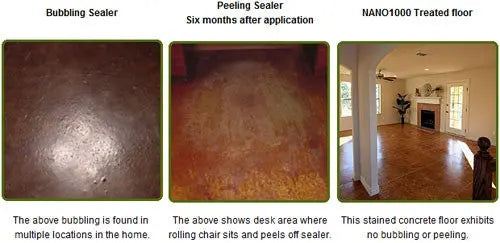 Nano 1000 Concrete and Stone Sealer
Fast Ship:
Usually takes 1-2 business days to ship out.
Ships from Minnesota
(Click for average Ground delivery map
)
*FREEZE WARNING* This product can freeze: 1 or 2 Day Shipping should be selected at checkout during winter months.
Ships via FedEx/UPS only
This Product is susceptible to freezing. Shipping via 1-Day (OVERNIGHT) at checkout, is a must to ensure it won't freeze during transit (Nov-Mar usually). Expressions LTD and UPS cannot be held liable for any freezing damage that occurs during shipping. 


Nano 1000 Concrete and Stone Sealer:
NANO1000 is an invisible, environmentally green nanotechnology treatment for porous materials that resists stains and water damage. It is a surface treatment stabilizer, a liquid, water-based, organic treatment that is applied to porous surfaces stone, concrete, tile, brick, pavers and grout - to repel water, oils, and other stains, indoors and outdoors. NANO1000 is unlike any other product on the market because it does not peel, and has 100% UV protection.
As a penetrating sealer, it will not leave any sheen on the protected surface, but retains the natural look of the concrete or stone.
NANO1000 minutely penetrates the porous material 100% below the surface. Once cured it stabilizes the surface and protects against damage, including damage caused by freezing and thawing, mold and mildew, and any organic or non-organic stains. NANO1000 protects the surface while maintaining its integrity with a transparent application.
NANO1000 is unique from other products because it is a treatment with surface-changing properties, not a topcoat or coating. It molecularly bonds to the surface and does not alter the exterior appearance.
NANO1000 uses nanotechnology which uses tiny molecules to bond to the surface to which it is applied. After curing, the surface is sealed and protected for up to a decade from various stains, gum, and graffiti as well as weathering and wear. The size of the nanometer, one billionth of a meter, allows it to penetrate into the larger web of porous surfaces.
NANO1000 protects against damage from water (water stains, mold and mildew), foods and drinks (coffee, wine, soft drinks), autos (motor oil, antifreeze, transmission fluids), chewing gum, graffiti, and many other materials that stain porous surfaces.
NANO1000 becomes an effective barrier that does not allow water and other products to penetrate the applied surface. Water often contains dirt and impurities and this barrier keeps the treated surface clean. After application, if a damaging product is on the surface, it can be easily wiped away with water, a household cleaner or acetone for tougher stains. Efflorescence on stone and concrete surfaces is also prevented.
NANO1000 molecularly bonds to the treated surface and cannot be seen. It does not alter the basic characteristics of the surface. In other words, a treated surface will look exactly like it did when untreated- no sheen or gloss at all.
To apply, the surface needs to be clean and dry. NANO1000 can then be applied with a hand sprayer, a high quality short nap roller or brush. It dries to touch within an hour. See Application Instructions for more information.
NANO1000 is an organic treatment that locks on to the surface and holds on until it "dies," approximately 10 years later. It then "lets go" of the surface and because it is organic, is biodegradable as well. No fear of it building up in our environment as many other silicon sealers have been known to do. In addition, it has zero Volatile Organic Compounds (VOCs) which are organic compounds that participate in a photoreaction, and are considered to be air pollutants. Some of the sources of VOCs are found in many indoor items such as paints, wood finishes, carpet, furnishings, and varnishes and chemicals used for sealing and finishing walls.
Because NANO1000 molecularly bonds to the surface it will withstand numerous cleanings and everyday wear. The warranty is for five years and one application is effective for up to 10 years. Areas which do not show water resistance can have NANO1000 re-applied with no noticeable difference in the surface.
The amount of NANO1000 needed depends on the surface (stone, concrete or tile) to which it is applied. On average, NANO1000 will cover about 300 600 square feet per gallon. Approximate coverage for various surfaces is found on the product label.
NANO1000 can be used by homebuilders, remodelers, homeowners, business owners, contractors, hotels, city governments, paving companies, stone manufacturers, and anyone else who wants to protect their investment from water and stain damage, graffiti, gum, motor oil, transmission fluids and virtually all stains, as well as weathering and wear.
NANO1000 can be found on home foundations, pool decks and patios, sidewalks, roads, public buildings and on multi-million dollar historical restoration projects in England.
Nanotechnology is the manipulation of materials on an atomic or molecular scale, with a nanometer being one billionth of a meter. It is a field of applied science covering a broad range of topics. The main unifying theme is the control of matter on a scale smaller than 1 micrometer, as well as the fabrication of devices on this same length scale. A new generation of analytical tools allows the deliberate manipulation of nanostructures, and in turn lead to the observation of novel phenomena. Nanotechnology cuts across many disciplines, including chemistry, applied physics and materials science. Much speculation exists as to what new science and technology might result from these lines of research.
Nano 1000 Concrete and Stone Sealer Specifications:

Available in Quart, Gallon and 5 Gallon sizes.
COVERAGE PER GALLON (Approx.):

Concrete 200 sq.ft.
Limestone 250 sq.ft.
Marble Granite
Slate 400 sq.ft.

View Nano 1000 MSDS.
Application Instructions Nano 1000 Concrete and Stone Sealer:

SURFACE PREPARATION: SHAKE WELL and DO NOT THIN. Apply to CLEAN AND DRY SURFACE at temperatures between 40-110 degrees Fahrenheit. Be sure all previous sealers are completely removed.
APPLICATION:
Please take note that not all concrete or stone surfaces are equal.  Some will absorb more Nano 1000 than others.  You should continue applying Nano 1000 until it can't take more of the sealer to ensure surface it sealed properly.  Properly sealed surfaces will not darken or absorb water when sprinkled on it- it will bead the water up until wiped off.  Below are some application guidelines for most surfaces:

Polished surfaces

: 1. Pour several strips of NANO1000 onto a small area and rub into the surface in a circular motion using a clean rag or lambs wool pad. Continue rubbing until you feel resistance and repeat step 1. Repeat 3 times and allow the surface to dry for one hour. After drying there will be a residue which will appear streaky. Polish the residue off with a clean dry cloth or lambs wool buffing pad until residue is gone.

Unpolished surfaces

: Pour NANO1000 onto surface. Use a 3/8" nap paint roller or tufted push broom and press into surface. Repeat twice "wet on wet" to insure full saturation. For larger jobs use a clean pump sprayer to apply the material and immediately roll into the surface.

DRY TIME: Dry to the touch in 1 hour. Avoid stain exposure before full 7 day cure time.
CLEAN UP: Clean application tools with soap and water.
STORAGE AND SHELF LIFE: DO NOT FREEZE and use within one year of date of purchase.
CARE AND MAINTENANCE: Clean surface with household liquid non-abrasive cleanser. Stubborn stains can be removed by pouring household bleach onto a piece of cloth or paper towel and placing it directly onto the affected area. Keep the cloth saturated for 30 minutes and repeat if necessary to remove the stain.
Product was good. Delivery was erratic
Once the product arrived it was good. The delivery was difficult. It was redirected to a different address and took a long time to arrive
Great Product for counter-tops
Super easy to apply and work with. I am hoping it is as good as it is in the long-term as it is in the short. We did concrete counter-tops using floor leveler and this product worked awesome to seal it. Did 8 coats just rubbing on with a rag and the counter-tops don't soak up any moisture at all when we did spot testing. Awesome.