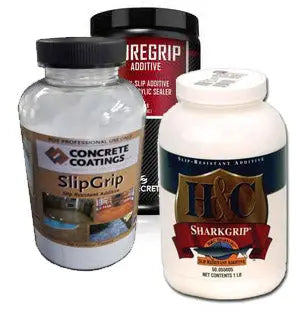 Non Slip Additive for Concrete Sealers and Coatings
Fast Ship:
Usually takes 1-2 business days to ship out.
Ships from Oregon
(Click for average Ground delivery map
)
Non Slip Additive for Concrete Sealers and Coatings:
Non Slip Additive is a micronized polymer used to create a safe, textured surface.
Clear, lightweight spheres suspend easily in sealer and coating products.
Mix with concrete sealers or floor coverings (epoxy/urethane coatings).
May also be broadcast over wet sealers.
Will not affect topcoat color.
Creates a non slip surface on driveways, garages, steps, patios and pool decks. Especially useful around stairs or wet areas.
When mixing in with sealer, constant stirring/mixing is necessary during the application process to keep the grit from settling to the bottom.
Product Specifications:
Measurements: 1 lb. (16 oz.) Container.
Coverage: 1 lb. Non Slip Additive added into 5 gallons of sealer will typically cover 750-1000 sq. ft.
Application:
Combine 16 oz. of No-Slip Grit to 5 gallons of sealer. Stir/mix well.
For smaller amounts of sealer, mix approximately 3 ounces of non-slip additive per gallon of sealer.
Apply sealer to concrete surface by roller or brush.
Continuous stirring/mixing of the sealer is necessary during application to keep the non slip additive from settling.
Can also be hand broadcast over the sealer or epoxy immediately after applying (but be careful to broadcast the non slip very lightly and evenly dispersed.  Test a small area to become familiar with the process!
Anti skid granules
Easy to apply, and does not change the color of the surface. I just applied it, so I have no idea how well it will last.