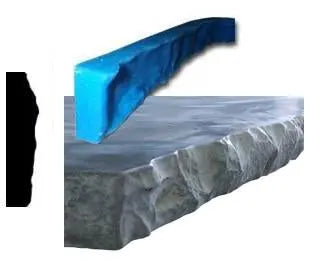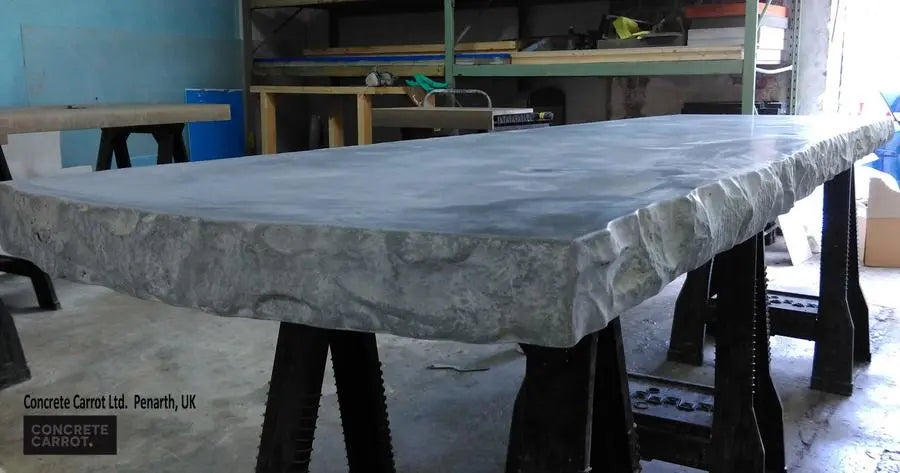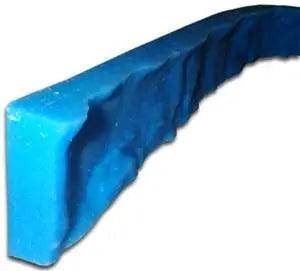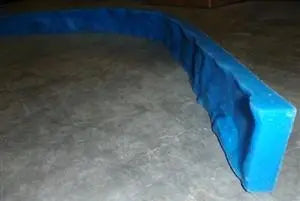 Concrete Edge Form Liner - 3" Rough Rock
Fast Ship:
Usually takes 1-2 business days to ship out.
Ships from Utah
(Click for average Ground delivery map
)
Ships via FedEx/UPS only
Concrete Edge Form Liner - 3" Rough Rock
3" Rough Rock Edge Form Liner, re-usable.
"Rough Rock Granite" edge creates a split-faced granite detail to the finished concrete edge.
Create a rock edge on concrete countertops, pools, steps, etc.
Made of extremely durable polyurethane that can flex and stay strong.
Can be used in pre-cast or poured in place concrete work.
Cut to length easily with a utility knife or chop saw. Join cut pieces using silicone.
Fast and easy to place in a mold, and quick to clean after use.
Good for hundreds of uses- Actually gets better with each use as they season.
Concrete Edge Form Liner - 3" Rough Rock Specifications:
Measurements: 89.5"L x 3"H.
Rough Rock edge depth varies +/- 1" as it contours with the 'rough' surface of the rock face.

*Occasional imperfections may be present on the Edge Form Liners, and can be removed or altered using a sharp utility knife, or a very abrasive sand paper / resin-bound grinding discs.
Concrete Edge Form Liner - 3" Rough Rock Setup:
Edge Form Liners can be curved to form a radius edge. If the Edge Form Liner begins to ripple and distort, then the radius is too tight, so you will need to make the curve radius larger to ensure a smooth, consistent edge detail.
Edge Form Liners can be cut to fit your form. Cut using a SHARP razor knife, or with a chop saw. Liners can be cut straight, or mitered at angles so they fit tightly in your form.
Place Edge Form Liner in your form and either silicone in place, nail with a small brad finish nailer, or screw through the backing form into the Edge Form Liner.
For most applications (Precast), run a silicone a bead across the bottom edge of the Edge Form Liner, up any corners, and across any joined together seams, to create a water-tight seal.
Use of a polyurethane rubber safe Form Release (sold here) is recommended: Form release helps create a smoother finish on the concrete, less air pockets in the concrete edge, and easier to clean the Edge Form Liners when finished.
Vibrate concrete well (either vibrating the concrete, or rapidly tapping the edges of the forms with a hammer or palm sander), or use your fingers to compact the concrete against the Form Liner to remove as many air pocket voids as possible.
Edge Liner Removal:
After the concrete is sufficiently set up (typically 2-3 days for normal precast concrete), remove the Edge Form Liner.
If the Edge Form Liner needs to be removed before the concrete is cured (usually only when using on cast in place concrete, such as steps or pool decks), make sure to remove edge slowly, evenly pulling the liner 'out' away from the concrete.
Removal is simple- start on one end, and slowly peel the Form Liner away from the concrete.
Concrete usually will have small 'bumps' which can be sanded off with quickly with Diamond Sanding Pads (sold here). These bumps tend to disappear the more the Edge Form Liner is used, as it becomes seasoned.
Fill any air pocket voids with a Concrete Slurry Mix.
Edge Liner Care:
Clean with a stiff brush and water after each use. Any silicone left on the forms should be peeled or scraped off (the sooner the easier to remove). Any hardened concrete and difficult to remove silicone can usually be removed using a wire brush.
Muriatic Acid can be used to clean of cement residue from the Edge Form Liners in a 20:1 ratio (20 parts water to 1 part muriatic acid). Rub the Edge Form Liner with a stiff nylon brush and the muriatic acid water. Rinse Form Liner thoroughly with clean water.
Store Edge Form Liners out of direct sunlight, laid out flat.
If Edge Form Liners ever get curved or twisted so they don't lay flat naturally, the easiest solution is to lay them out flat on a concrete or asphalt surface on a really hot day and let the sun heat them up, straighten them out, and then when they cool they should hold their shape more naturally.
Videos showing some uses of Edge Form Liners:
Video showing start-to-finish concrete countertop, including an Edge Form Liner:

Video showing cutting down the height on a Form Liner using a table saw:

Video showing an Edge Form Liner used in a cast in place concrete countertop form:
Video showing using Form Liners to create steps and bench seating:

Video showing filling in voids and preserving fine detail on a countertop edge:

Not quite perfect
These edge forms are tough, cast a great surface and are reusable many times. However, they could be better in two ways. First, the pattern does not continue from one form to the next. It would be nice if they could be connected without a break in the pattern. Second, nothing sticks to these forms, not even hot glue. This makes it difficult to set them up. I know that for straight edges, you could put straight form strips to back up these forms, but for a curved slab, I need to glue backers to the forms themselves. It's difficult when the glue doesn't stick.
Hi Alla, great review thank you. We will look into making the ends of the live/rock edges better matched for seaming when we remake the molds next. When seaming them, sometimes if you cut off 1/4' or so on the ends with a miter saw, and then use a little of the mold making clay to join, they are quick and painless to seam. As for sticking, you could try rough grinding the backs of the liners (or bottom) with an 18 grit carbon disc (very abrasive sandpaper) and see if the glue can grip. Or just attach some wood blocks to the back and use screws and screw into the rubber liner- the screw holes will basically disappear once the screw is removed, and then you should have better luck gluing your wood blocks. -Expressions LTD
Great Product
Excellent quality and even better customer service. Purchased two of these liners and one was defective. Owner response was professional, courteous, and swift. Replacement was overnighted. I highly recommend this product and this company and would not hesitate to doing business with them again. Also, if you follow their directions you'll be more than happy with the finished results.
3 inch rough rock edge liner
Good quality
Consistent size - all three pieces were flat backed with flat, even parallel sides
Profile was crisp and well detailed
Ordering was simple and timely
Pricing was reasonable
Excellent experience!!!
I called Expressions without being exactly sure if they could help. The extrememly helpful lady I spoke with helped me identify the product I needed (concrete edge liner in rough rock finish). She made me aware of a volume discount too (I didn't ask). The goods arrived within three days, were as good as promised and are now an integral part of our backyard project.
I would highly recommend using Expressions.