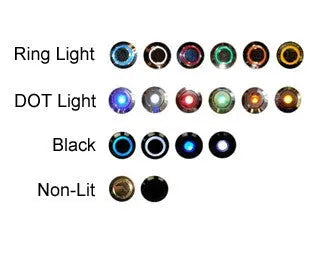 Push Button Low Voltage Doorbell LED, Stainless Steel
Fast Ship: Usually takes 1-2 business days to ship out.
Push Button Low Voltage Doorbell LED, Stainless Steel:
LED buttons available in Dot-Light, Ring-Light, or Non Lit styles.

Dot Light: Very bright center LED glow.
Ring Light: A bright glow ring around a stainless steel center.
Non Lit: Stainless Steel, no LED light. Short button depth (only 1/2" Deep).

Doorbell Buttons are theft-resistant. Each button is secured on the back of the doorbell cover by a hex-nut.
Will work with new or existing 2-wire doorbell systems, and can replace most garage door opener buttons.
Push Button Only- Doorbell Covers, Door chimes, power transformers, and wire sold separately.
Additional LED colors and Voltages are available for large quantity special orders.
Warranty Information: One year manufacturer warranty against defect.
Specifications Push Button Low Voltage Doorbell LED, Stainless Steel:
Push Button Measurements: 11/16"W x 5/8" Thread Diameter x 1 3/4"L. (Non Lit is only 7/8" total Depth)
Voltage: 12-24 Volts AC
LED Power Consumption: 0.48 Watts.
These are LOW VOLTAGE buttons- Do NOT connect directly to standard 110V Power. Exceeding the button's voltage rating will burn out the LED in the button.
Low voltage (16 Volt) power transformers sold separately here.
well crafted doorbell button
very nice doorbell button o ring seal on back if I needed more I would buy the same bright led light
High Quality Stainless Steel Doorbells
These are wonderful. I bought several different ones and may go back for more. They are unique and well made. Highly recommend.
16 volts blue led push buttons
Finally, I got the bush button, stainless steel to work correctly. You see I had previously purchased (2) 24 volts push buttons, stainless steel, apparently they were too high of a voltage for the blue led to light up, so I reordered, but I reordered (2) 12 volts push buttons, stainless steel, and they were too weak, they flickered for just a moment, and burned out! So I reordered (2) 16 volts push buttons, stainless steel. They work perfect in the rectangle brass grape cluster shaped door bell housing, that I also had purchased from Expressions-LTD. The item came with a plastic yellow button, which I removed and installed the 16 volts blue led push button, stainless steel, it looks perfect!!! Now, what do I do with the (2) 24 volt push buttons, stainless steel? Will your company take them back in exchange for (2) additional 16 volts push buttons for my future needs?
Thanks,
Henry Flores
blue LED
unique doorbell at a great price. the finishing on this doorbell will last for a long time, not like the cheap chrome plastic ones!!!
So far so AWESOME!
Really like the ease of install and the look and operation too. Exactly as I'd hoped thus far.