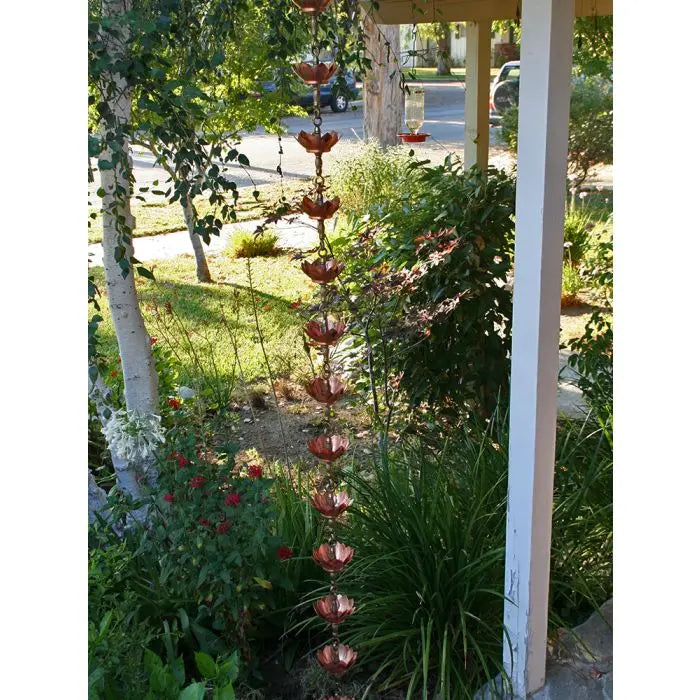 Rain Chain Double Lotus Copper and Brass
Ships from California
(Click for average Ground delivery map
)
Shipping:
This Product can take 2 to 5 business days to ship out.
Ships via FedEx/UPS only
Rain Chain Double Lotus Copper and Brass
This chain is simply spectacular in appearance. Detailed, hand-cast brass chain elements combine with pure copper double cups to produce a stunning Rain Chain. Assembles easily in minutes with no tools required.

Please note that this chain is more decorative than functional. In medium to heavy rain you will experience splashing with this product. Best used in addition to regular downspouts, as a beautiful and aesthetic water feature.

Each Rain Chain comes with a gutter attachment piece (V shaped piece of metal). We recommend purchasing the optional Gutter Installation Kit with every Rain Chain.
Rain Chain Double Lotus Copper and Brass Specifications:
Cup Width at Top: 5"
Cup Height: 2 1/2"
Cups on an average 8 foot length: 16
Waterflow Index: 2 out of 5 (1= Lowest Water Handling, 5= Highest Water Handling)
Installation of the Rain Chain Double Lotus Copper and Brass:
Installation is usually straight forward and simple. Rain chains hang from the hole where the downspout was, using the gutter attachment piece provided. When there is a mismatch because the hole is larger than the chain, a separate

 

Gutter Installation Kit

 

is used to reduce the hole and focus water downward onto (or into) the chain. The Installation Kit also provides an outlet tube, preventing water from creeping along the underside of the gutter and dripping off.