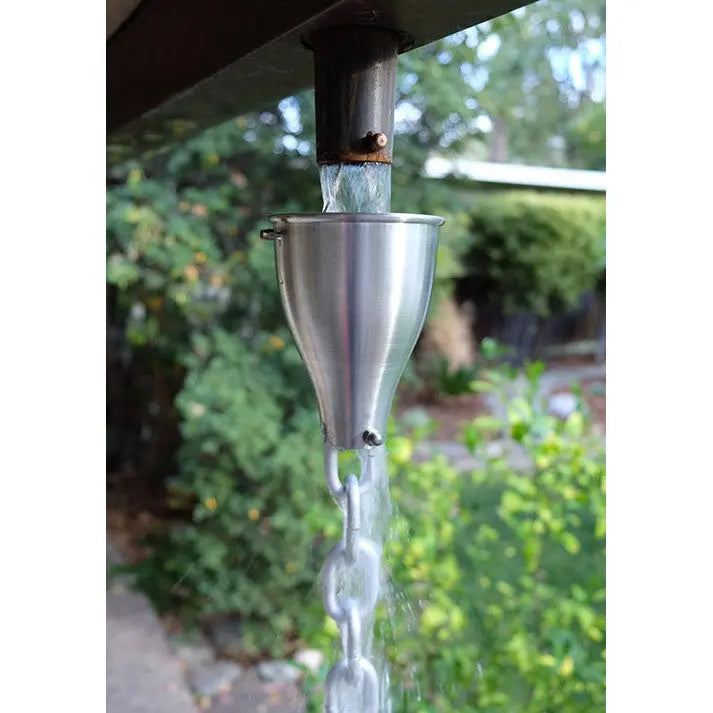 Rain Chain Gutter Link Reducer
Ships from California
(Click for average Ground delivery map
)
Shipping:
This Product can take 2 to 5 business days to ship out.
Ships via FedEx/UPS only
Rain Chain Gutter Link Reducer
Are the outlet dimensions from the gutter larger than your link rain chain?
Does water miss the chain completely?

Our new Link Chain Reducer in pure copper is a specially designed, large rain chain cup with a bolt across the bottom. 
This will accept most link design chains and channel more of the water from the outlet onto the chain. Top lip is folded for extra strength and great looks.
Link chains tend to splash more than cup designs, but this helps your link chain work the best that it can.

Available in Copper, Aluminum, Black Powdercoat, Bronze Powdercoat
Rain Chain Gutter Link Reducer Specifications:
Top Width: 4 1/2"

Bottom Width: 1 1/2"

Height: 5 1/2"