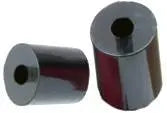 Rock N Roller Concrete Stamp Roller Weights
Ships from Iowa
(Click for average Ground delivery map
)
Shipping:
This Product can take 5 to 10 business days to ship out.
Ships via FedEx/UPS only
Product Details:
Weight for the Rock N Roller™ Concrete Stamp Rollers
Sold per set of 2 weights- each weight is 4 lbs. 
Add to the concrete Rollers as the concrete hardness dictates, to ensure the stamp pattern is correctly imprinted in the concrete surface.