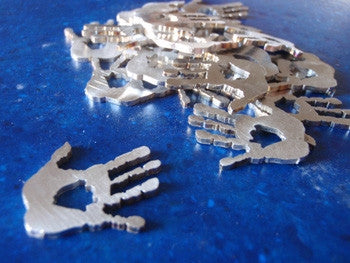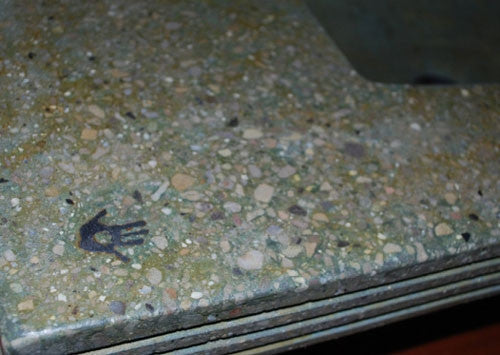 Stainless Steel Hand Logo 1" Medallions
Fast Ship: Usually takes 1-2 business days to ship out.
Product Detail:
Due to many requests, we are now also offering to sell our pre-made hand logo medallions.  Each is approx 1" in size, and sold in small 5-pack quantities.
Stainless Steel inlay pieces for concrete counertops, sinks, walkways, steps, etc.
Each quantity is a set of 5, stainless steel logo medallions- made from our hand logo.
Cut from 16 gauge stainless steel (approx. 1/8" thickness).
Product Specifications:
Finish: Medallions are tumbled in ceramic grits to remove sharp metal edges. They are not grained, simply because most users will be polishing the concrete to fully expose the medallion anyway, so any brushed finish would be lost in the polishing process. If a brushed finish on the stainless steel is desired, simply hold the medallion up to a belt sander for a few moments.