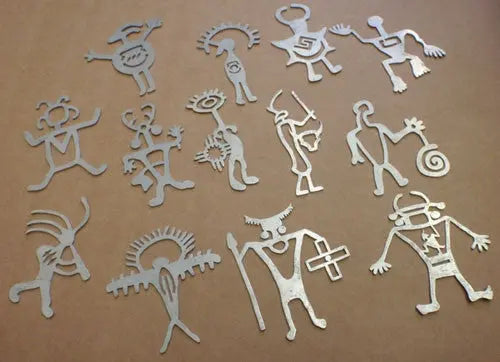 Stainless Steel Inlays - Cave Art
Fast Ship: Usually takes 1-2 business days to ship out.
Product Detail:
Stainless Steel inlay pieces for concrete countertops, sinks, walkways, steps, etc.
Each quantity is a set of 13, as pictured.
Laser cut from 18 gauge stainless steel.  This gauge works well for placing these in flat, or if needed they can be carefully bent to match a curved radius (bend them slowly with a rubber mallet over a steel pipe for example)
Figures are various Petroglyphs, Kokopeli, and other Cave Art designs.
Can be placed in concrete countertop pre-cast forms, and then poured over, or placed into the top of fresh concrete and pushed in until flush with the concrete surface.

Tips for use:  When placing these into a form for pre-cast concrete, use a very thin layer of silicone all across the back of the cave art piece, and then place in the form.  Set a flat object on the metal, and then place a heavy weight.  Let the silicone dry 6 hours or more and then remove the weight and object and clean up any silicone that pushed out to the sides.  When de-molding the form, try to twist the concrete and form board, instead of just lifting straight up.  This twist will help shear off the silicone.  If you just lift the piece up, the silicone to the board may be enough of a bond that it can pull the stainless steel piece out of the fresh concrete (If this does happen, just epoxy the stainless steel piece back into the concrete!)
Product Specifications:
Measurements: Size varies, but averages approx. 4.5" high each, and 3-4" wide.