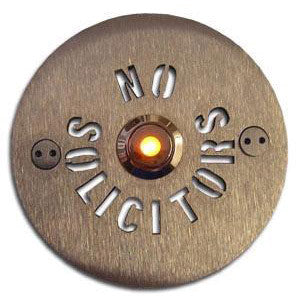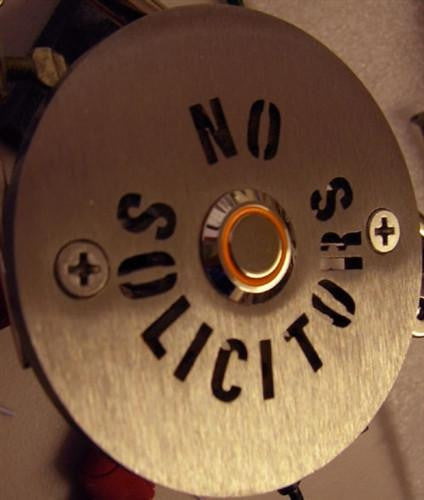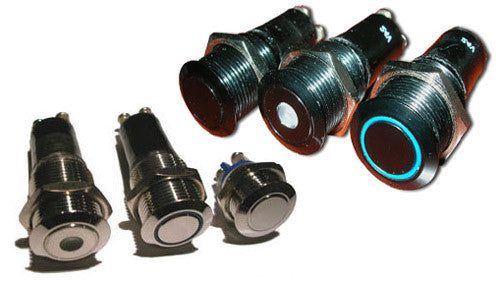 Stainless Steel Round NO SOLICITORS Around Doorbell
Fast Ship: Usually takes 1-2 business days to ship out.
STAINLESS STEEL ROUND NO SOLICITORS AROUND DOORBELL
Solid stainless steel Round NO SOLICITORS Around doorbell cover plate, 3/16" thick, with a brushed finish.

The Round NO SOLICITORS Around doorbell.  Round text, wrapping around the button in this circle design.  This design makes it almost impossible for anyone to ring the doorbell without realizing that solicitors are not welcome!

Illuminated LED push button uses less than 1 watt, and should last over 10 years.  LED buttons available in Ring-Light, or DOT style. Ring Light has a bright glowing ring around a stainless steel center. DOT Light has a very bright center LED glow.
Doorbell Buttons are theft-resistant. Each button is secured on the back of the doorbell cover by a hex-nut.
Will work with new or existing doorbell systems, and can replace most garage door opener buttons.
Doorbell Only. Door chimes, power transformers, and wire sold separately.
Warranty Information: 90 day warranty against defect.
Stainless Steel Round NO SOLICITORS Around Doorbell Specifications:
The Round NO SOLICITORS Around Doorbell

Cover Measurements: 3" Diameter x 3/16" Thick.
Push Button Measurements:

RING and DOT Light LED Buttons: 11/16"W  x 1 3/4"L.  Threads: 5/8" wide.
Non-Lit Buttons: 11/16"W x 7/8"L. Threads: 5/8" wide.

Push Buttons are 24V (12-24 Volts AC).

Exceeding the button's voltage can prematurely burn out the LED in the button. If unsure, and unable to determine, we recommend ordering the 24V button to prevent the LED from premature burnout.

Low voltage power transformers are sold separately here.
Stainless Steel Round NO SOLICITORS Around Doorbell Installation:
Installation Instructions: Attach the doorbell button to the stainless steel doorbell cover using the provided hex-nut.  Drill a 3/4" (20mm) wide hole into doorjamb (or surface for doorbell) approximately 1 1/2" deep for RING or DOT Light buttons, 1" deep for Non-Lit buttons. Attach one wire to each screw terminal, which wire going to which screw terminal doesn't matter. Use the provided screws to mount the doorbell cover in place.
Optional Tamper Resistant screws come with a special driver bit for installation/removal.  Due to the small nature of the special driver bit, it is necessary to pre-drill holes for the tamper-screws.  Failure to pre-drill the holes may result in breaking the driver bit trying to force the screws into the doorjamb or wall surface.