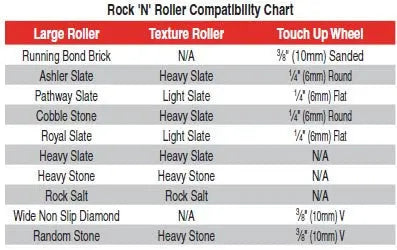 Stamped Concrete Joint Touch Up Roller - 3/8" V Shaped
Ships from Iowa
(Click for average Ground delivery map
)
Shipping:
This Product can take 5 to 10 business days to ship out.
Ships via FedEx/UPS only
Product Detail:
Stamped Concrete Touch Up Roller 3/8" V Shaped.
Use to touch up or create grout lines and seams in concrete when stamping rock, brick, stone patterns, or curbing.
Can be matched to the Rock and Roller Stamps using the chart image.
Made in the USA.