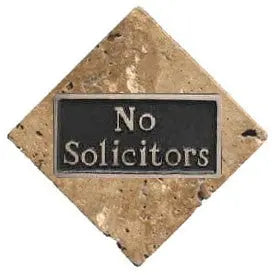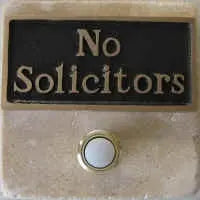 Stone with Bronze No Solicitors Plaque

Shipping: This Product can take 5 to 10 business days to ship out.
Product Detail:
"No Solicitors" plaque, engraved from solid red bronze (High quality engraving).

This item is also available in Pewter (sold here) and some of the product images for this product show the Bronze version (pewter is silver colored)

Available on stone tile pieces (or with the No Stone option).
Each stone piece is unique and will vary slightly in appearance.
Optional doorbell button can be mounted to the stone, underneath the No Solicitor plaque for $6 extra.
Doorbell button illuminates a soft amber, and is for use with wired, non-battery operated doorbell systems only.
This item is custom-made to order, so is non-refundable.
Product Specifications:
Bronze Plaque dimensions: 3.75"W x 1.75"H.
Stone size: 4"L x 4"W, 5.25" Tip to Tip.
When ordering optional doorbell button, it will require a small hole (approximately 3/4" wide by 1/2" deep) behind the stone piece for the back of the button to fit into.
Mounting adhesive included for simple installation to any surface.