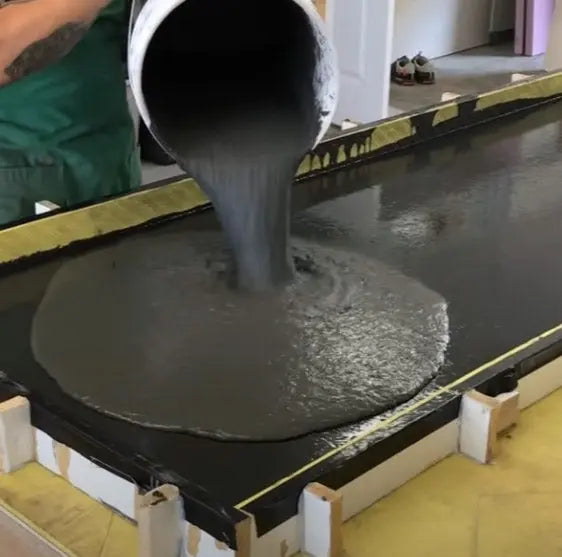 Trinic Plasticizer Powder Admix for GFRC and Concrete
Fast Ship:
Usually takes 1-2 business days to ship out.
Ships from Oregon
(Click for average Ground delivery map
)
Trinic Plasticizer Powder Admix for GFRC and Concrete
Trinic Plasticizer is a proprietary blend of a powdered plasticizer with dispersing and wetting agents for production of ultra high performance concrete and GFRC. 
Each bag contains a desiccant packet to keep the product dry. DO NOT USE
Faster blending, easier wetting out of cementitious paste and color components.

Increases compressive and flexural strength as well as acid and stain resistance of concrete.

Eliminates overnight shipping costs in winter, will not mold or spoil.

Improve color dispersion, intensity, and stability resulting in better color "pop".

Works well with from scratch mix design, also turns bag mixes into high performance concrete.

Meets the requirements of ASTM C-494 A and F High Range Water Reducers
Specifications Trinic Plasticizer
Sold in: 5lbs (1 gallon bucket), and 25 lbs (5 gallon) sizes.

Coverage: 5 lbs. at 0.5% dosage (of total Cementitious weight only- NOT sand weight) will make @ 200 sq. ft. at 3/4" thick.   5 lbs. at 1% dosage will make @ 100 sq. ft. at 3/4" thick.

REMEMBER- multiply by the % PERCENT.  So 0.5% is 0.005.  If you have 25lbs of cementitious material in your mix, 25 x 0.005 = 0.125lbs of plasticizer (that's 2 oz by weight, or 57 grams)

Download: Tech Data Sheet

Download: Safety Data Sheet
Dosing / Mixing Instructions Trinic Plasticizer 
Start with .5% of the total

cementitious

weight
To make SCC wet-cast or SCC GFRC, use up to 1% of the total cementitious weight
Do not dose over 1% of the total cementitious weight when using in conjunction with Trinic System 1 WetCast or Trinic GFRC Admix
When dosed above 0.75% Trinic Plasticizer will also act as a slight retarder. To counteract this effect, covering with blankets may be necessary to achieve next day demolding. Trinic Stage II Accelerator (sold here) can also be added to the mix to counteract this effect.
MIX DESIGN: Trinic has developed easy to use formulas to assist you in developing several high and ultra high performance mix designs:
BASIC GFRC MIX (@ 1/2 Cubic Foot Yield)


This is enough to produce 8 square feet of GFRC ¾" thick.
Back coat is just face coat with glass fiber dosed in the range of 2-4% of the total dry weight of the batch



Portland Cement 30 lbs

We recommend White Portland cement. Different cements will react slightly differently to the admixture.
You can replace part of your Portland cement with a pozzolan to make stronger and greener GFRC. We recommend Bright White Silica Fume.
Always make a test batch prior to production runs



Sand 30 lbs

Sand graded anywhere from 30 grit (fairly course) to 70 grit (very fine) can be used
Recommend starting with a 40-50 grit sand for face coats and back coats.
You can offset thirsty fine sand with additional Trinic Plasticizer.



Water - 9 lbs or 1.08 gal

This will give you a water to cement ratio of .3, which is a very good starting point



Plasticizer (optional, for SCC: Self Consolidating Concrete)

You can add up to an additional 1% of the cementitious weight of Trinic Plasticizer to make a Self-Consolidating GFRC Mix. Start at .25% Plasticizer and work your way up from there as required.



Trinic Tec 10 Admix

Dose at 3% of the cementitous weight. Ex. 30 Lbs. (cementitous content) x 3% = 0.9 lbs Trinic Tec 10 admix.



Water Demand

Cement Type - Different cement types will have different water demands to reach the same slump. Not just white and grey, but cement from different mills will react differently.
Sand - The size of the sand grain and the sand type both have an effect on slump. Generally the finer the sand the higher the water demand.
The water to cement ratio is the total water divided by the total cementitious content.
The water in the sand or the absorption factor of the sand must be accounted for in order to calculate an accurate water to cement ratio.
Extremely wet sand can contain up to 10% moisture.
Dry sand can absorb up to about 2% of its weight in water. This is known as satisfying the sand's absorption factor.
The sand absorption is largely responsible for the false set you may experience.

DRY SAND EXAMPLE:
Example with dry sand.  30 lbs of sand and 30 lbs of cement... How much water gives you a .3 w/c ratio?
30 lbs of cement * .3 = 9 lbs of water
30 lbs sand with an absorption factor of 1.5 = .45 of additional water to satisfy the sand's absorption
Adjusted water to achieve a .3 w/c ratio is 9.45 lbs



FAST SETTING GFRC MIX DESIGN

Sand 30 lbs
Portland 25 lbs
CSA Cement 5 lbs: This can vary depending on required set times (this is 20% of portland dosage)
Tec 10 Admix 0.9 lbs.  This is a 3% dosage based off cementitous total (3% x 30 lbs = 0.9 lbs)
Water: Start off with a .30 water / cementitous ratio (9 lbs water, add about 80% mix, then add as needed)
Plasticizer: Add plasticizer at up to 1% dosage for doing SCC
Fiber: Add fiber in backer coats or all in one SCC pours at 3% total dry weight (60 lbs x 3% = 1.8 lbs fiber)