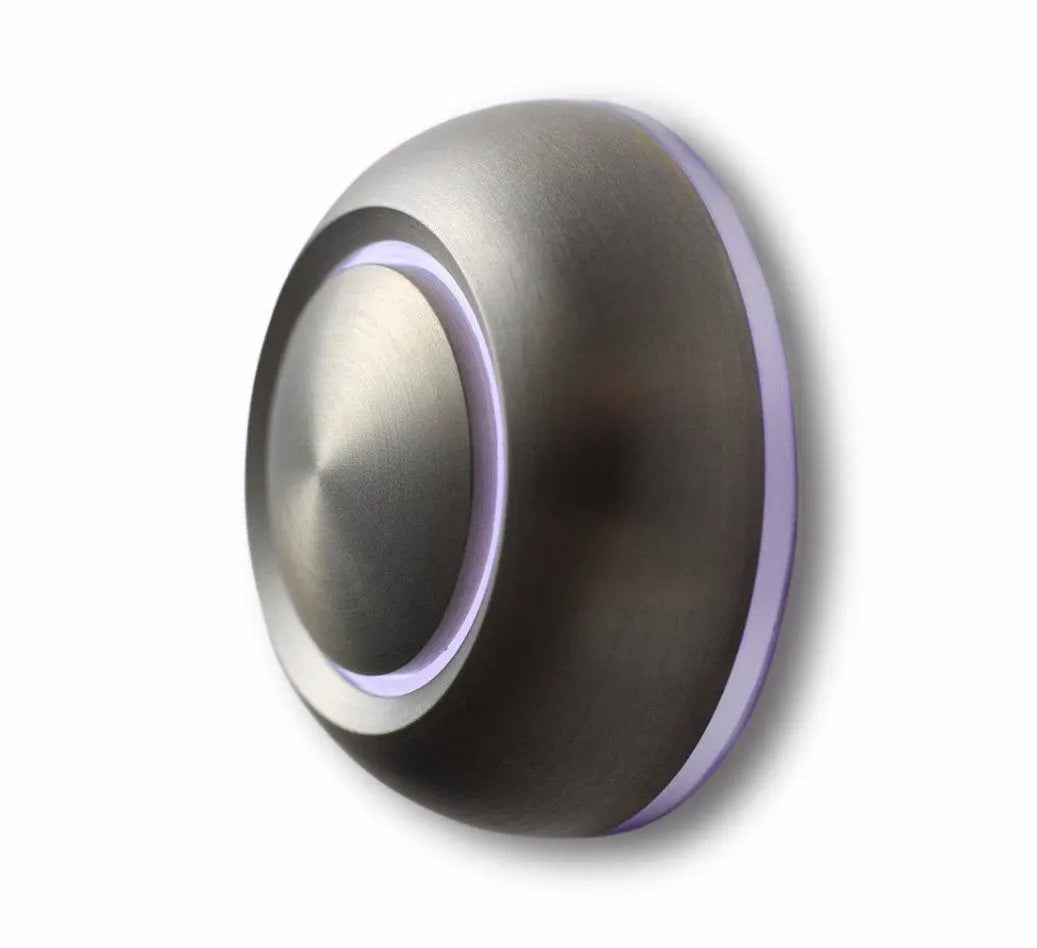 Spore Doorbells - TRUE LED Doorbell - Aluminum Finish
True Doorbell Color:
White
True Doorbell Finish:
Brushed Aluminum
Fast Ship:
Usually takes 1-2 business days to ship out.
Ships from Oregon
(Click for average Ground delivery map
)
Spore Doorbells - TRUE LED Doorbell - Aluminum Finish
The True Doorbell by spOre bridges the gap between modern and traditional design.
The aluminum True doorbell button has a brushed finish that gives it a subtle satin appearance. This finish pairs well with stainless steel and other silver-hued hardware finishes. 
An all-metal push button is surrounded by a thin halo of LED-illuminated color, which also reflects against the mounting surface.
Substantial in feel but narrow in diameter, True mounts well to narrow doorjambs and other tight applications.

LED color is very vibrant and efficient, using less that one watt, and will last approximately 11 years.
Applications include call buttons, interactive displays, garage doors, home automation, security systems or as low voltage decorative light points.
The TRUE doorbell is available in multiple finishes and colors.  Aluminum, Black, and Bronze finishes, and three LED illumination colors, as well as a non-illuminated option.
Specifications Spore Doorbells - TRUE LED Doorbell - Aluminum Finish

LED Color: Available in White, Blue, Orange, or a Non-Lit version.
Finish: Brushed Aluminum.
Measurements: 1.80" Diameter, 0.75" Depth.

Surface Mount Doorbell (no need for a hole in the wall- will mount flat to the wall).
Power Required: 8-16 Volts AC, 6-12 Volts DC. Power Consumption: Less than 1 Watt.
View True Doorbell Spec Sheet.
1 year manufacturer warranty.
SPORE DOORBELLS
Super fast delivery. Doorbell button was just that what I wanted. Good quality and looks nice.
Nice addition to my home 😊
Perfect 👌 exactly what I was hoping for
Size matters
My True LED doorbell just dropped in the mailbox. Nice! Looks like a quality item, worth every cent. The only downside (if one could call it that) is the size. I was under the impression the doorbell was at least 3 inches across - must have been the pictures messing up my mind, and (more likely) not reading the specs. Never mind, I'm chuffed to bits with my new doorbell! Thank you Expressions LTD! :-)
nice/fun modern look
it's a nice small size, with simple lines. we bought matte black w/white light, but we see a bit of a blue tinge to the white, especially on the edge closest to the wall it's mounted on. it's a cool blue (pretty, almost periwinkle blue) so we'll keep it, but it's not just a solid white if that's what you're looking for.
Great Service
Thanks for the great service. The product arrived promptly at my home in New Zealand. Was well packed and was as advertised. Thankyou