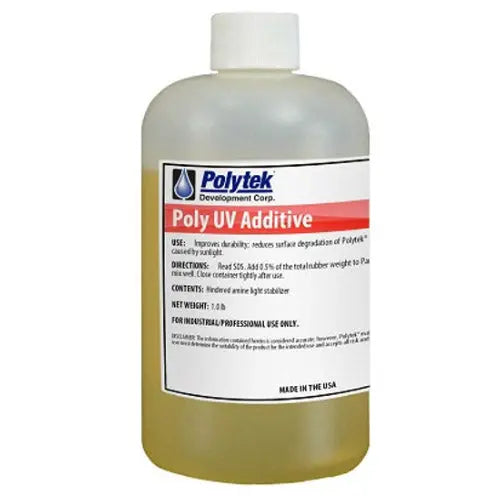 UV Stabilizer Additive for Polyurethane Rubber
Ships from Pennsylvania
(Click for average Ground delivery map
)
Shipping:
This Product can take 2 to 5 business days to ship out.
Ships via FedEx/UPS only
Polytek UV Stabilizer Additive for Polyurethane Mold Rubbers
This liquid additive, when thoroughly stirred into Poly Urethanes and Plastics, improves exterior durability; greatly reducing characteristic surface degradation caused by sunlight and other UV light sources.
Should be added to any molds that will be used outdoors. Even when using the UV Stabilizer in the rubber, the molds should still be kept out of sunlight when not in use, to prolong the life of the molds.
Use at 0.5% of the total weight of the liquid mix prior to curing (use when mixing the part A and part B together).

Example: If mixing 5 lbs. of Polyurethane Rubber, 0.5% would be (5lb x 16oz. = 80oz * 0.005 = 0.4oz) 0.4oz of the UV Stabilizer Additive.

Sold in 1 lb. size
Download: Polytek UV Stabilizer Additive Safety Data Sheet: MSDS.