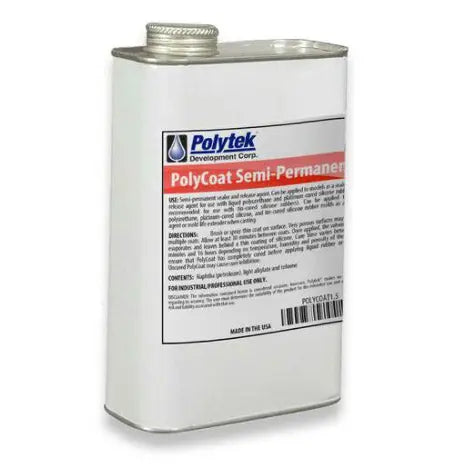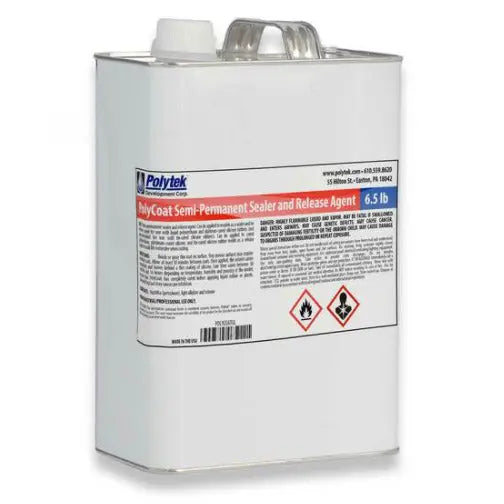 PolyCoat Semi-Permanent Sealer and Release for Molds
Ships from Pennsylvania
(Click for average Ground delivery map
)
Shipping:
This Product can take 2 to 3 business days to ship out.
Shipping:
This Product can take 2 to 5 business days to ship out.
Ships via FedEx/UPS only
WARNING: This product can expose you to chemicals which are known to the State of California to cause cancer. For more information, view the product SDS, or go to  www.P65Warnings.ca.gov
Polytek PolyCoat Sealer/Release for Rubber Mold Making

PolyCoat Sealer & Release Agent is a low-viscosity, semi-permanent sealer and release agent that leaves behind a thin coating of silicone.
FOR INDUSTRIAL/PROFESSIONAL USE ONLY. 
For Mold Making: Apply PolyCoat to porous (may require multiple coats depending on porosity) or non-porous models when making polyurethane and platinum-cured silicone rubber molds (not recommended for use with liquid tin-cured silicone rubber). Since PolyCoat leaves a dry, cured silicone coating on a surface, it may be used without additional release agent. This can be quite advantageous when making a polyurethane rubber mold as no residual release will transfer to the cured mold surface from the mold making process.
For Casting: PolyCoat can also be applied to aging PlatSil® and TinSil® Silicone Molds to improve performance (easier demolding) and extend their useful life. In addition, PolyCoat can be applied to firm polyurethane rubber molds to give them a thin silicone skin on the mold face. This can allow materials such as polyurethane plastics or foams, that would ordinarily require releases, to be cast into dry polyurethane molds at a reduced cost. NOTES: Cure time varies between 30 minutes and 16 hours depending on temperature, humidity and porosity of the model; ensure that PolyCoat has completely cured before applying liquid rubber or plastic. Very porous surfaces may require multiple coats of PolyCoat, applied ~15-20 minutes apart. Care should be taken to adequately seal the surface, but not over-apply; as with other sealers, surface details on the model can be lost when a sealer is over-applied. When brushing, be careful not to leave brush marks on the surface as the PolyCoat begins to gel. One common technique used when either brushing or spraying is to apply the PolyCoat then flip the master over to allow excess to run off. This leaves a thin coating behind and helps to eliminate brush marks or surface defects. Do not use PolyCoat to seal plaster. Gypsum models tend to aggressively wick the solvent into pores and the curing process can be slow or incomplete, leaving some residual solvent behind, which may interfere with the cure of certain rubbers.
PolyCoat is one-part moisture-curable silicone sealant which can be sprayed or brushed to seal porous models before applying liquid rubber.
In many cases, PolyCoat serves as both the sealer and release eliminating the need for further release application when using liquid polyurethane mold rubbers.
PolyCoat can be applied to rigid masters as well as to cured rubber molds to provide semi-permanent release and mold longevity.
PolyCoat should be used to seal a surface such as wood, tile, stone, concrete, plaster, etc. before creating a rubber mold.
PolyCoat can also be used to create a semi-permanent 'release' on a master polyurethane mold that will have repeated molds made from it, and won't need Pol-Ease 2300 Release applied each time. Polyurethane Rubber molds treated with PolyCoat imitate Silicone Rubber molds.
Do Not use pour liquid Silicone Rubber on surfaces treated with PolyCoat.
Sold in Quart (1.5 lbs), and Gallon (8 lbs) sizes.
Documentation:
Application Information:

Brush or spray 1 to 3 thin coats of PolyCoat on surface.
Allow to dry 10 minutes between coats.
Let final coat dry 30 minutes in warm area or under heat lamp.