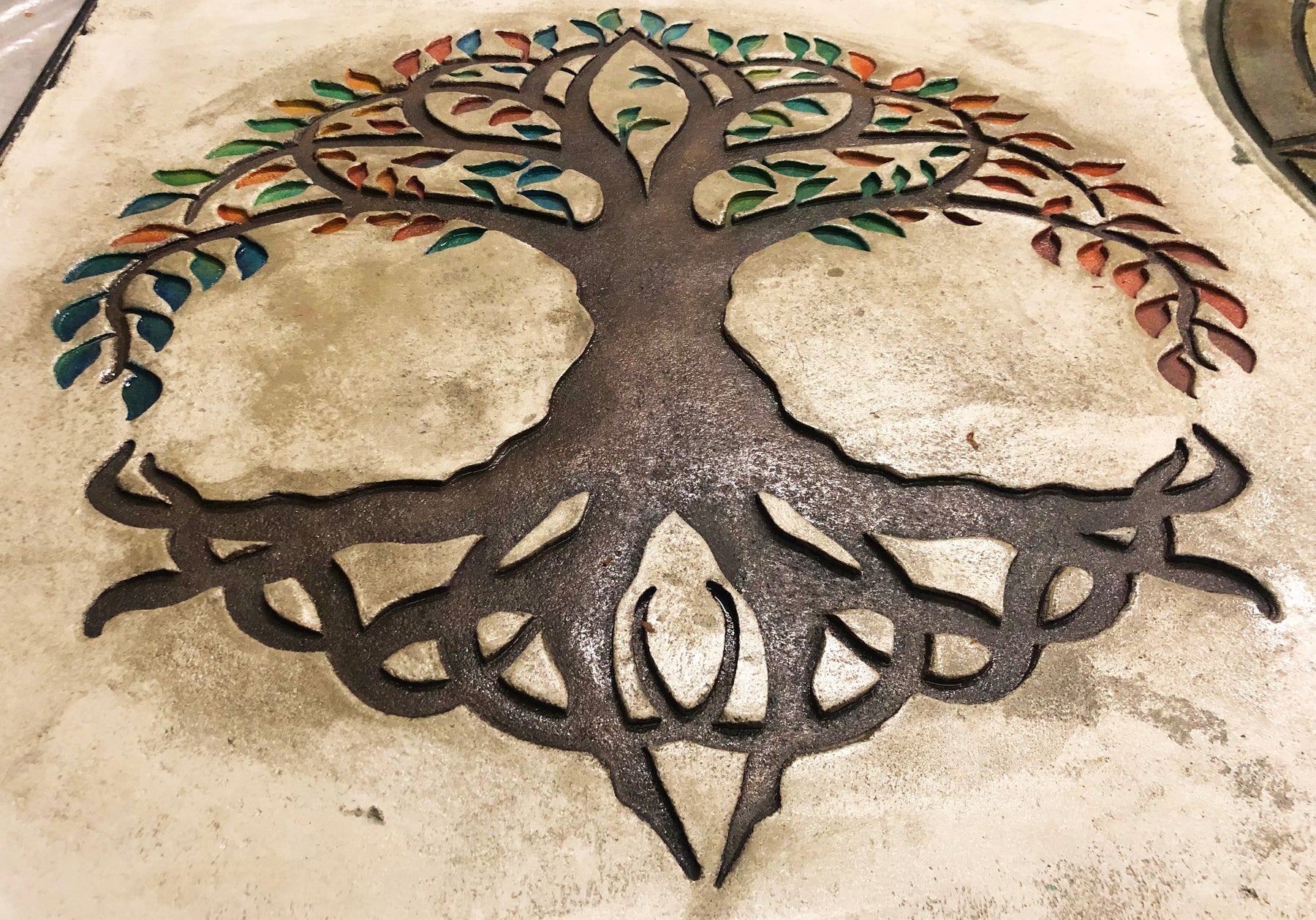 Concrete Accent Stamp Mat - 36" Tree of Life
Ships from Illinois
(Click for average Ground delivery map
)
Shipping:
This Product can take 5 to 10 business days to ship out.
Ships via FedEx/UPS only
36" Tree of Life Concrete stamp for decorative accent


The Tree of Life is bound to be an incredible centerpiece of your patio, kitchen, foyer, bathroom, or wherever you choose to place it. It is truly a unique and beautiful statement piece that will allow you to get as creative as you wish in terms of coloring and design. Incorporate nature and tranquility with this alluring circle stamp.

Made from the highest grade Polyurethane Rubber.  

Includes handle straps on the back.
Stamp Measurements:

Diameter:

 Approx 36"

Imprint Depth: @1/4" 

Mold Use:

Place concrete, float, apply Color Hardener (optional). 
When concrete is set up enough to take a stamp, broadcast a Color Release Powder, or Liquid Release onto the concrete surface and some onto the Stamp itself. 
Place the Stamp onto the concrete in position, and then walk on or us a Tamper Tool to fully imprint the stamp into the concrete.  The more set up the concrete is, the more force may be needed to imprint the stamp.

TIP: Stamps with a lot of detail such as this Tree of Life Stamp sometimes will leave a much better imprint if you can leave the stamp in the concrete until the concrete sets up, but works best with Powder Color Release- So place into the concrete, tamp into place, and then leave for the rest of the day, or until the next day if possible, before removing the stamp.  When removing, make sure to lift straight up to prevent damaging the new concrete.  If using clear Liquid Release, you may need to just stamp and remove the stamp immediately (but with the liquid you can see right away if the stamp worked correctly and fix if needed!)

Watch videos and tutorials on our YouTube Video Page.
Mold Clean-up and Care:

Clean Mold with a scrub brush and water immediately after use and it will always be perfect for the next use.  Failure to clean each time will result in dried cement sticking to the stamp and degrading the quality of the imprint on further stampings.  Any dried cement residue can be loosened with a light muriatic acid wash (20:1, 20 parts water to 1 part muriatic acid) followed by scrubbing and washing with water.
Keep out of sunlight for storage.  Store somewhere flat, and out of the sun.