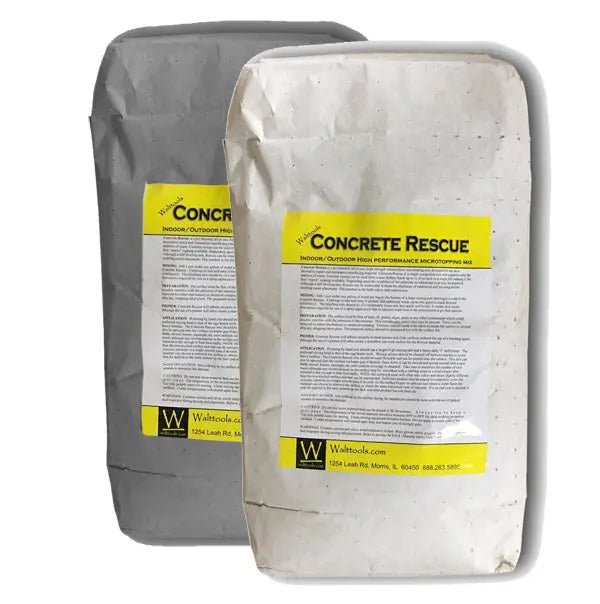 Cement Microtopping Overlay - For Floors Walls Showers
NO FREE SHIPPING on this product. Please order separately from other products that may qualify for Free Shipping.
Ships from Illinois
(Click for average Ground delivery map
)
Shipping:
This Product can take 2 to 3 business days to ship out.
Ships via FedEx/UPS only
WARNING: This product can expose you to chemicals which are known to the State of California to cause cancer. For more information, view the product SDS, or go to  www.P65Warnings.ca.gov
Cement Microtopping Overlay - For Floors Walls Showers
Concrete Microtopping Overlay - Gray or White - Self Leveling or Vertical
Got a concrete countertop that didn't work out as well as hoped?  Or a floor that looks terrible?  Want to coat a wall with concrete?  Rescue Microtopping to the, well, Rescue!  This product will put a new, self leveling, coat of "concrete" your surface and fix almost every bad situation with surprising ease.  For Vertical use,  we will include a small Ad-Pac with the Microtopping and you mix both together, allowing you to trowel up a vertical surface and have it stay put!  Can be colored, stained, and sealed just like regular concrete!
Microtoppings are specialized overlay materials that are typically designed to be put down in very thin coats. They are used primarily to refresh (usually interior) surfaces that are very sound, but are old and discolored. A new layer allows easy staining and rejuvenation. Concrete rescue is designed for resurfacing a multitude of surfaces from scaling brush finish concrete to warehouse floors to distress concrete countertops.
Cement-based microtoppings and skim coats can be used both indoors and out to provide a clean canvas for decorative finishing with dyes or stains. They can also be custom colored by adding in the proper amount of integral color. Microtoppings are typically applied with rollers, trowels, or squeegees for various looks. They can be applied very thin or you can apply several coats. They can be broom- or trowel-finished. They usually do best with a proper sealer once cured for final protection.
Not all microtoppings are created equally, as with all products. Luckily, you have found Concrete Rescue microtopping resurfacer and decorative concrete topping. This durable and versatile mix may be your best friend in the future. Concrete Rescue has been used in hundreds of residential and commercial environments with success and ease of application. Concrete rescue is an all-in-one bag mix designed to provide you with a new concrete surface for interior or exterior use. Concrete Rescue thin concrete overlay can be brushed finished, troweled, stamped, knocked down, skip troweled, or textured with a roller. It can be sanded the next day to get rid of imperfections and give additional surface effect for staining.

Concrete Rescue is typically used to improve the look or restore an existing floor or other concrete surface such as a concrete countertop. Thin concrete overlay or "microtopping" can be used on old or new concrete surfaces. Concrete Rescue Microtopping will typically bond to existing, clean sound surfaces.  An increased bond strength can be obtained by using FlexyBo Bonder (sold here) first as a primer.  The new concrete canvas created with Concrete Rescue Microtopping can hide blemishes, minor cracks, tiny pitting and other displeasing aesthetics. While it may take a professional to trowel the thin concrete overlay perfectly smooth, an average DIYer could lay down, create a tile pattern, texture, and even color a microtopping. Integral color, Stains and dyes may be used to color Concrete rescue. Powder or liquid release if necessary for texturing or stamping may be used. Microtopping overlays must be sealed after completion to protect from abrasion. WBU or Ultrathane products are durable polyurethane topcoats for Concrete Rescue as well as Stampsheen 350 or Deco 2K for outdoor sealing needs.
Concrete Micro-Topping may be utilized in a variety of different thin concrete overlay applications:
Custom floor tile patterns created with taping

Repair of stoops, drives, and patios

Brush finish

Skip-trowel floor finish

Slate tile, marbled, or travertine simulation

Venetian plaster wall coating

Commercial floor coatings

Thin concrete resurface repairing

Solid color floors

Blank canvas for stain

Faux wood grain

Screened-In patios

Kitchen & living area floors

Want to go up a wall?  Turn this Microtopping into a Vertical thin overlay by selecting the Vertical Microtopping from the product option above, and we will include the Ad-Pac to mix with the Microtopping that will allow you to trowel the overlay up a vertical surface.  Please note that the 'Vertical Overlay' option can STILL be used on a flat surface too!  It just won't self level, but in some cases that is what you may want (for more noticeable trowel lines, etc.)
Concrete Rescue has the unique characteristics of acting as a self-level topping but one that can actually be retroweled with minimum fuss. This makes it not only versatile, but the least difficult choice in a microtopping product.

Cement Microtopping Overlay - For Floors Walls Showers Specifications 
Coverage approximately 100 sq ft at @ 1/16″

50lb bag

Can be stained/sealed in as little as 12 hours after application, when applied thin (1/8" or less).  Thicker applications may need extra time to cure before sealing.

If you want to texture/stamp this microtopping, make sure to check out the compatible Microtopping Texture Rollers
For product used at 70 degrees and no adverse conditions:

Initial set…………………………………………………………..1 hrs
Final set…………………………………………………………...5 hrs
Set times can vary based on temp, humidity and other environmental factors
Coverage per 50 lb bag………………….150-175 sqft @ normal thickness application (1/16"-1/32")
Compressive strength………………………………2400psi at 24 hrs
.....................................................................................5200 psi at 7 days
Tensile Strength……………………………………700
Flexural strength……………………………………1250 ultimate
Concrete microtopping quarter inch floor cracked off floor drain corners(in shower) and in numerous areas on shower 6x4' area. Going to try slurry w/ sponge float to seal I……then s d sealer.