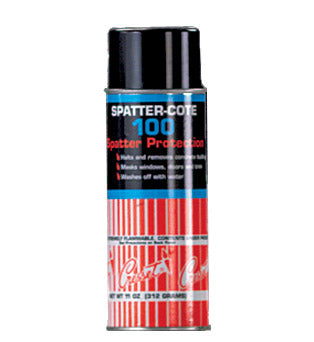 Concrete Surface Protector Release Cresset SPATTER COTE 100
Fast Ship:
Usually takes 1-2 business days to ship out.
Ships from Ohio
(Click for average Ground delivery map
)
Ships via FedEx/UPS only
Sold in cases of 12 Aerosol Cans, single Gallon Jugs, and cases of 4 Gallon Jugs.

Apply Cresset Spatter-Cote before the job and get spattered concrete off tools and vehicles quickly and inexpensively — just hose it off!

For concrete spatter

 protection.  Spattered concrete washes away easily and keeps tools and equipment clean and in working order.  

Ideal for removal of concrete spatter from windows, doors, walls, stairwell, tools, forms, screeds, etc.  Basically anywhere concrete can splatter onto that you don't want it to be.  Spray this on first, and then you can just wash the concrete off with a hose.  
Release Guide:
Since we carry a number of Release agents, here is a quick guide to each:

Crete-Lease 880-VOC-XTRA (Sold here: Aerosol Cans & Gallon Jugs).  Basic release for almost all concrete forms and molds.
Crete-Lease 20-VOC-XTRA (Sold here: Aerosol Cans & Gallon Jugs). Lower VOC version of the 880-VOC, and a water-based formula.  
Crete-Lease Splatter-Kote (Sold here: Aerosol Cans & Gallon Jugs). Protect areas from concrete spatter and make them easy to clean off later.
Stamping Release Liquid, Bubble Gum Release (Sold here: Gallon).  Clear liquid release spray on fresh concrete, curbing, stamps and rollers- to stamp concrete without sticking.
Stamping Antique Release Powders (Sold here: Pails).  Like the liquid release above, Antique Release Powder is broadcast over fresh concrete so the stamp/roller won't stick, but also adds a color to the areas the stamp pushes into the concrete.
Additional Product Detail:
Technical Data:
Coverage: 1500 sq. ft. per can (Aerosol- Please note that Aerosols cannot ship via UPS Air (Next Day, 2-Day, or 3-Day Select)

Coverage (hard/smooth surface): @1,000 sq. ft. per gal