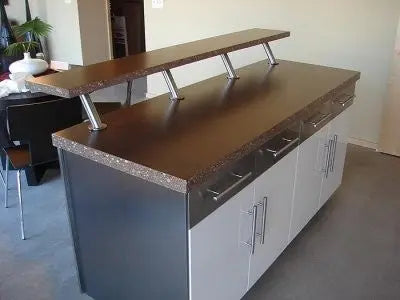 Rocktop CT Concrete Countertop Sealer
Fast Ship:
Usually takes 1-2 business days to ship out.
Ships from Minnesota
(Click for average Ground delivery map
)
Ships via FedEx/UPS only
Ships as HAZMAT, with the HAZMAT shipping surcharge already included in the price for Ground shipping.  Air Shipping is not available with this product.  Please do not select any expedited shipping methods at Checkout.  This product can only ship UPS Ground.
Product Detail:
RockTop CT uses the latest advancement in Nano technology high performance sealers. Stain and etch protection system designed specifically for concrete, engineered cements and natural stone
Used on concrete countertops, furniture, bathtubs, & Shower stalls
Rocktop CT is a Color-Enhancing sealer, which means it will darken the concrete surface some, similar to how it looks when wet with water.
RockTop CT Levels out very well when applied by roller, HVLP sprayer, or even brushed on.
The use of 519 Primer (sold here) before application will help eliminate pinholes and surface imperfections and give it extra protection for outdoor or use in sinks.
Using Re-Coat Catalyst Performance Boost (sold here) with RockTop CT will allow maximum adhesion between coats, and remove the need to sand between coats.
Rocktop can be thinned down with 519 TBA (sold here), for numerous other applications that a thinner coating works better for
RockTop CT is environmentally Friendly/ Food safe and VOC compliant, Under 100g/L.
RockTop CT It is both deeply penetrating and film forming to protect substrates from acid etching and virtually all types of stains on porous materials, indoors or outdoors.
RockTop CT is available in gloss or matte finishes.
RockTop CT Can be reapplied easily in damaged and high-wear areas as needed.
Clean up with Acetone (wash out a sprayer immediately when done- once the Rocktop dries, nothing will touch it!)
Product Features:
Solvent based sealer.
Single component no mixing or measuring. Ready to use right out of the can!
UV Stable (resistance to yellowing and weakening from the sun's UV light).
Easy application excellent self leveling properties.
Scratch Resistant 35% harder than granite in 30 days.
Acts as a densifier and hardens concrete and softer surfaces such as marble and travertine, making it tough and suitable for commercial and residential installations.
It is impervious to most all food and food related items as well as most household chemicals routinely experienced in kitchens and baths.
The Non-slip version of RockTop CT is ideal for shower floors and exterior stairways.
It can be slowly rubbed with clean pad applicators and applied to granite and marble polished surfaces by trained installers.
It has the ability to seal in color pigments and give excellent etch and stain protection of concrete countertop surfaces and vessels.
Need non-slip? (for showers, furniture, etc.)  You can add anti-slip additives (sold here) to Rocktop CT.
Product Specifications:
Available in Gloss or Matte
Sold in Quart or Gallon sizes.
Coverage: 60-75 sq. ft. per quart/250-300 sq. ft. per gallon, per coat on porous stone.

400-700 sq.ft. per gallon on metal, fiberglass, or non-porous materials.

Dry Time: Touch- 4 hours. Walk on- 24 hours. Full Cure- 7 days.
Heat rating: 450 F. (Use of hot pads/trivets is still recommended for countertop use).
View RockTop CT TDS.
View RockTop CT MSDS.
Application:
Post Application / Maintenance Instructions:
Be careful of the fresh sealer for minimum of one to two weeks after application, this includes but is not limited to:

No standing liquids including water.
Do not leave soap dishes, dispensers or appliances on the surface.
Clean up spills as the occur.
Clean with soap and water/ no abrasive cleaners or acidic cleaners.
Be careful with scratching do not slide objects across the surface.

After the initial cure, the sealer will continue to get more scratch and stain resistant for up to 30 days, however "normal" use can commence after the initial cure.
Clean with Non abrasive/ non acidic off the-shelf cleaner.
Clean up vinegar spills as they occur.
Do not slide rough, heavy or sharp objects across the surface. Although very scratch resistant, the finish is not scratch proof.
Although not required, Concrete Countertop Wax can be applied to increase water repulsion, and smooth out minor scratches
Great product
I re sealed my existing countertops and the product rolls on very well. Followed the directions for rolling and it turned out perfect.
I will use nothing but Rock Top when I seal Concrete Countertops. Preference to spray or roll is totally yours as the results of both techniques are flawless as long as a person can follow application directions. The finished sealed surface is always nothing short of Amazing!!!
Rock Top CT SEALER
Great product that applies easily
Great Sealer
There is no perfect sealer for concrete. I have been using Rocktop for several years now. The application process can be tricky depending on how you choose to apply it, but it looks phenomenal when it is finished. Like all concrete sealer it will acquire wear but it is easy to reapply and if taken care of properly it will hold up well. I did a 145 sq foot countertop surface in a bar a few years ago and it has held up just fine. If you educate the customers on some of the dos and don'ts it works great. I'd recommend this product for countertops. I just put it on my first outdoor kitchen job and I'm curious to see how it holds up over time. Great product!
EAP Rocktop CT Concrete Countertop Sealer
Happy with the counterop sealer. Very easy to apply and I am pleased with the final result.