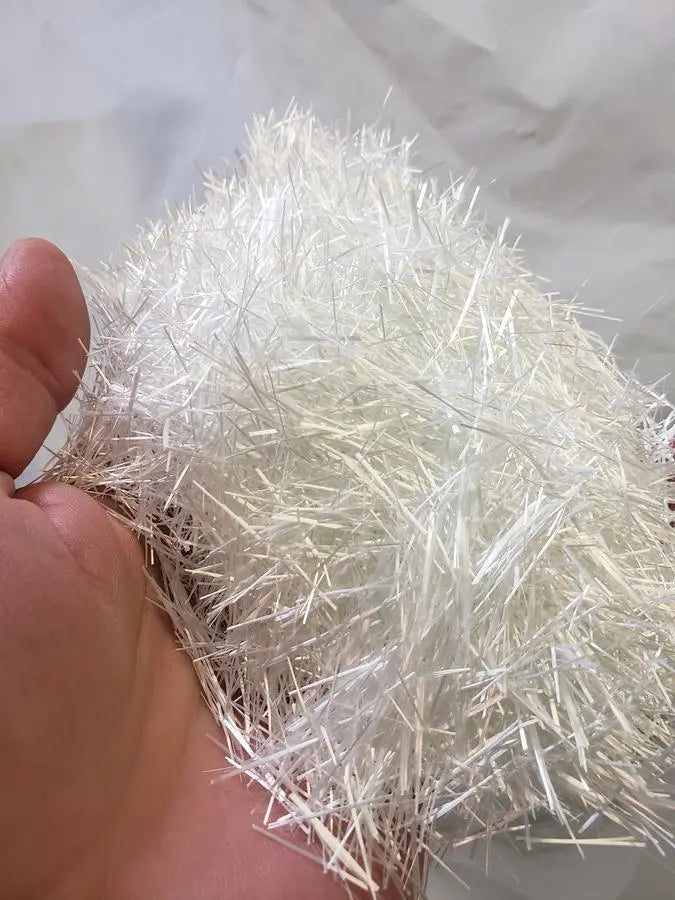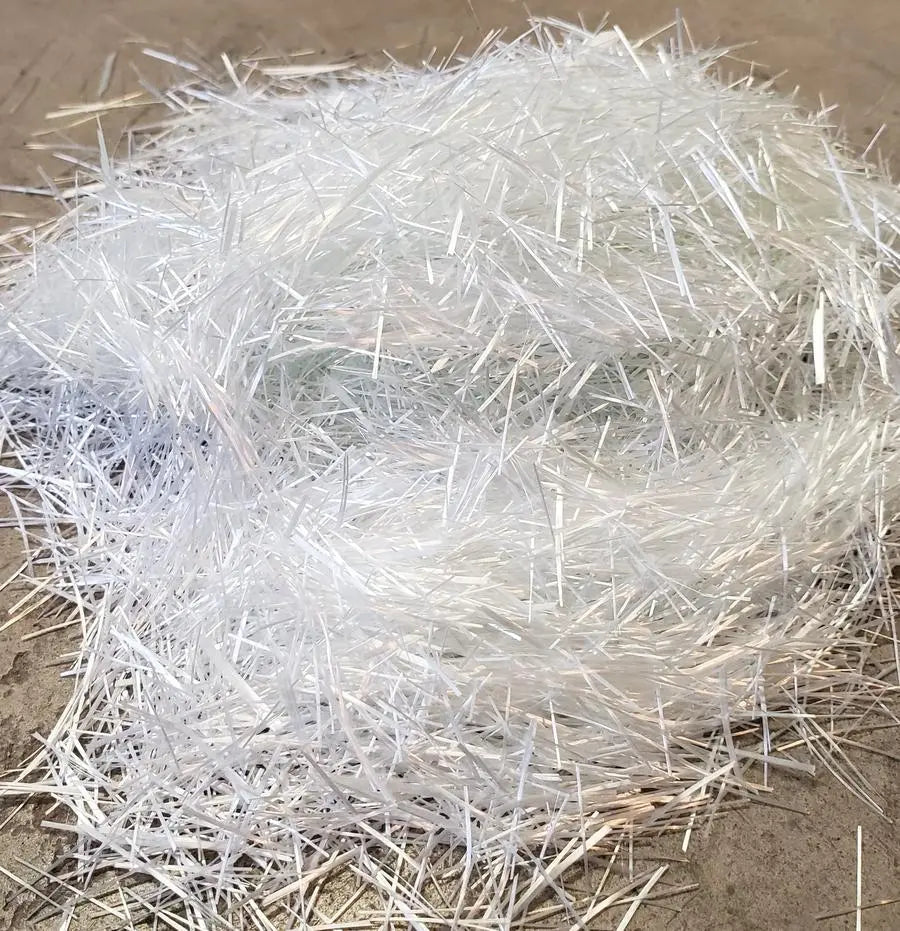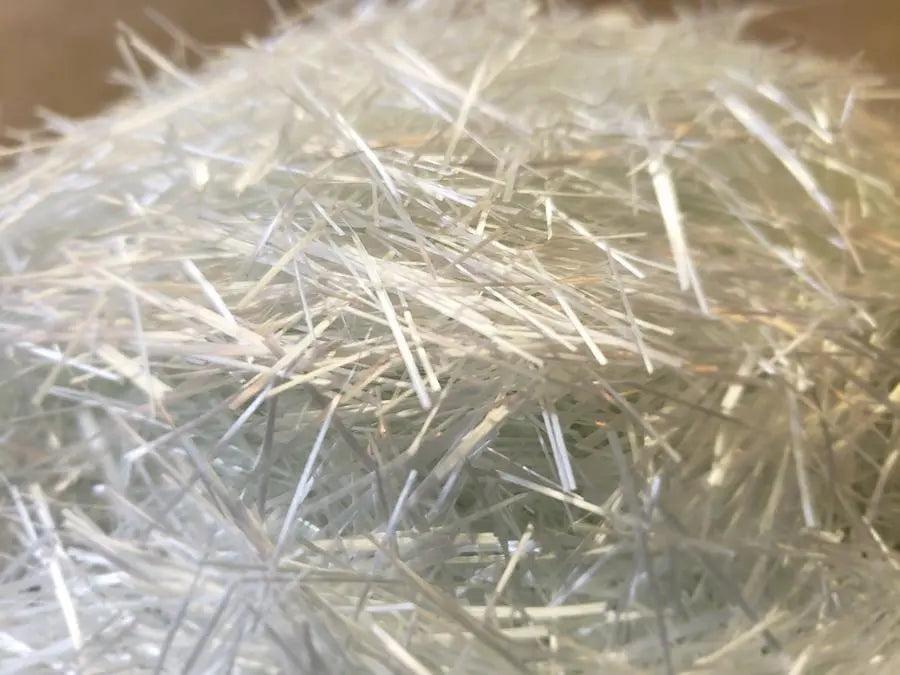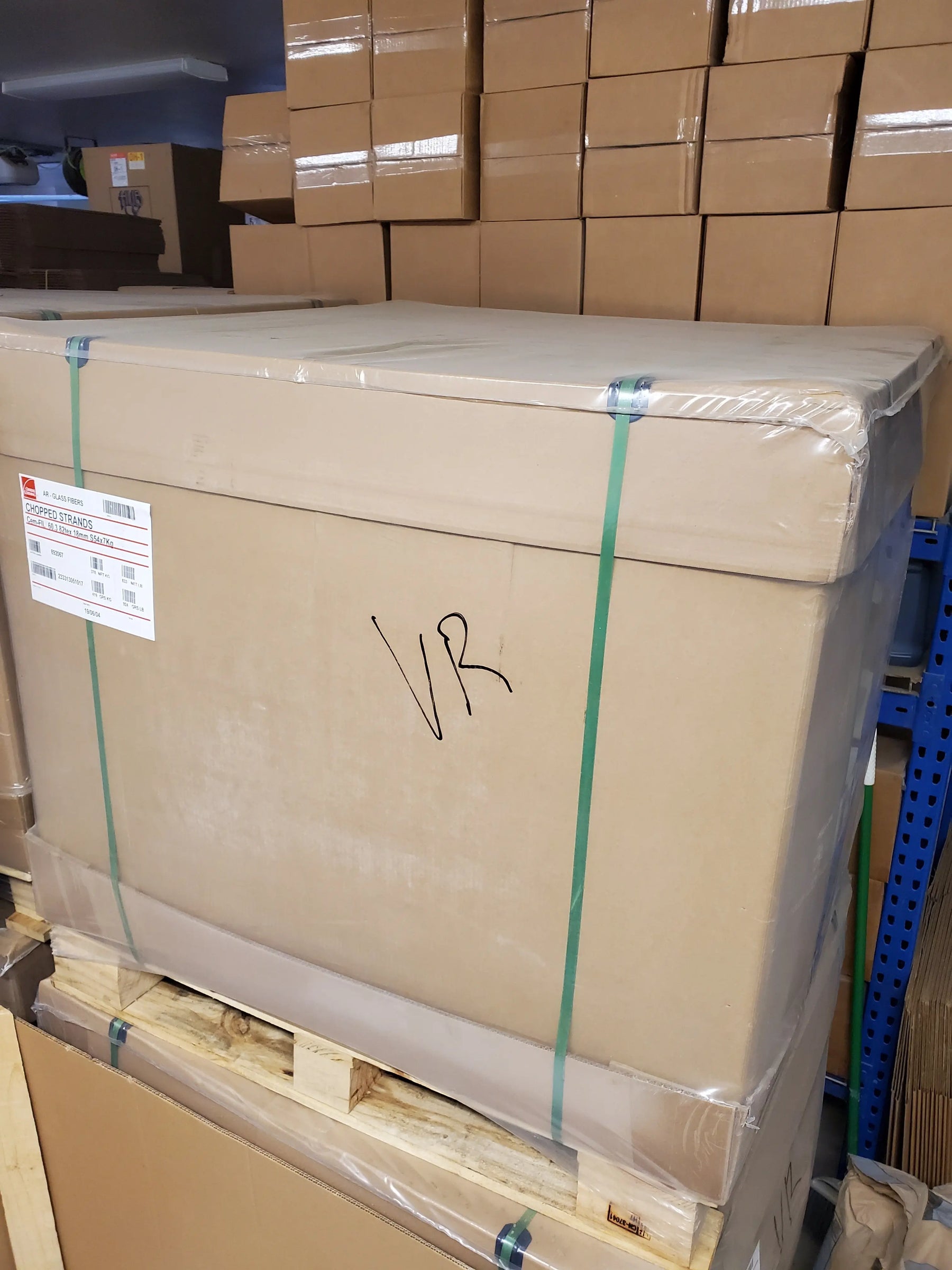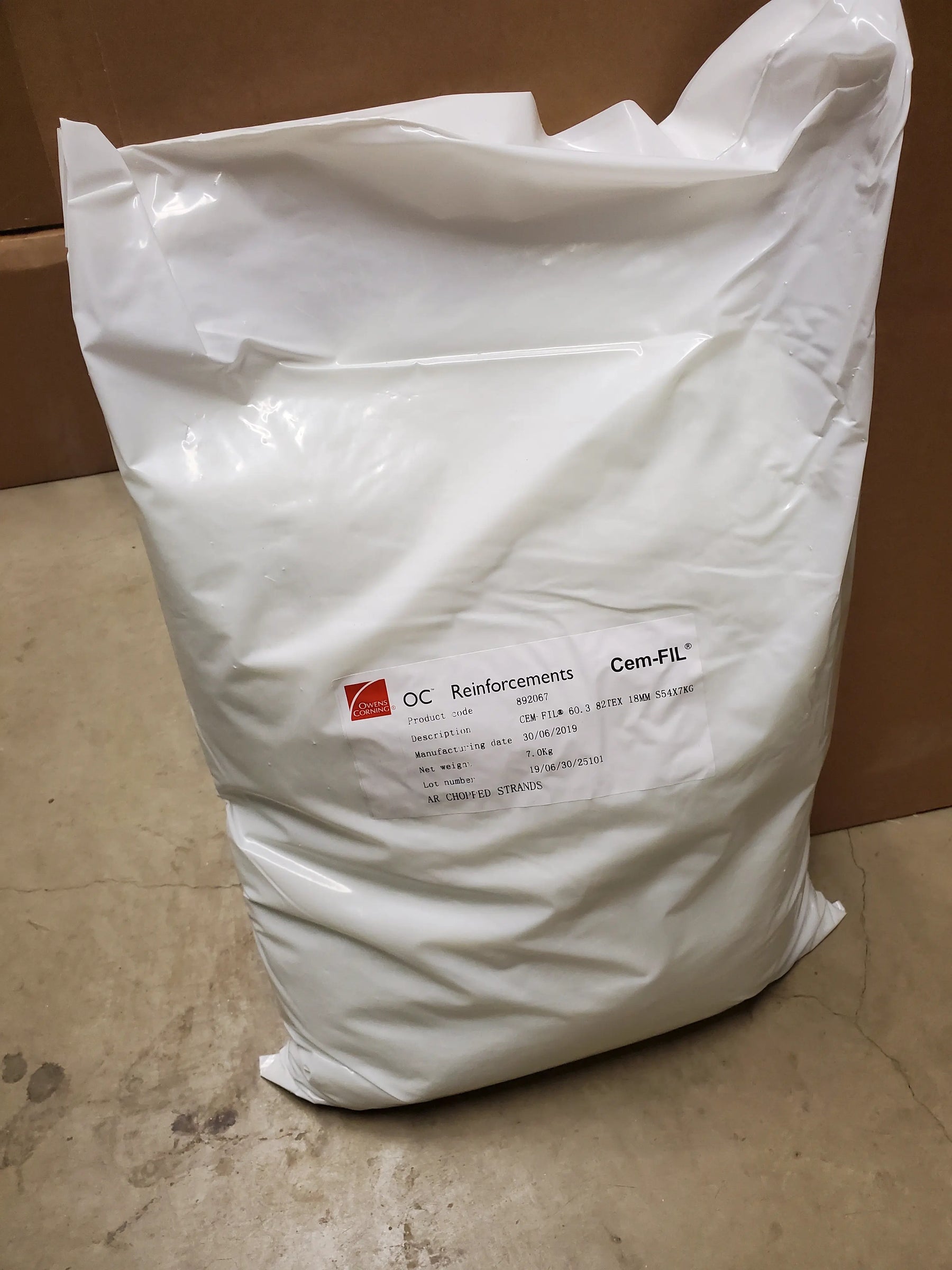 Chopped Fiberglass for Concrete and GFRC - AR Fibers 1/2" - 3/4"
Fast Ship:
Usually takes 1-2 business days to ship out.
Ships from Oregon
(Click for average Ground delivery map
)
Chopped Fiberglass for Concrete and GFRC - AR Fibers 1/2" - 3/4"
AR (Alkali Resistant) Glass Fibers, 3/4" length (18mm). 

1/2" size also available by the pallet only.  Both fiber sizes work about the same, more of a personal preference- some just prefer 1/2" over 3/4".

Produced by Owens Corning, leading manufacturer of glass fiber containing the highest level of zirconia (to resist alkali attack from the concrete)
AR Chopped fiber is a must for any GFRC backer coats, but should also be added to any concrete project- every time: From countertops to garages, driveways, patios, etc.
Cem-Fil 1/2 and 3/4" Fiber is designed to have the same density of the sand in the concrete mix, so with proper finishing techniques the fiber will not be visible on a finished, troweled surface.  For Pre-cast concrete, these fibers will also stay away from the surface (sides and bottoms of your forms).

If you plan to polish the concrete though, you will expose these 1/2" or 3/4" fibers! 
We have a smaller, finer fiber Anti-Crak HD 6mm (sold here) that is suited to mix into concrete that will be sprayed (GFRC Facecoat) as well as other mixes that are on surface to be troweled and you don't want to run the risk of seeing these larger Cem-Fil 1/2"-3/4" fibers) 

Tip: When we at Expressions LTD

create concrete countertops that are poured right in place (on the cabinets) we use this larger 1/2"-3/4" fiber in the concrete mix in all but the top 1/2" or so.  In the last bit of concrete we place to 'top off' the forms, we use the finer 6mm fiber (sold here) so there is no worry of seeing any of the fiber in the finished project.
Technical Specs Chopped Fiberglass for Concrete and GFRC - AR Fibers 1/2" - 3/4"
Filament lengths: 3/4" (18mm).  1/2" sold by the pallet only.
Sold in quantities of:

1 lb, 2 lbs, 4 lbs, 15.75 lbs Full Bags, 47 lbs 3-Bag Pack, and Full pallets*

*Pallets ship freight

,

 which we will ship for free to the US 48!
Application / Coverage Chopped Fiberglass for Concrete and GFRC - AR Fibers 1/2" - 3/4"

Typical Dosage (by weight):

Adding to Countertop Concrete Mixes:  2oz per 80lb concrete mix (1.2oz per 50lb concrete mix)
Adding to Ready Mix (truck): 1lb to 8lbs, per yard.
Adding to GFRC Backer Coats: 1.6lbs per 50lbs GFRC mix.
Maximum Loading/Dosage: 3% of the total concrete mix weight

Concrete and GFRC mix recipes can be found in our

 

Concrete Recipes section.
When mixing these fibers into standard Concrete Countertop wet-cast concrete batches, a standard mix ratio is 2 oz. Fibers, by weight, to an 80 lb. bag of concrete. Using this ratio, a 1 lb. bag of Fiber will treat about 8 bags of concrete mix.
When mixing in Ready Mixed Concrete (trucks), the Fiber can added into the truck on the job site, right before starting the pour).
 Even More Technical Stuff about AR Fibers: 
Cem-FIL® alkali resistant (AR) glass fibers have been in use for 40 years in more than 100 countries worldwide to create some of the world's most stunning architecture while offering strong and durable performance in widely varying cement and mortar based applications, including floorings, renders, top screeds, tunnels, utility poles, etc.
Cem-FIL® AR glass fibers are unique as a concrete reinforcement. Cem-FIL® fibers have the same specific gravity as the aggregates, so assured fiber dispersion is easier to achieve than with other fibers. Cem-FIL® fiber contributes efficiently to the tensile strength before the concrete is able to crack thanks its high Elastic Modulus, its affinity and its efficient bonding with the concrete.
Cem-FIL® fibers offer superior performance to standard fiber reinforcing with widely varying addition rates designed to meet your specific project specifications.
Characteristics of Cem-Fil 60

Appearance: White or off-white
Physical State: Solid
Softening Point: 860ºC (1580ºF)
Melting Point: Non applicable
Decomposition Temperature: Size and mat binders start to decompose at 200ºC
Density: 2.6 (water = 1)
Water Solubility: Insoluble
Moisture Content: 0.6% (ISO 3344)
Electrical Conductivity: Very low
Chemical resistance: Very high
Modulus of elasticity: 72 GPa - 10 x 106 psi
Tensile Strength: 1,000 to 1,700 MPa - 150 to 250 x 10³ psi (EN 3361 or EN9163)
Material: Alkali Resistant Glass (manufactured with high Zirconia content in compliance with ASTM C1666/0 1666/M-07 and EN 15455.)
Cem-FIL® AR glass fibres are manufactured under a quality management system approved to ISO 9001. Cem-FIL® fibres are not classified as dangerous by the regulation 1272/2008/EC
Benfits of Cem-Fil 60:
Excellent compatibility with cement matrix
Excellent workability even at high dosage
Increases chemical resistance (e.g. deicing products)
Improves freeze/thaw resistance
Extends serviceability of concrete
Long term durability of concrete
Does not float or sink in concrete
Does not entrap air
Fast and uniform dispersion
Satisfied Customer
Just what we needed for the job. Timely, well packaged delivery.
So far, so good. 1 year in. About to use some more.
Good, easy to add to the mix
Super strong counter
I used this in my cast in place kitchen counters. Before I poured the counters we poured 2 - 1'x2' color sample pieces 2 inches thick. I wanted to test the finished color and made sure I added this and the plasticizer to the mix for the samples. No regard or mesh at all. Once cured just to see, I dropped one of the samples flat on the ground from 6 feet in the air, not a single crack, at 2 feet wide I set it across a couple of 2x4's and I can stand on it at 250lbs with no problems. Once poured in the counter top very few of the fibers showed up on the surface when I polished it. Very happy with these.
Strong!
Using the fibers allowed me to have an extremely strong product without the use of wire or rebar!
Perfect
This is a huge amount of glass fibre for what I needed and is so much more affordable than anywhere else I looked. Great product made the sinks I designed an easy build.