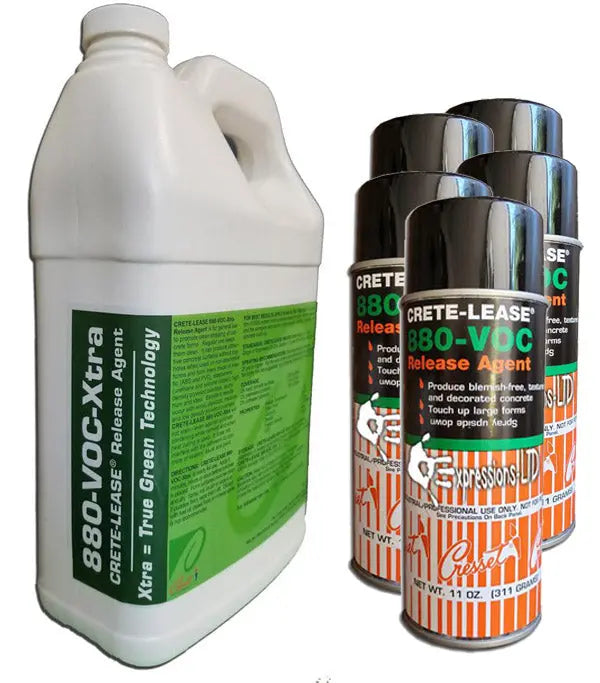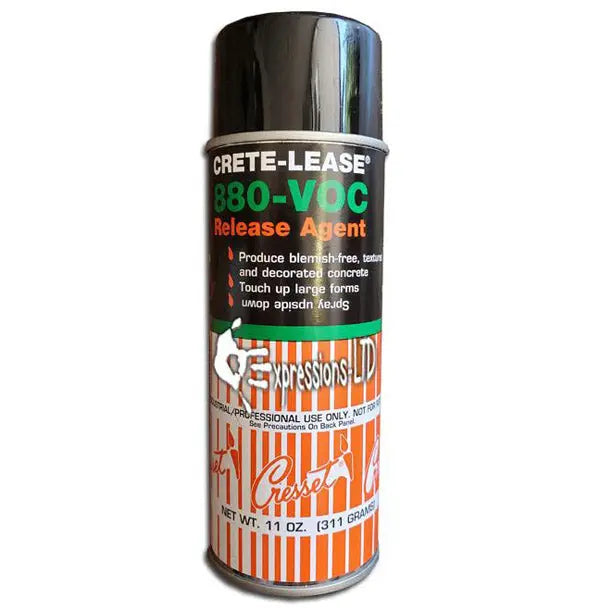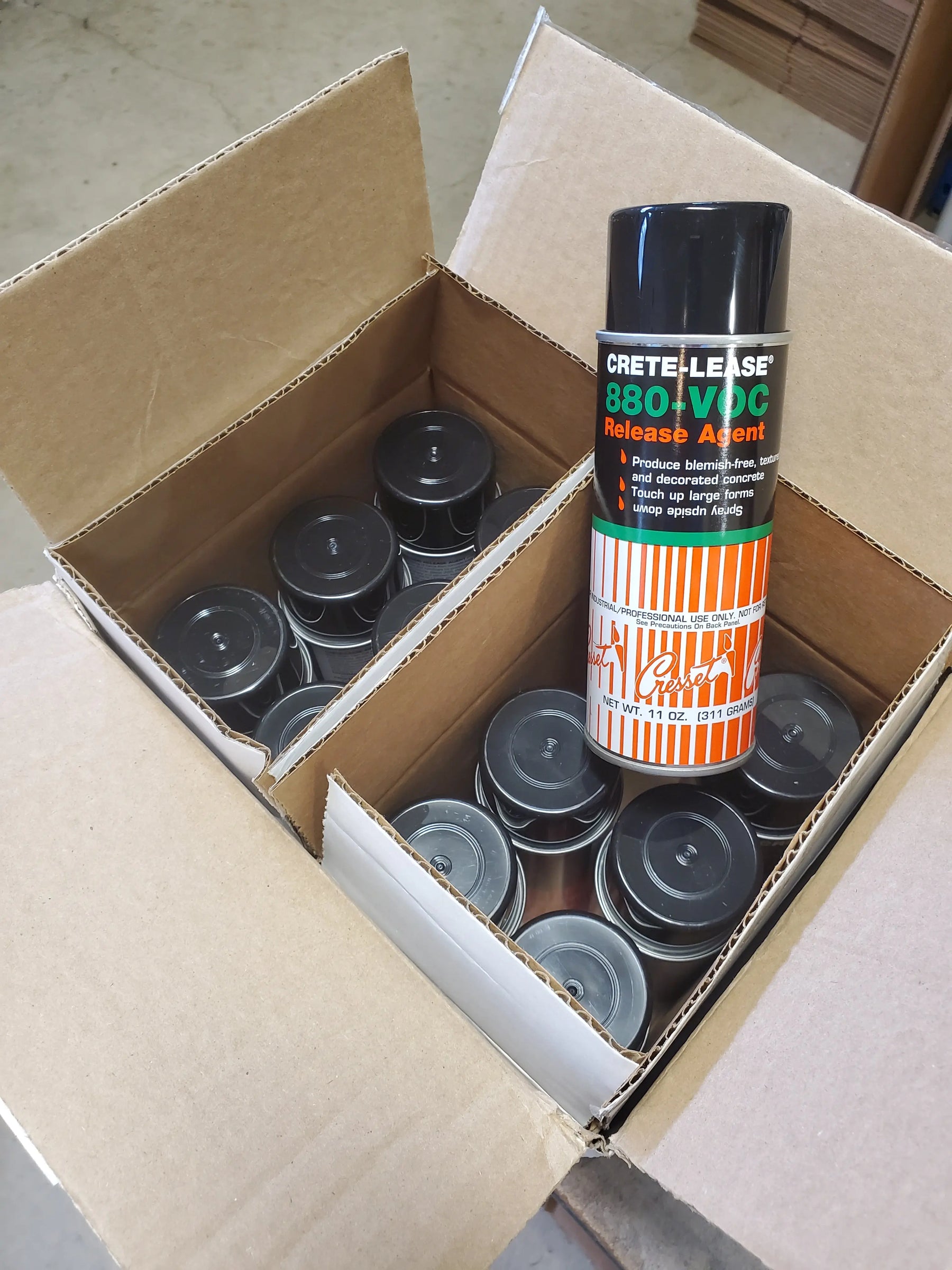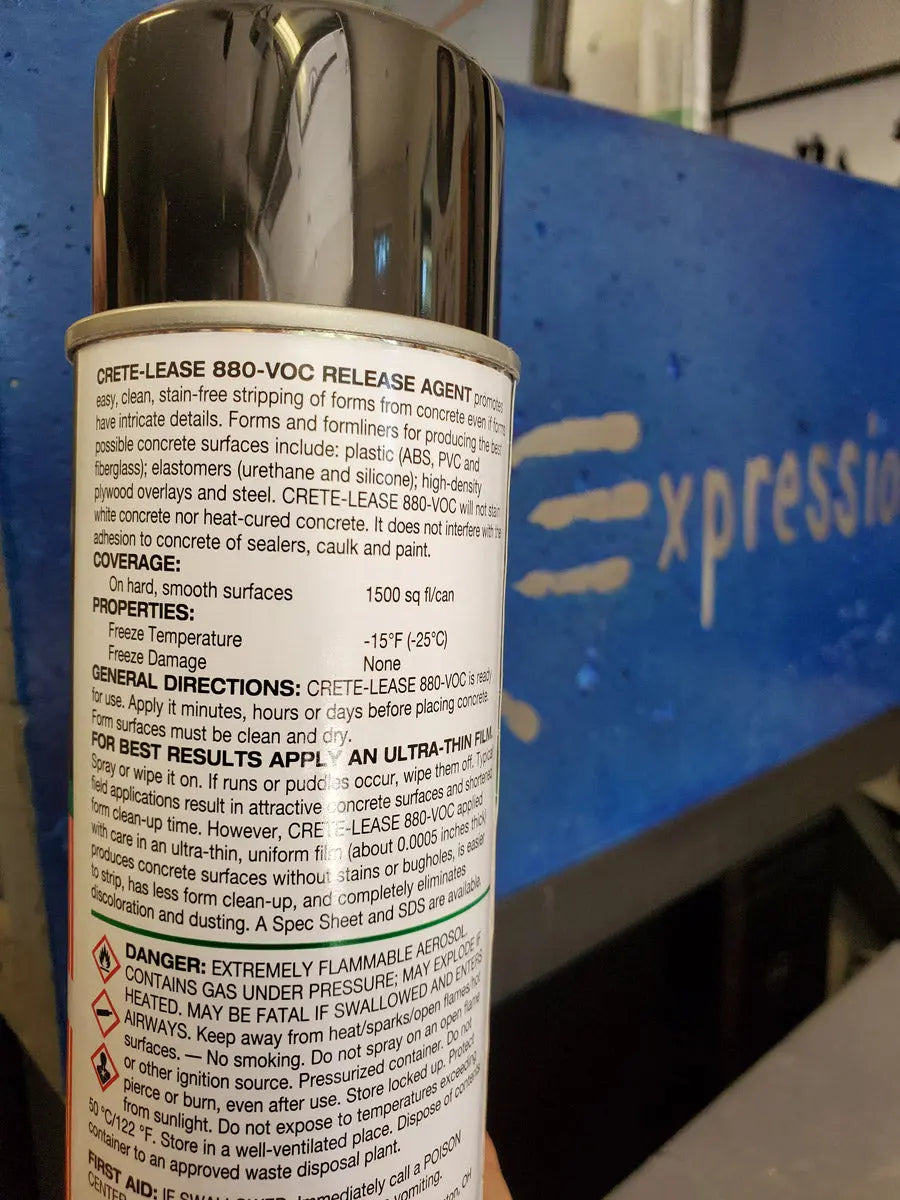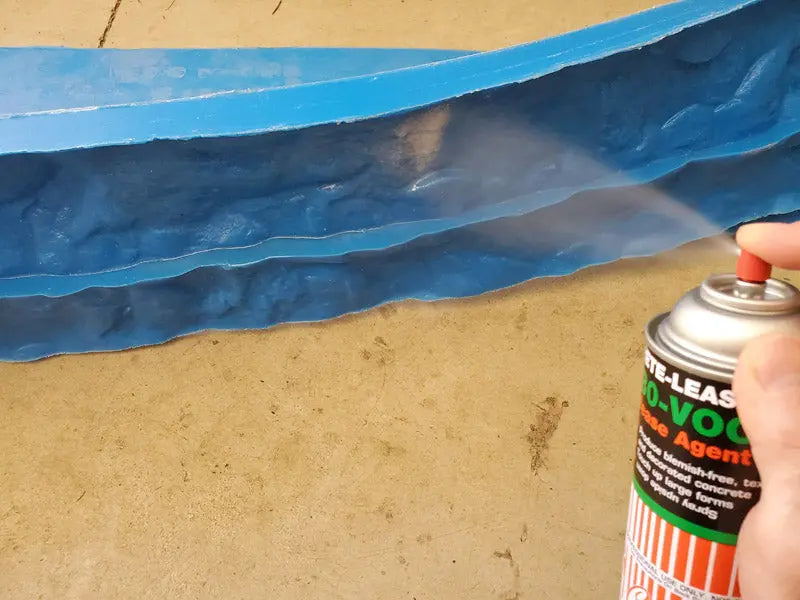 Concrete Mold Form Release Agent, Crete Lease 880 - Bulk
Fast Ship:
Usually takes 1-2 business days to ship out.
Ships from Oregon
(Click for average Ground delivery map
)
Concrete Mold Form Release Agent, Crete Lease 880 - Bulk
The environmentally friendly industry staple Crete-Lease 880 is a proprietary blend is comprised of neutralized vegetable oils in mineral oil that contains no waxes, silicones, or carcinogens; it's also solventless and non-toxic.  Notably, this advanced composition exceeds Federal, OTC State, and California (250 g/L) VOC Regulations.  The end result mimics the surface of molds and site amenities with a superior finish for visually stunning concrete surfaces – without bugholes.


Crete Lease 880 Bulk product is available in cases of 12 Aerosol Cans, Single Gallons, and 6 Gallon Cases (gallon sizes are unpressurized, and can be rolled, brushed, or sprayed (for best results you should spray) with an HVLP or pump-up sprayer with 25+ PSI).
If you are looking for smaller quantity, we sell the 880 aerosol cans individually here.
Uses include: Rubber (polyurethane) Molds, Fiberglass Molds, Form Liners, and concrete forms and casting (880-VOC is not for natural rubber or latex- use the 20-VOC-XTRA Release product for natural rubber or latex molds) 



Crete-Lease 880 permits easy, stain-free removal of forms, formliners, pallets, etc. from hardened concrete

Cuts form clean-up time up to 70% when properly applied

Reduces bugholes on concrete surfaces

Doesn't interfere with adhesion of caulk, architectural coatings, paint, sealers and curing compounds on cured concrete surfaces when properly applied

Sprays upside down, or rightside up.

Can be applied in sub-freezing or very hot temperatures

Reduces incidences of skin rashes

Promotes longer form life by acting as a water repellent from inside the wood

Produces high visual impact (CCS 1) concrete surfaces

Does not stain or stick from steam curing

Limitations: A) Not recommended for forms or form liners made from expanded polystyrene, SBR, or natural rubber, or latex. B) Although subfreezing temperatures have no effect on the releasing action of Crete-Lease 880, temperatures below freezing promote thicker film thicknesses which causes more bugholes.

Applicable Standards: Exceeds California's SCAQMD rule 1113-90 (250 g/L). "Cresset Concrete Standards", a photographic appearance guide. Corps of Engineers, "Civil Works Construction Guide Specifications," CW-03101, Section 5.3 and Section 8. Corps of Engineers, "Guide Specification Military Construction," CEGS-03300, Section 10.8.

Technical Data Concrete Mold Form Release Agent, Crete Lease 880 - Bulk:
Coverage: 1500 sq. ft. per can (

Aerosol- Please note that Aerosols cannot ship via Air (PLEASE don't select 1-Day or  2-Day shipping at checkout if buying the aerosol cans)

Coverage (hard/smooth surface): 1,600 sq. ft. per gal

Coverage (pre-oiled plywood): 1,100 sq. ft. per gal

Coverage (untreated plywood): 800 sq. ft. per gal

Color: Straw

Opacity: Clear

Freeze Damage: None. Freeze Temperature: -15F

Flash Point: Not applicable

Viscosity (centipoises): Not applicable

Solids: None

Density: 7.37 lbs/gal

VOC (Volatile Organic Compounds): 245 g/l

Composition: A proprietary blend of neutralized vegetable oils in mineral oil. Contains no waxes, no silicones...no carcinogens.
Form Material Compatibility:
Plywood: All Grades, Pre-oiled, Overlaid (LDO, MDO, HDO). Fiberglass,

ABS, PVC, Epoxy, Urethane, Silicone, Steel, Aluminum, Wood.
Application Concrete Mold Form Release Agent, Crete Lease 880 - Bulk:
Apply minutes, hours, or days before placing concrete.

Form surfaces must be clean, and dry.

For best results, apply an ultra-thin film.

Spray or wipe the release on. If runs or puddles occur, wipe them off.