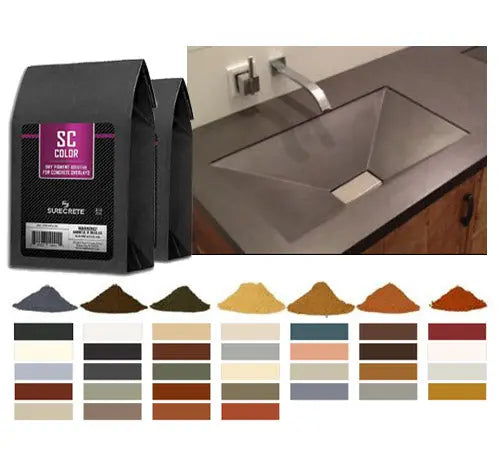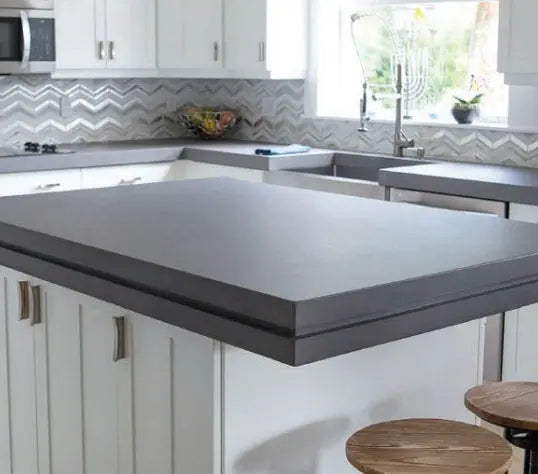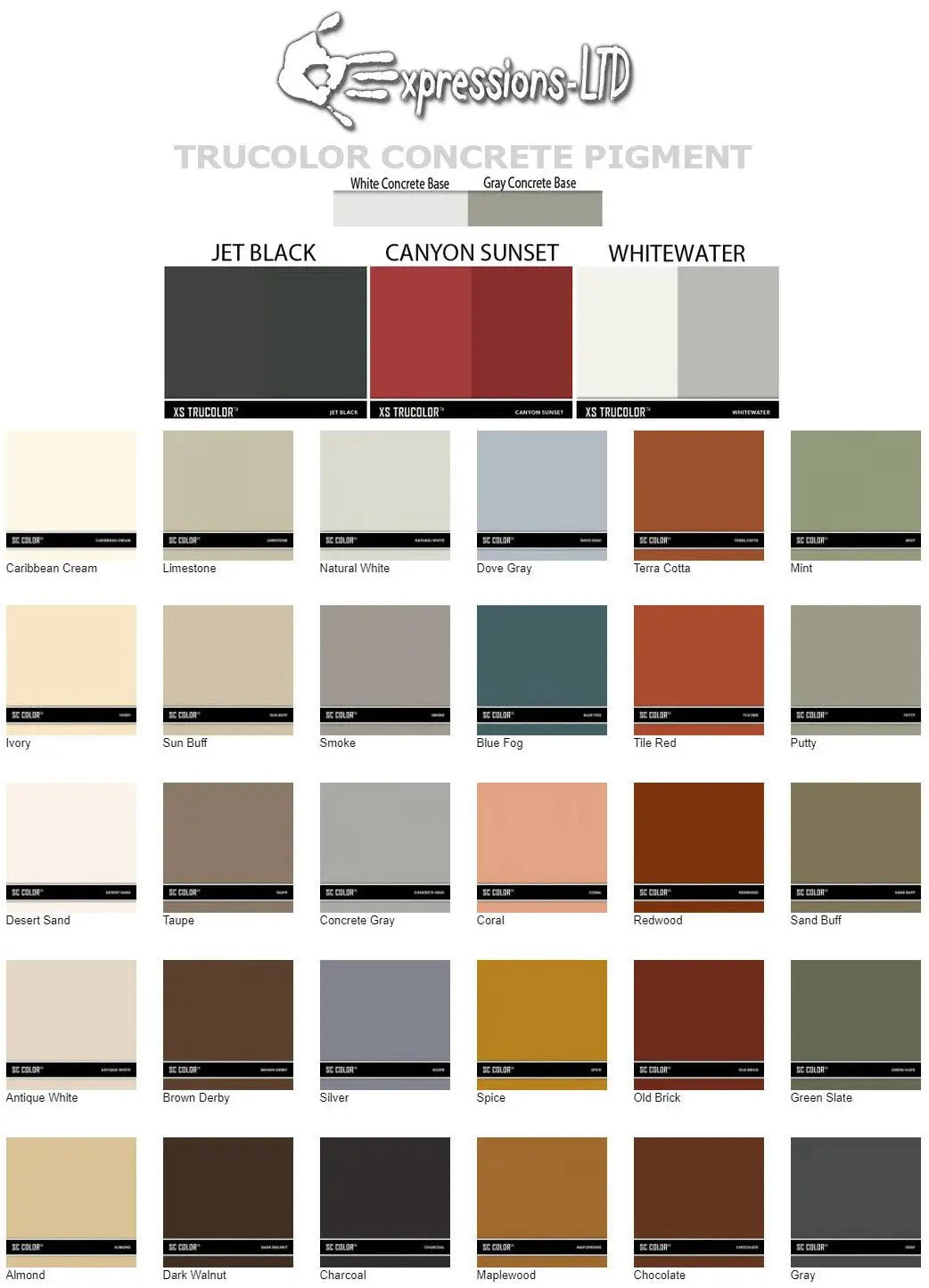 Concrete Color Dye Powder Single Dose Integral Pigment
Fast Ship:
Usually takes 1-2 business days to ship out.
Ships from Oregon
(Click for average Ground delivery map
)
Concrete Color Dye Powder Single Dose Integral Pigment
TRUCOLOR concrete color additives are conveniently measured to individually tint any single 50-60lb concrete bag mix or overlay, including Microtopping mixes.
All Color Packs are pure, synthetic, UV Stable iron oxide pigments containing no fillers that will affect the performance of the overlay mix being tinted. Concrete color dye powder consistency is maintained from one concrete color pack to another.
Better than liquid colorant, SureCrete's manufacturing method of dry powder concrete color additive removes the guess-work, measuring, and mess previously associated with integrally coloring cement bag mixes. Contractors and applicators can spend more time with their finished decorative concrete surface and less time trying to ensure color accuracy. Quickly make consistent batches of concrete for countertops, decorative concrete, overlays and resurfacers, furniture, planters, tiles, or any cement based product.
Concrete Color Dye Powder Pack Specifications:
Coverage: 1 Colorpack mixes into 1 concrete/overlay mix, or equivalent 50-60lb concrete mix.

When mixing into regular concrete mixes, 1 Colorpack should mix with 15lbs worth of cement, which would be about a 60lb high strength concrete countertop type mix.  If mixing Colorpacks in with 80lb bags of concrete, mixing 2 bags of concrete (see mix recipes here) at a time with 3 Colorpacks should achieve the correct color.

Full Kit of all 33 Colors is available here.
Colors: Almond, Antique White, Blue Fog*, Brown Derby, Canyon Sunset*, Caribbean Cream, Charcoal, Chocolate, Concrete Gray, Coral, Dark Walnut, Desert Sand, Dove Gray, Gray, Green Slate*, Ivory, Jet Black*, Limestone, Maplewood, Mint, Natural White, Old Brick, Putty, Redwood, Sand Buff, Silver, Smoke, Spice, Sun Buff, Taupe, Terra Cotta, Tile Red, White Water*.

*Some colors with an * are a premium color and cost a little more
HOW MUCH PIGMENT TO USE?
These color packs have been designed to make it simple.  Just use one per 50-60lb mix of concrete.  However, if you need more specifics, or need to fine tune the amount:

One factor to keep in mind is that integral color is dependent on the cement in the mix, not the overall concrete amount.  The Concrete color dye powder sticks to the cement, not the sand/rock.  A higher cement rate (sack mix) will need more pigment than a lower one.  MAX loading of almost any concrete pigment is 10% by weight of the cement.  Most of the time full saturation is in the 3% to 7% though, and once you exceed that, the pigment will float out/cause streaking when troweling.  So find out your total cement amount, and then take a percent of that.  Some colors use 0.5% pigment, others use 3%.  One trick is that you can use a darker pigment, and just use less of it to create many of the lighter colors in the color chart.   If you were doing a countertop using 80lb mix bags, and came up with 25lbs of cement total in that bag, then 0.5% pigment would be 2 ounces of pigment, by weight.  3% loading of pigment would be 0.75lbs of pigment, or 12 ounces by weight.  Also, a factor of final color is sealer.  You can get an idea what the color will be when sealing with a color-enhancing sealer simply by spraying the concrete test with a little water.  
HOW TO APPLY Concrete Color Dye Powder ADDITIVE INTEGRAL OVERLAY POWDER CEMENT COLORS COLORANT?
1. Add amount of water specified by the concrete mix to a 5 gal. bucket. 
2. Empty ColorPack into water and mix.
3. While mixing water and color, add concrete mix.  For best results, use a a handheld concrete mixer (Concrete Mixers sold here). 
CAUTIONS:
KEEP OUT OF REACH OF CHILDREN. When used according to direction, no hazard is anticipated. Inhalation: Avoid prolonged breathing of airborne dust, particularly present during mixing.
Use NIOSH (National Institute for Occupational Safety and Health)  approved respirator for nuisance if threshold limit values are unsafe. Skin Contact: Skin contact may cause irritation. Remove contaminated clothing and wash affected skin with
soap and water. Launder clothing before reuse. If symptoms show persist, seek medical attention. Eyes: Wear safety eye protection when applying. Contact with eyes may cause irritation. Flush
eyes with water for 15 minutes. If symptoms persist, seek medical attention. Please download the complete safety data sheet (SDS) for complete details. Concrete color dye powder
White water powder
Amazing result, described mixture recommendation was spot on. Look forward to trying other products.
Great colors
Love the greens. Especially the slate. Will be ordering more fore my cement candle vessels.
color not consistent
color not consistent almond and Antique White. the almond was to orange looking and the 1 batch of Antique White had a pink tent to it. probably not ltd fault more true color are who ever makes it
Amazing product!
I'll be pretty close to having all the pigments after this purchase! I use this for my concrete projects and absolutely love it. I've kept coming back to buy colors and also love having a consistent place to buy good quality concrete from too. Plus shipping is always super fast!
Easy even for amateurs
Color worked perfectly with reinforced concrete. And the pre-measured packs helped with a DIY cement mixer that holds 2 bags at a time.