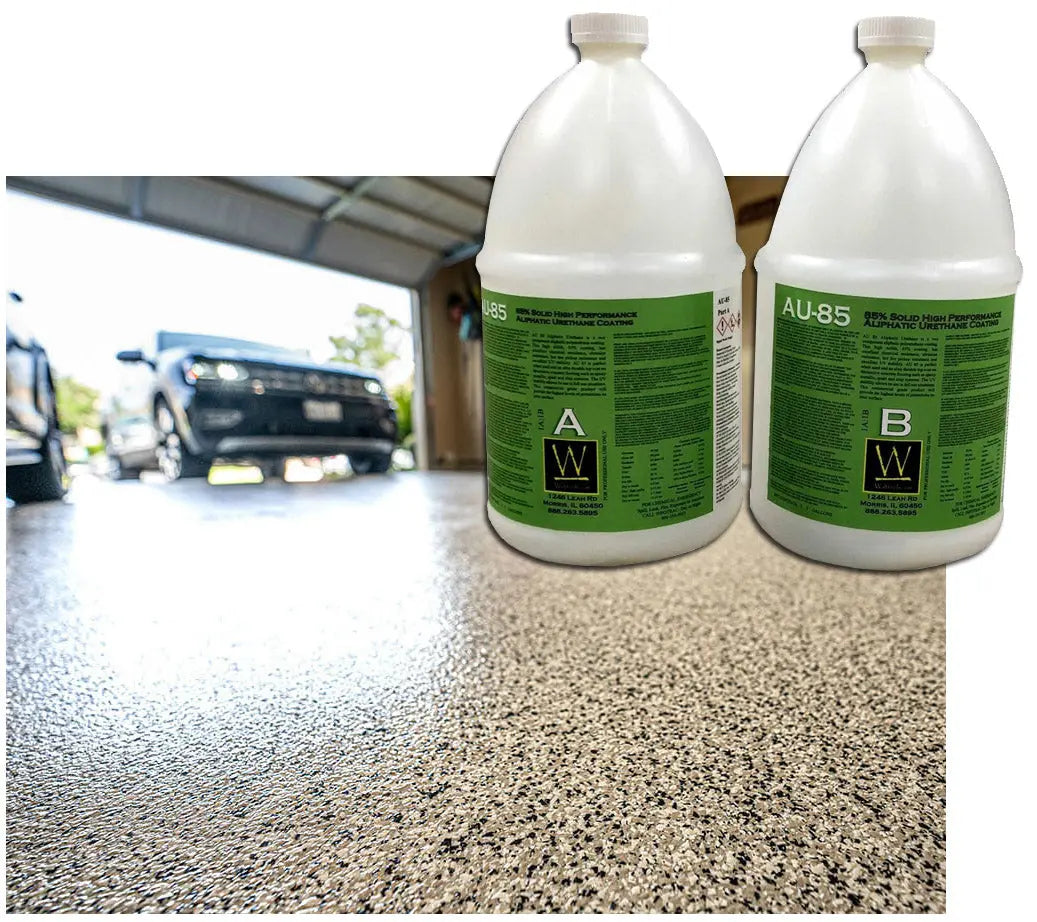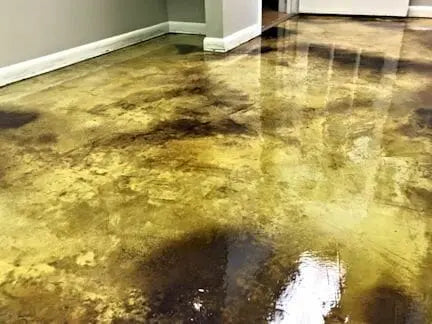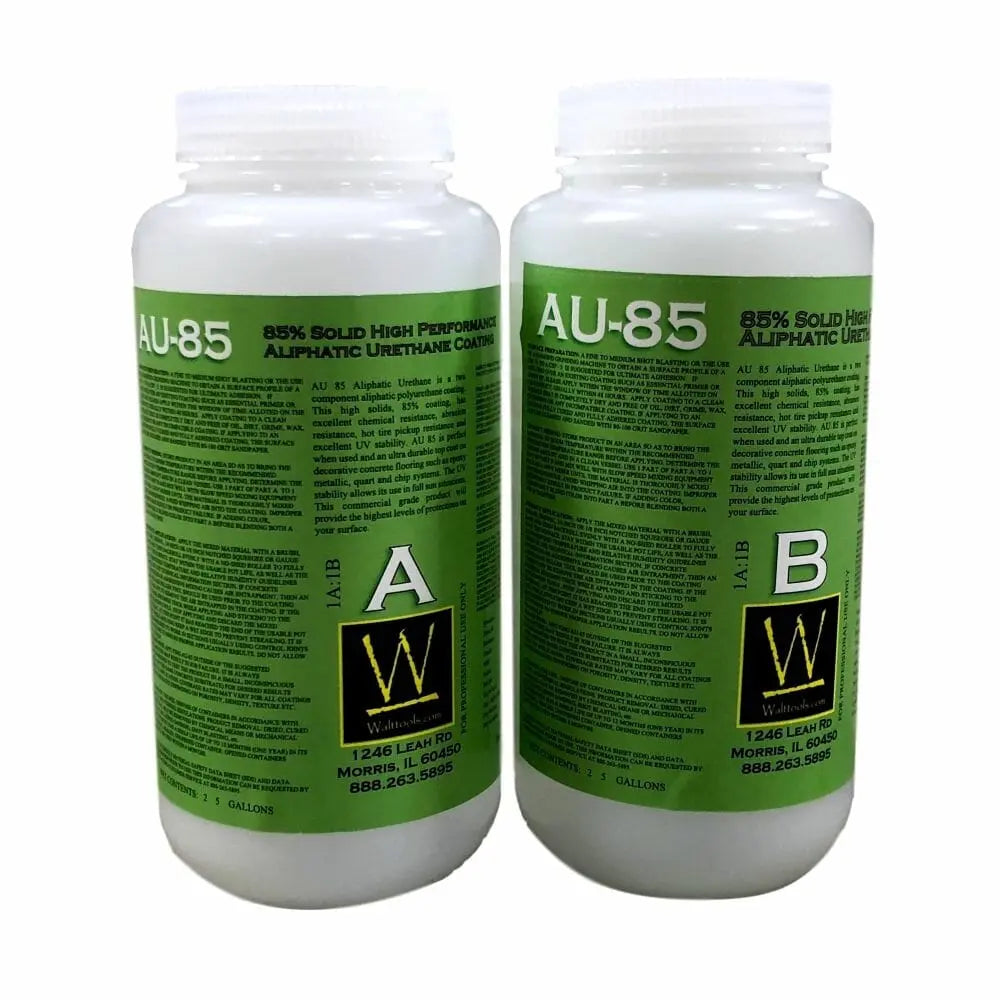 Best Floor Coating Sealer - Chemical and Scratch Resistance - AU85
Ships from Illinois
(Click for average Ground delivery map
)
Shipping:
This Product can take 2 to 5 business days to ship out.
Ships via FedEx/UPS only
WARNING: This product can expose you to chemicals which are known to the State of California to cause cancer. For more information, view the product SDS, or go to  www.P65Warnings.ca.gov
Best Floor Coating Sealer - Chemical and Scratch Resistance - AU85
AU 85 is a commercial grade, solvent-based, high gloss aliphatic urethane coating designed to enhance and protect a variety of surfaces from deterioration, oil and gas stains, harsh liquids and chemicals. AU 85 polyurethane produces protective films that are durable, flexible, and impact-resistant.  This product is an excellent choice for high-wear areas in need of high abrasion and scratch resistance as well as chemical resistance.  It is manufactured in the U.S. and made from the latest resin technology.  It is a low odor, zero VOC product. AU 85 will provide a long-lasting, high gloss finish that won't peel, chip, or flake. The UV stable formula will resist fade and gloss deterioration due to sunlight. A true industrial coating.
Why Use this coating over others?
This is a great floor coating for your in your garage, warehouse due to it's ability to resist harsh chemicals.  It's ALSO a great indoor concrete floor- It's a super durable coating, and can be used right over your plain old concrete, over stained concrete, and as a durable top coat for epoxy/metallic coatings.  It provides a very strong surface for years and years of service.  It does take a few days to cure really hard for return to full service (driving on for example), so if you need something faster to return to service, see the note below about PolyAspartic-85 which will dry much quicker:
Please note that if you did a flake/broadcast epoxy floor and you want that slight rough/bumpy texture to remain, then you should consider using PolyAspartic-85 (sold here) instead of this product (AU85), as the PolyAspartic-85 coating can be applied very thin, which helps keep the slight bumpy texture from broadcast material.
PRODUCT FEATURES:
Simple-to-use, two-part sealer provides a durable, long-lasting, high-gloss finish
Exhibits the best overall durability over other decorative coatings and sealers
Beautifully enhances decorative color designs by Color Enhancing (Will bring out the color of your concrete, similar to how it looks when wet before sealed)
Serves as excellent high-gloss, ultra-durable finish for concrete countertops
AU85 can be tinted!  Add

 

RZ Tints (sold here) to pigment this coating product.
Don't want high gloss?  Try adding

 

Matting Agent (sold here) to reduce the gloss level of AU85.  This is great for garage floors that you don't want to show dirt all the time, and also reduced gloss finish helps hide minor scratches.
Specifications:
Coverage - 2 thin coats recommended for maximum protection and durability):
Coverage ranges from 250-300 sq ft per gallon (first coat), 300-400 sq ft per gallon (second coat), depending on coating application.  You will get the lower number when coating over a rough surface like an epoxy floor with flake broadcast.  And expect the higher number when just applying over a flat concrete surface that's not super porous.

AVERAGE

KIT

COVERAGE when applying

2 thin coats

:
2 Quart Kit: 70-90 sq. ft.
2 Gallon Kit: 275-350 sq. ft.
10-Gallon Kit: 1,375-1,750 sq. ft.

Download: AU-85 Instructions TDS
Easy for an old guy
This dk 400 coating was perfect for my basement floor. Expressions explained well what to expect and how to prepare the concrete first so it would be a good bond. I did a colored Charcoal gallon for my storage room, and clear gallon over some acid stain in the main room and it was easy to apply it, even though I'm not as fast as some younger fellas at mixing and applying this kind of thing, but it worked out and is a very nice hard surface. Very pleased with this D.I.Y. option, saved me thousands of dollars doing it.